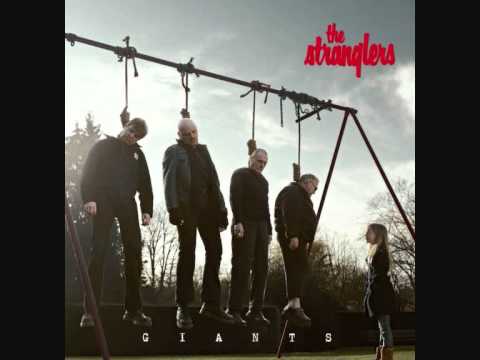 5 May 2012
The Stranglers won't always be with us.
It just seems that way.
 
Though the band is in its 38th year of existence, that impression of omnipresence gains resonance (despite the artwork above) after listening to "Giants," the band's 17th record and best since former singer and guitarist Hugh Cornwell left to pursue a solo career in 1990. "Giants" is also one of the band's most eclectic efforts.
 
In a remarkable career that has embraced punk, post-punk, new wave, psychedelia, pop, rock, waltzes and more, the Stranglers are thriving in 2012, while many legendary peers such as the Clash, Ramones and Sex Pistols, are long gone.
 
The Stranglers, whose iconography is associated with the rat, are indeed survivors. But they're also chameleons, constantly changing their style and approach while never losing their distinctive identity, largely defined by Jean-Jacques Burnel's beefy bass, Dave Greenfield's swirling keyboards and 73-year-old Jet Black's insistent drumming.
With "Giants," the band's four members sound reinvigorated and a fraction of their combined 242 years. In fact, the group recently finished a 41-date European date tour, playing to packed houses while generally receiving very positive reviews.
Though the previous two records were winners ("Norfolk Coast" and "Suite XVI"), their songs didn't explore new tangents or experiment meaningfully. On this record, the band was seemingly writing on their own terms and branching into new territories instead of playing it safe. Brave, organic, eclectic, honest, personal, playful, melancholy, confident, triumphant and wistful, "Giants" covers significant ground.
While the casual fan might clamor for a radio-friendly hit, "Giants" doesn't have any obvious candidates. Instead it's a collection of very strong tunes that works cohesively as an album. And importantly, there isn't a bad track on the album.
Anticipation was high for "Giants" as this would be the first post-Cornwell record with no songwriting or vocal involvement from ex-singer Paul Roberts who was, to be polite, not a good fit for the group. Moreover, the last time the band took six years to record an album, the winning "Norfolk Coast" resulted (Roberts' only strong vocal performance).
 
'Giants,' exceptionally produced by Louie Nicastro and the Stranglers, sounds clear and organic. It also, importantly, breathes, unlike "Norfolk Coast" and "Suite XVI," which were far busier and cluttered.
"Another Camden Afternoon," an instrumental, kicks off 'Giants' spectacularly. A loud and heavy repeating bass riff that is as simple as it is powerful anchors this mid-tempo song. Burnel, one of the greatest bass players in modern rock, doesn't show off. Instead, his minimalistic playing serves the song, giving only what is required, like a world-class chef who might unapologetically place a marshmallow alongside a meal for the ages. The musical pyrotechnics mainly occur between Warne's slashing guitar and Greenfield's Hammond. Excellent.
The album's second song, "Freedom is Insane," is possibly the center-piece of the album though it unfortunately also contains the record's worst 17 seconds. Just listen to the tangent that mentions the "hoopla car." Ugh. However, after a slow near 90 second build-up at the beginning, led by a very mid-80s sounding synth, the triumphant 'Freedom' blasts off. The longest song on the record, this also best showcases the band's advanced musicianship and developed sense of melody, with Greenfield recalling the band's brilliant cover of "Walk on By." 
The title track, "Giants," is in some ways my favorite. The chorus, super melodic and rich with feeling, would slot neatly on 1984's underrated "Aural Sculpture." The lead guitar line is monstrous both in sound and intent, reaching far yet grabbing everything in its reach. Greenfield's keyboards steer away from the usual swirling action yet remain prominent. Burnel, whose singy/talky vocals remind one of Leonard Cohen(!), laments modern society's lack of figures worthy of respect. "Once there were giants walking amongst us. Now I have to deal with little men with little hearts. I'm glad my father's not here to see what happened to men like him. They fought the battles these dwarves can only talk about."
"Lowlands" could have come off of 1978's "Black and White" album. A fast and vintage Stranglers sound is unfortunately somewhat marred by pedestrian lyrics describing life on the road. The music, however, is challenging, exciting and unpredictable. Another winner.
The unfortunately titled "Boom Boom" is a decent enough song though it may be the album's weakest track. Recalling Madness a bit, this mid-tempo ditty is easy on the ears but fairly conventional. That said, this is a bit of a grower. Sadly, hearing the words "Boom Boom" repeatedly is something I can't warm to. 
The quiet and pensive "My Fickle Resolve" ultimately works, saved by the soulful humming chorus and the song's second half where the instruments take over and shine. Unfortunately, Warne's talky vocals during the verses sound very similar to Roberts and the lyrics are a bit duff. ("It's gonna take some strong voodoo to wipe the slate clean.")
The jaunty and positively playful "Time Was Once on My Side" features a prominent and original Burnel bass line, congas, distorted vocals by Burnel and a middle eight in which you'd swear the band is channeling the voice of the Damned's Dave Vanian. Adventurous and unpredictable, another winner. Great ending too.
"Mercury Rising"sounds like it could have been on 1981's "The Gospel According to the Meninblack," with its daft sensibility and prominent keyboards. Though extremely quirky and fascinating (this song evokes music from a host of decades) it has lost a little appeal after many listens. 
Members of the band have used the term "heavy metal tango" to describe the penultimate track, "Adios (Tango)." The French-born Burnel, who holds a 6th dan black belt in karate, sings in Spanish "Goodbye this really is forever." Uh oh. Is the cover art on this album telling us something???
"15 Steps" chugs along with verve and a dominant western-like guitar twang, ending the record on a triumphant note.
"Giants," which I have subjected to achingly heavy play, stands up to repeated plays. It is an indisputably vital work by an indisputably vital group and should help the world realize that, thankfully, some giants are still with us.