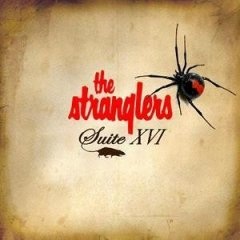 25 September 2006
After 32 years, 16 studio albums and 32 top 40 hits, THE STRANGLERS—with 68-year old JET BLACK still slamming the skins—are a modern marvel.
Two years ago, this hallowed British institution shocked many when it released the extremely good Norfolk Coast. It surprised because their previous album, Coup de Grace, was awful (while I've been a diehard Stranglers fan for more than two decades, I still try to be objective). And the three albums preceding Norfolk Coast—also featuring ex-vocalist PAUL ROBERTS—left much to be desired, despite the occasional gem.
So 14 years after ex-guitarist/vocalist HUGH CORNWELL left the band to pursue a solo career, the group resurrected itself. How? The answer: BAZ WARNE, a highly competent guitarist and singer who importantly became the songwriting partner that star bassist J.J. BURNEL has craved since Cornwell exited.
Warne's creative jolt proves that you can indeed teach an old dog new tricks—or at least make it bite like it once did. Being in The Stranglers is Warne's proverbial "big break" and he's making the most of it. His arrival along with Norfolk Coast's success has clearly rekindled the group's competitive fire.
Norfolk Coast's widespread approval, however, meant that the bar was set high for the next record. Well, just two years later, The Stranglers have knocked out an even better album.
Suite XVI is, ahem, sweet for many reasons, but first some background on the title. Cornwell was the group's primary singer for 16 years as was Roberts, who thankfully left the band this summer shortly before the record was completed. Warne and Burnel stepped in to re-record the vocals. And of course this is the band's 16th album. (For Burnel's explanation about Roberts' departure, read this recent interview.)
Whereas Norfolk Coast was stylistically diverse and reintroduced Stranglers hallmarks like Burnel's rumbling bass and keyboardist DAVE GREENFIELD's dazzling keyboard runs, the album was a confident first step that arguably didn't go far enough in revealing to the uninitiated what has historically been so endearing about the group.
Many fans return to the band's 1977 to mid-eighties output because of the great songs, diversity of style, energy, sonic majesty, subtlety, unique atmospheres, musical left turns, and sublime details often provided by Cornwell's voice, guitar playing and lyrics. There is no denying that he was as important as anyone in the group past and present.
But on Suite XVI you hear something of its own identity. It's safe to say Cornwell's ghost has finally been put to rest.
Moods run the gamut from the exuberant "Unbroken" to a regretful "Spectre of Love," (the main single and a good one at that!) to "Summat Outanowt," where an angry Burnel sings/shouts with that gravelly/guttural voice he used to strong effect in the late 70s: "I promised you just nothing and then you made it something and now the joint account is finally closed." The melodic and mid-tempo "Barbara (Shangri-La)" is an ambitious piece of pop that gets better with repeated listens and features effective harmonizing.
"Bless You (Save You, Spare You, Damn You)" is a slower piece that invokes the bubonic plague. Despite the subject matter it's gorgeous, with orchestral flourishes and backing female singers. The spare sonic atmosphere, especially when Warne's guitar emerges from a sustained keyboard note, reminds me of the more pastoral portions of CATHERINE WHEEL's stunning Adam and Eve. And the merely okay "I Hate You" is a country western cut where Burnel pulls no punches. He doesn't identify the source of his disdain, but Cornwell is obviously a possibility.
But the finale is where The Stranglers go for the kill and land a devastating knock-out. "Relentless" triumphs in the spirit of epic closers like "Down in the Sewer" and "Genetix." "Relentless" is among the best songs the group has ever recorded and is the best song I've heard all year. It opens with a slight western twang-like guitar line and then lifts off and keeps soaring at high altitude. The song is about the passing of time, its inevitability and the need to accept change and face limitations, which The Stranglers are doing as graciously as one can imagine in 2006.
The Stranglers have always evolved musically and continue to do so. If someone asked you what they sound like the answer has to be "well, it depends on what year you're talking about." In '77 and '78 they were cantankerous, moody and aggressive. In the early '80s they were on the cutting edge of new wave (for lack of a more descriptive term). On 1982's Feline they made a mellow record then created pop bliss with 1984's Aural Sculpture.
Along the way, their two biggest hits are the harpsichord-driven "Golden Brown" and the radio-friendly "Always the Sun," a far cry from their dark and dour image. The Stranglers in 2006 sound different yet again, but modern, and still haven't lost their distinctive sound and edge.
Although I focused on Warne here, this truly is a group effort. Warne and Burnel were instrumental for writing songs of such caliber and for allowing/pushing Roberts out. Secondly, Warne did a great job on guitar and as the main singer. Burnel, as per usual, delivers the goods and was smart to push up the sound on his custom-made Shuker bass in the mix.
And Black has to be an inspiration to every pensioner, every musician and every person who laments that it's too late to become a musician. The man is 68, and instead of watching TV all day (though I'm sure he manages some of that), he's making great records and actively touring.
But perhaps the most impressive performance on Suite XVI comes from keyboardist Dave Greenfield, who is featured prominently in the mix. Only after repeated listens can you fully appreciate the extent to which his talents are on full display. Amazing!
This album, despite my praise, has its faults. "See Me Coming" is bombastic, heavy-handed, and ultimately irritating. Burnel originally wrote the song, which the Stranglers re-worked, for the Japanese animated TV series Gankutsuou. "Unbroken," though great musically, could have used better lyrics, especially since it kicked off the album. The lyrics are good on balance but sometimes fall flat: "…something that reminds me of a rabbit horror show…" and "…I'll hate you longer than radioactivity…"
Still, what minor quibbles. I'm as excited as can be that one of my all-time favorites is still here making breathtaking music. Smart, determined and proud in the very best sense, The Stranglers always have something to prove. And prove it, they do.
The Stranglers' Official Web Site
Buy Suite XVI from Amazon.co.uk