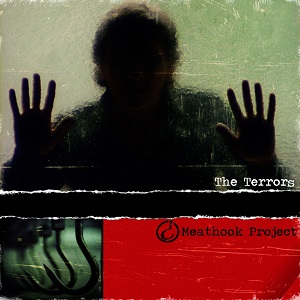 9 July 2013
Horror punk is a tough thing to get right. Usually, it comes across as tired Misfits clichés, silly pseudo-goth theatrics or psychobilly circus antics, i.e., a whole lot of image, but nothing substantial to back it up. By some rare twist of talent, however, The Terrors are none of the above, offering delightfully deranged tracks for those who enjoy the violent emotions.
Meathook Project opens with "J.W.G.," a crashing, lumbering paean to serial killer John Wayne Gacy that could be Greg Ginn on a Joy Division trip. "Monster Zero" continues with the Ginn vibe, almost sounding like an unused track from the guitarist's solo albums. By the time we hit "Annabelle Lee," we're firmly in Birthday Party territory, all swamp guitar and frantic explosions of madness somewhere between Junkyard and The Bad Seed EP. "Thousand Screams," a psychotic blast of epileptic fury, pushes things even further into Mutiny territory. Finally, "Again" ends on a somber note, a touch of Nick Cave's solo work, sexy baritone vocals and sparse balladry. It's the song that should be played at the end of the final episode of Dexter.
Like contemporaries The Will and Brainbombs, The Terrors have tapped into a unique style of horrifying rock, something that doesn't rely on makeup or dark Ramones riffs. We'll see where the next release takes us.