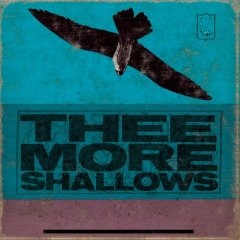 29 April 2007
After a superfluous opener, Book of Bad Breaks launches into a twenty-minute run of some of the most adventurous music I've heard in recent years.
While some lo-fi indie bands throw everything in the mix hoping that something will stick (see BECK), San Francisco's THEE MORE SHALLOWS throw everything in the mix and most of it sticks. It also sticks with you long after hearing it.
With Book of Bad Breaks the group now has its third winner in as many albums. Last year's EP, Monkey Vs Shark, is good but not essential.
Unlike the lush, sprawling, softer and more formal 2002 debut, A History of Sport Fishing, Book of Bad Breaks sounds fractured, sharper, dissonant and darker. But it's a winning evolution even as the group retains its orchestral pop component.
A fifty-dollar Casio keyboard, spoken/half-sung words, cellos, violins, distorted sounds, buzzes, blips, breaks, pounding drums, crunching drums, finger-picked guitars, electric guitars, and an absurdist but earnest sensibility help make this sonic stew hard to resist.
Frontman DEE KESLER clearly has no problem with the "vision thing." He draws from an exceptionally broad aural palette but nothing sounds accidental. In the space of one short record, Kesler, along with multi-instrumentalists CHAVO FRASER and JASON GONZALES, create music that is pensive, brash, epic, humble, world weary and optimistic all at once.
And instead of relying heavily on orthodox structures, songs unfold according to their own peculiar logic, moving in unexpected directions ("Proud Turkeys" is a prime example). At the same time, the songs keep melody and structure close but not obsessively so.
The record has its flaws though. It's just thirty-six minutes and at that still feels slightly padded. Of the thirteen tracks, three last less than a minute and "Mo Deeper," at less than two minutes, ends the record on a somewhat unsatisfying note.
Ironically, last year's Monkey Vs Shark EP runs twenty-eight minutes. How odd then to see the new album run a mere eight minutes longer than the EP! Had the songs "Monkey Vs Shark" and "I Can't Get Next to You" appeared on Book of Bad Breaks instead of the EP the group could have ditched some of the shorter pieces and had a stronger record. Oh well. Enough quibbling.
What's more important is that Thee More Shallows are making great albums on their own terms. Their records never sound rushed (even this short one) and don't sound as if they are "positioned" to target any audience.
That's an achievement in and of itself but especially so when you consider that musicians today have to contend with fruit-fly level attention spans and a music industry that's emphasizing individual song sales over complete albums.
The group is coming soon to the U.S. Catch 'em if you can.
Dates appear on Thee More Shallows' MySpace Page