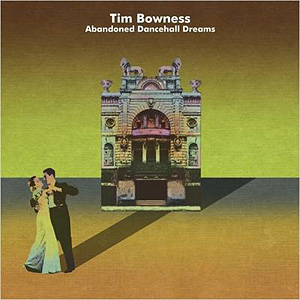 11 July 2014
No one conveys emotion and poetic lyricism with the same sort of vividness, softness, and tastefulness like revered English singer Tim Bowness. As one half of the masterfully melancholic duo no-man, he and collaborator Steven Wilson (Porcupine Tree) have created some of the most tragically beautiful compositions I've ever heard. His serene vocal quality and approach complements any project he's involved with, and on his sophomore LP, Abandoned Dancehall Dreams, he once again delivers a remarkable blend of unique production, heartfelt songwriting, and calming yet fragile singing. It's a wonderful record.
Unsurprisingly, this album was originally meant to be a new no-man release, but scheduling conflicts prevented its completion as such. Still, the entire no-man band contributes, and Wilson mixes it as well; in addition, several other guest musicians appear, including bassist Colin Edwin and drummer Pat Mastelotto. Bowness also co-wrote some of the songs with either Stephen Bennett, Stuart Laws, or Andrew Keeling. A "[distinctive combination] of Art Rock and singer-songwriter influences," the full-length provides a brilliant mixture of grandiose production and modest performances that makes it both musically impressive and melodically poignant.
"The Warm-Up Man Forever" opens the disc with tribal rhythms and Bowness' token whispers. The arrangements build ingeniously around him, offering rigorous momentum and new timbres (including lovely strings) at every turn while his voice keeps things grounded. The concluding fiery guitar solo is an especially nice touch, and the overall collage of sounds evokes the inventive and eccentric production of classic Kate Bush and Peter Gabriel.
In contrast, "Smiler at 50" is more sorrowful and reserved; it's a classic Bowness ballad, complete with haunting harmonies, mournful piano progressions, and a chaotically orchestral conclusion. "Songs of Distant Summers" takes a sparser approach, placing echo on its concise instrumentation to make it feel ethereal yet celestial. "Waterfoot" is altogether livelier and warmer, with acoustic guitar solace melting seamlessly into earthly percussion, while "Dancing for You" is highlighted by keyboard work that, unexpectedly enough, evokes vintage Genesis. Afterward, "I Fought against the South" feels the most like a standard no-man track due to its lengthy, prolonged evolution, which winds up saturating the landscape with gorgeous tragedy.
Abandoned Dancehall Dreams is a stunning creation from beginning to end. Bowness' artistry, sensitivity, and elegancy shine as much as ever, and each contributor offers something distinctive, granting each track its own variety while also maintaining central qualities that create a perfect cohesion. All in all, it's a delightful record that, like everything else Bowness does, explores the human condition with wisdom, frailty, and intelligent eccentricity. It should be cherished.