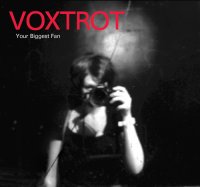 17 November 2006
The year-end focus on discussing the 'best' albums makes other releases—EPs, for example—fall between the cracks, which is a shame sometimes, as with VOXTROT. Their new three-song single is one of the best recordings I've heard in a long long time. Add to it this year's "Mothers, Sisters, Daughters and Wives" EP, and last year's "Raised by Wolves" EP—and add to that, while we're at it, every single other song they've released, from the amazing b-sides "Dirty Version" and "They Never Mean What They Say" to the Little Darla compilation track "Warmest Part of the Winter" and the recent bonus MP3 cover of FELT's "Sunlight Bathed the Golden Glow", and you have a refreshingly rock-solid collection of music…before they've even made it to their first album.
In a way they've challenged the supremacy of the album, I suppose, though it's also true that these great songs might have gained more attention as as part of a sparkling 'next big thing' debut album (the likes of which they'll no doubt have next year). But all conjecture is irrelevant. What we have are some truly special releases…this new one as much as the others, or possibly even more so.
These three pop/rock songs have genuine depth to them, starting with the title track, "Your Biggest Fan." Different sections of that song give such different impressions. The chorus makes me imagine it as a '60s radio single, everyone in the country nodding along in their convertibles as it plays on the radio. But there's also a narrative here; the "...and she says" part, underscored by piano alone, makes me briefly imagine this as part of a Voxtrot rock opera. Then there's the part about hate in this world, and those lyrics "we're pretending now we're going fifty thousand strong / this one's a dream so shut your mouth and sing along" which gives a momentary communal vibe. And there's a songwriting process self-critique following, and at the end a revealing section where the narrator explains that the moment he saw the object of his affection looking tender is the moment she fell in his estimation. All of this is in a solidly crafted song (which sounds nowhere as eclectic as my description might make you imagine), within the classic indie-pop foundation where Voxtrot's music starts (The Smiths, Belle and Sebastian, etc.).
The second track "Trouble" is absolutely, without-question, just as exciting and good—just as smooth and at the same time complicated. It builds with such a gorgeous melody, and great guitar-piano interplay, as lead singer RAMESH SRIVASTAVA starts singing about discovering a favorite musician was a junkie. There's a bitterness to the song that's vague enough to be enticing, and a caring just as vague, and enticing. A beautiful bridge finds his voice over strings (TOSCA STRING QUARTET), striking an ominous, yet vulnerable tone, and then rocks it up, sliding back into the main melody with a sincere punch.
"Sway", the final song, places strings from the same musicians more upfront, within one of the more relaxed Voxtrot songs yet, a languid ballad that furthers both the questioning spirit and shadowy tone of the other two songs. "Marriage and love and divorce we don't understand," he memorably sings while addressing a potential lover about freedom, choices, life paths… It's dark and lovely, the perfect ending to another unforgettable, play-to-death-able recording from a band with greatness ahead of them at every step, no doubt. At this point, they already seem a band worthy of endless adoration, devotion, obsession.