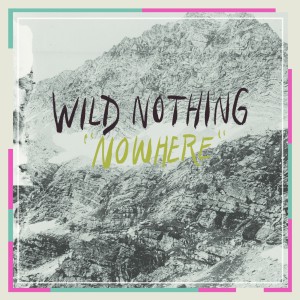 22 February 2012
Wild Nothing emerged in 2010 already wearing their influences proudly, and now here's "Nowhere," the most astonishingly perfect Go-Betweens imitation there could ever be. Imitation typically only leads me to consider the genuine inspiration or shameless thievery of the band giving homage, but here it's so complete that it sent my mind reeling into philosophical reverie, with this tentative conclusion: Imitation is the sincerest form of objectivity. "Nowhere" is the sum of all Go-Betweens songs, divided by the total and launched into the realm of forms… something McClennan and Forster could never have captured themselves, being too changeable, human, caught up in the messiness of being themselves. It takes a younger band to look at an older band, especially one that's all over and done with, and explain exactly what that band was, in under four minutes. And yet, "Nowhere" also contains the messiness of the lives of its creators. How could it not? Just as we have only our minds to think objectively about the human mind, Wild Nothing have only the same wondrous, feeble tools there have always been to make musical inquiry and publish their findings.
I've admired Wild Nothing since their 2010 debut Gemini, but wasn't quite convinced they'd arrived as fully formed as highly precedented bands sometimes do, like last year's Yuck, for example. Jack Tatum's vocals struck me as a bit too meager for the occasion, needing to express their heartache a bit more forcefully. A more muscular early 2011 performance in St. Paul provided a corrective, though maybe it was fleeting. It's not that Tatum sings with renewed strength on "Nowhere," but that the sweeping, small-scale grandeur of his surroundings seems better suited to his wind-muted words. As a bonus, he's joined by Twin Sister's Andrea Estella, who lately proved herself a great duet partner on her own band's "Stop." She's a fitting Amanda Brown as Tatum wanders the streets of her town, but deeper voiced.
"Wait," on the b-side, tries to get a bit too much dreamy mileage out of what sounds like overuse of the whammy bar, but that's book-ended by the sort of buzzing riff that some band is always reinvigorating (most recently Smith Westerns in 2011), keeping the song from sounding too weighed down. It's in the same general category of romantic orchestrated pop as "Nowhere," but absent a few important hallmarks (accordion; the way Tatum sings "suck you in"), it doesn't really bring The Go-Betweens to mind at all. Maybe my earlier reverie was unearned.
But one thing's certain, Wild Nothing become more interesting as their mid-80s reference points become more numerous. (It can often go the other way.) Even the single's cover art has a beguiling mystery. As Rob Sheffield once told it, Pavement's early singles began appearing in record stores in the late 80s and early 90s like prophetic slabs, lacking any signifiers on their sleeves except the band's vague, hard name, and while today's 7-inches must surface on the painfully contextualizing internet, "Nowhere," taken on its own outward appearance, is as enticing and non-revealing as anything since "Slay Tracks." Wild. Nothing. Nowhere. These words written across artfully framed mountains. I don't even know how one would begin parsing that.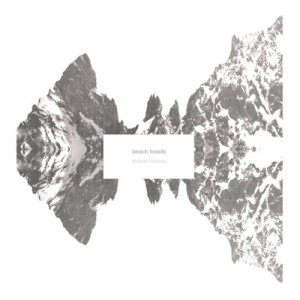 Meanwhile, their Captured Tracks labelmates Beach Fossils are more firmly in the artifact creation business, continuing to put out tiny slabs of modest prophecy but seemingly reluctant to release anything like a major statement. Their new 7-inch "Shallow" has four words on its cover to the three of "Nowhere," but the extra word doesn't do much to clarify or lessen the mystery. Beach. Fossils. Shallow. Lessons. Maybe it's a pointless exercise, but I can't help wondering what a kid with no training in the aura of record covers might make of those four words, arranged in a field of white among, once again, artfully framed mountains (coincidence?). Do kids still contemplate such things?
Anyway, what the words refer to, apparently, is a slight elaboration of the bleached out New Order circa Power, Corruption & Lies pseudo-covers that Beach Fossils first premiered on their self-titled debut, also 2010 (gosh, the connections keep stacking up). There's a wider field of sounds on "Shallow" and "Lessons," and the production is cleaner, but these new songs are created from the same basic template as those on the debut. If the melodies don't as immediately recall New Order, if the reference point here is more generally Factory Records / C86, it's probably because the guitar doesn't stand out as starkly against the washed out terrain of the band's earlier songs, so the listener isn't as eager to name its familiarity. But what might be considered Beach Fossils' shortcomings, their unchanging anonymity, is actually what attracts me to them. I can't even deduce a way of life that corresponds to these songs; the people in them might be anyone. Sometimes non-assertion of identity is a good thing.
I guess I should be as tough on Dustin Payseur's echoing, half-present vocals as I am on Jack Tatum's, but in Tatum I suspect a dormant Morrissey, one who's already crafted great (un)romantic sentiments ("our lips won't last forever," etc.) but not the accompanying persona, while from Payseur and his Beach Fossils I want a continued non-specificity, so that I can make them whatever my cover art parsing eyes dream up.