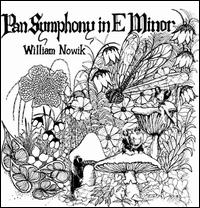 3 February 2010
There's a buzz about this 1974 album among collectors of vintage psychedelia and prog-rock; quite a rarity, the original LPs — only 200 pressed — were supposedly going for as much as $1000 in online auctions (the highest I saw was $800).
Pan Symphony in E Minor is actually a 14-movement suite (not a symphony), a wonderful bit of low-key eccentricity from a very multi-talented guy. WILLIAM NOWIK is heard on guitars (acoustic, electric, and electric 12-string, Hawaiian), electric bass, acoustic and electric violin, flutes, piano, percussion, kalimba, pump organ, and even a ceramic blowfish. A few other folks helped out on this mostly instrumental album, including a pretty good saxophonist, WARREN COOPER.
While it's easy to hear why prog/psych fans are into it, frequently cited comparisons to Pink Floyd and King Crimson are a bit misleading, as it style-hops all over the place and sounds more like spacey West Coast psychedelia than dense British prog or psych. Free improvisation, a snippet of Gregorian chant, howling wolves, and the above-listed panoply of instruments make this a constantly surprising sonic grab bag of sounds and styles.
The booklet notes read like the stoned ramblings of somebody who doesn't actually know much about music, or about how to write, but still contain enough interesting information gleaned from conversation with Nowik to be worth reading.