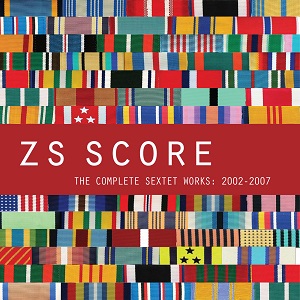 28 February 2013
Perhaps one of the most interesting groups to emerge over the past decade has been Zs, whose aggressive approach to jazz is more akin to the no wave skronk of James Chance & the Contortions than even the most bombastic releases from Germany's Free Music Production. Formed by saxophonist and sole remaining original member Sam Hillmer (aka Diamond Terrifier), the group has continuously evolved through numerous lineup changes, producing captivating music that is as haunting and abrasive as it is beautiful and accessible. This brilliant four disc box set compiles all of Zs' releases through their first five years as a sextet consisting of saxophonists Hillmer and Alex Mincek, percussionists Alex Hoskins and Brad Wentworth and electric guitarists Charlie Looker and Matthew Hough.
The first CD compiles the group's earliest released recordings from 2003, the Untitled single-sided 10" (Ricecontrol), the Karate Bump EP (Planaria) and their eponymous debut album on Troubleman Unlimited. For the most part, these tracks are explorations into syncopation that sound like Frank Zappa having a nightmare about Cecil Taylor, though the quietly frightening "Mimesis" would be perfect for a '70s horror film soundtrack and "Zs" almost sounds like Tortoise circa TNT.
Disc two is culled from several releases, beginning with the DNA/Mars-like no wave onslaught of "In My Dream I Shot a Monk" from Zs' split 7" with Child Abuse (Zum). The single track from the Magnet CDr (Planaria), a sparse composition that utilizes empty space as an instrument, follows. The edited version of "Four Systems" from the Tzadik compilation Folio and Four Systems precedes the complete version, which was later released as a CDr by Sockets. They continue the philosophical ponderings of space and time established by "Magnet." The Buck cassette (Folding Cassettes) follows, documenting an excellent live performance of the group complete with hilarious heckling from a drunken spectator. ("College! Yeah!") Finally, an alternate mix of "In My Dream I Shot a Monk" from the This Body Will Be a Corpse (Parte LLC) memory stick finishes things off.
Disc number three pairs the powerful Arms (Planaria) album with the Remixed LP (Planaria/Sockets). Here, Zs have truly come into their own with fascinating compositions that place post-punk aggression within a jazz framework. The result is seven tracks that rock as hard as they are ingeniously executed. This is beyond prog or fusion or even no wave or what is commonly referred to as "jazz-punk." It's something else entirely, a new world to explore discovered by none other than Zs. Zebrablood's remixes of "Except When You Don't Because Sometimes You Won't" and "Bump" complete the journey.
The fourth and final CD compiles various alternate takes, versions and, for lack of a better word, demos, all of which have been previously unreleased, for an entirely unique experience in the world of Zs.
The main question to ask when presented with a box set of this sort is, "Is it worth the money, especially if I already own two-thirds of it?" The answer here is an absolute resounding YES!!! From the incredibly rare tracks to the more known releases to the beautiful packaging, this collection is worth every penny and more. If you've never heard the band before, this is an excellent starting point and, if you have, you know how important this release is. Honestly, it's a fantastic deal and should cost more money than it does, so fork over your cash while you can and enter the weird world of Zs. Then find a copy of New Slaves and have your mind blown in 10,000 other different ways.