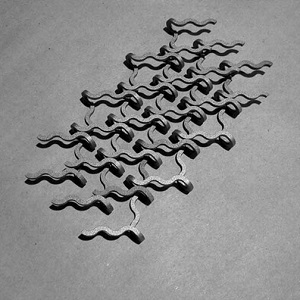 5 February 2015
Back with their first full-length of new compositions since 2010's New Slaves (The Social Registry), Brooklyn, New York's Zs, currently a trio consisting of saxophonist Sam Hillmer (Diamond Terrifier), guitarist Patrick Higgins and drummer Greg Fox (Guardian Alien, Liturgy), continue pushing the avant-garde well beyond its fluid boundaries.
Xe picks up on the forward experimentalism of 2013's Grain (Northern Spy), but harnesses it into something malleable for the musicians to mold. Beginning with the bombastic fanfare of "The Future of Royalty," a bold announcement that their reign still holds, the trio segue into "Wolf Government," where they use their instruments to create a soundscape reminiscent of an early Merzbow tape. "Corps" begins with a pulsing guitar loop that grows into something resembling a Japanese koto before morphing into a Moebius step pyramid for the drums and saxophone to climb. "Weakling" somehow sounds like Cluster playing with Tibetan drones, while closing epic title track constructs a bold statement of sonic architecture from an Escher-like frame. It's a temple of new heights that reach inward as well as out.
As Zs mutate, their music grows stronger, more powerful and focused. Hopefully, it won't take another half decade or longer for the next release, but, if it does, we'll have Xe to warp our brains until then.