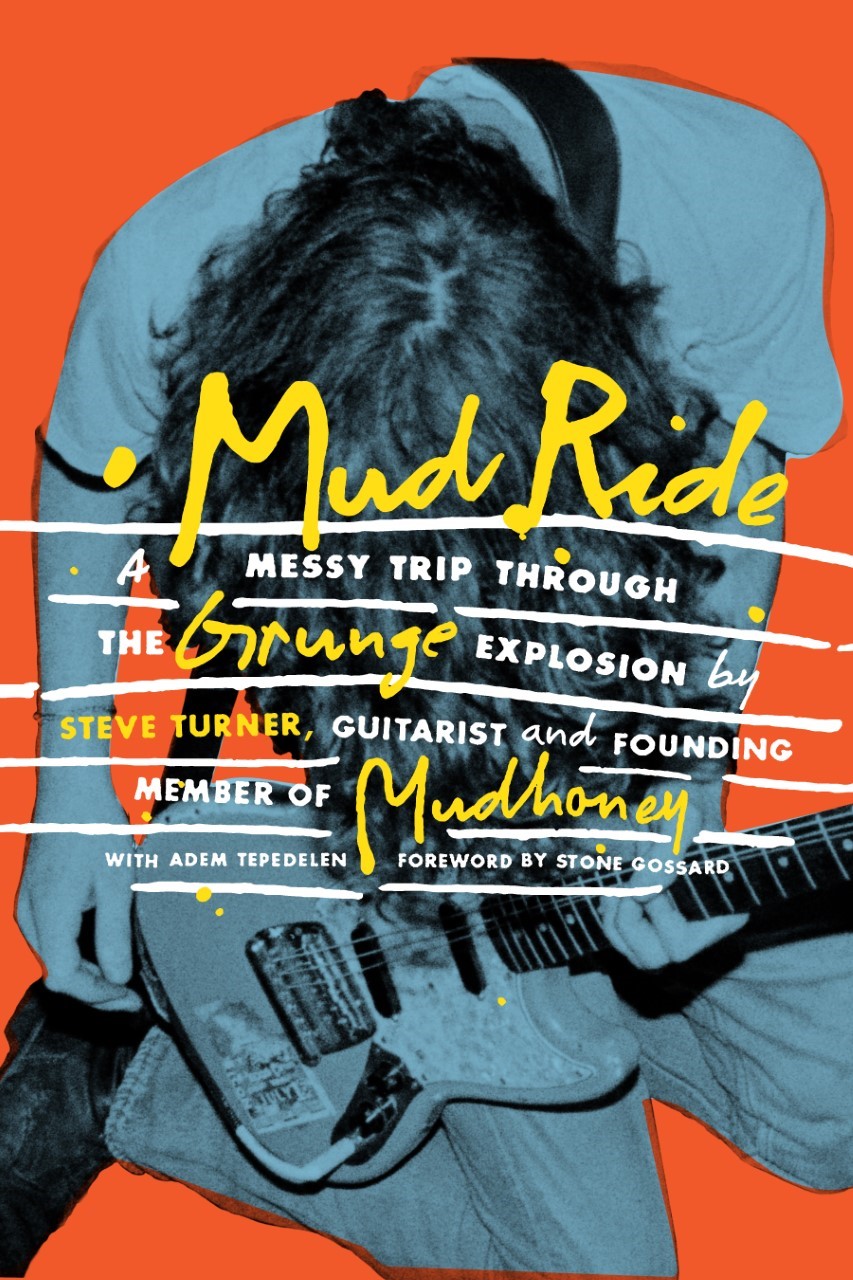 7 June 2023
Mudhoney guitarist Steve Turner has complemented his band's 35th anniversary with Mudride: A Messy Trip Through the Grunge Explosion. Courtesy of Chronicle Books, the memoir shares not only Mudhoney's history and their rightful place within Seattle's underground lexicon, it proudly celebrates several overlooked bands and trailblazers that impacted Turner. Deviating from standard rock & roll memoirs that may glorify drug abuse and irreverent self-destruction, Turner seems reluctant to step into any rock star spotlight and instead, focuses on the Seattle community's dynamics that still inspire him.
Turner agreed there is no shortage of irony when assessing Mudhoney's longevity, expressing several times within Mud Ride that he never aspired to make music a full-time career and the band never had goals of achieving commercial success, yet they have undeniably outlasted their peers. Even the book's use of 'grunge' within the title was a term many bands, including Mudhoney, initially tried to shirk but it seems Turner has finally embraced it.
"The Seattle music community continues to be such a big part of my life and so are the underrated bands I talk about, like 10 Minute Warning. They were a huge influence on everybody because we all came from hardcore but we were creatively frustrated because there was only so much you could do with it. So the next step was to slow things down. Groups like 10 Minute Warning, Feast, and Malfunkshun were so influential but never had a chance to make proper records during their heyday," reflected Turner.
Turner and Mudhoney singer Mark Arm were initially in Green River, with future Pearl Jam alumni Jeff Ament and Stone Gossard. With limited studio output, the group did manage to create a unique sound that fused elements of punk but with an overall, dissonant slower yet menacing tempo. The group ultimately disbanded due to creative differences and comparing the future groups that Green River spawned, it's clear how divided the creative approaches were.
"Looking back at my time in Green River, I feel they were much better without me when I quit. I was initially very frustrated but we all remained great friends and there were never any hatchets to bury. When Mother Love Bone formed and Mudhoney formed in '88 after Green River, you could see the two different creative sides. The Green River reunions were fun, but I had to learn songs off records I never played on," laughed Turner.
Turner simply states he wants to convey what it was like being a working musician growing up in Seattle, but that certainly reads as an understatement considering the entire community was surprised at just how much media attention they ultimately earned. Rock & rollers that claimed to shirk stardom and the pitfalls of fame suddenly found themselves highlighted by major media outlets, in the U.S. and abroad. What makes Mudhoney's role in the grunge media explosion more ironic is journalists routinely overlooked them despite the group's personnel playing major roles in forming the very community and sound they were highlighting.
According to Turner, Mudhoney did not endure a lot of drama. When they transitioned from iconic indie label Sub Pop to Reprise Records, the group still maintained their trademark sonic qualities and wisely decided to invest in record advances and avoid rock & roll cliches, such as bankruptcy or implosion. Turner does share Mark Arm's brief battle with heroin but even then, the group was able to continue with minimal disruption. Original bassist Matt Lukin had quit following '98's oft-overlooked Tomorrow Hit Today record and Reprise quietly dropped the group. Mudhoney ultimately returned to Sub Pop and enjoyed a creative resurgence with new bassist Guy Maddison and incorporated more psychedelic influences within their songwriting.
"We put Baby, Can You Dig The Light? on that first record we put out when we returned to Sub Pop and people might complain it was too long or whatever but we didn't care. We didn't feel we owed anybody and that was a magical recording for us. I felt there was renewed energy," reflected Turner.
Within Mud Ride, Turner remarks how Mudhoney never consciously worked to create an enduring career, yet the group successfully created, or perhaps reluctantly, created a legacy within the grunge sub-genre.
"I do feel we've been very lucky, hell, the record The Lucky Ones has a double meaning. We know that playing so long in a band is not easy and we've come to appreciate it on different levels now. I do agree there is a certain irony with Mudhoney's longevity. Looking back to our time on a major label, I was proud of that last record but by that time, following Kurt Cobain's death nobody wanted to hear anything remotely grunge. It was over," stated Turner.
He added, "After Matt Lukin quit, I thought we would be over but after regrouping, we had the urge to continue. At that time, there was no commercial need for us, which can be a good thing because there is no pressure. We could create and play on our terms."
Mud Ride is an engaging document of just how intimate the original Seattle music community was, and how its creativity remains impactful. Several members have transitioned to very successful groups such as Pearl Jam and Guns N' Roses but Turner introduces each key individual in casual ways that preserve the community's intimacy, even if the term 'grunge' remains forever frozen in its '90s heyday.
"I'm not sure if my book changes any misconceptions but I never intended to badmouth anybody or grind an axe, so to speak. I ask how do you remain creative? How do you fight stagnation? Remaining creative is my goal now. Mudhoney just put out Plastic Eternity and skating still means a lot to me. Music and skating are still very intertwined and it's great to see the far-reaching impacts they both have. People still show up for Mudhoney and I still find inspiration and feel stoked to play shows for them," concluded Turner.
https://www.chroniclebooks.com/products/mud-ride
https://www.subpop.com/artists/mudhoney