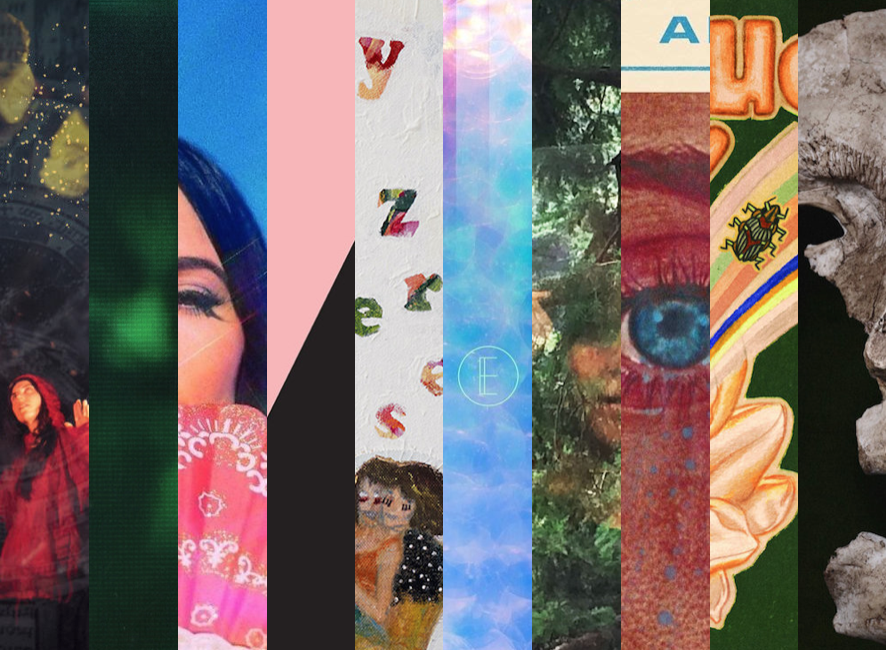 10 Favorite Albums of 2018
1. Julia Holter – Aviary (Domino)
Julia Holter was already the movies to me, and "feature-length Holter album" seems like an idea I dreamed and still haven't woken up from. Every song here contains at least a few moments as huge as the ones that previously served as shorthand for the expansiveness of her vision ("Maxim's I" 0:56, "Boy in the Moon" 4:28). In between there are long stretches of mindfulness, blankness, alarm. Like a lot of music tagged as experimental, it would be fairer to distinguish Aviary from pop's abstractions by calling it, broadly, representational. Even the album's most notably dissonant passage, four minutes of tuneless bagpipes in the middle of disc one, is clarified by its (again) Frank O'Hara-channeling title: "Every Day Is An Emergency." I might normally lean toward a more distancing kind of music, but I love how assuredly Aviary moves between states of experience, from stale gray daylight to sudden, startling occupancy of the senses.
2. Yves Tumor – Safe in the Hands of Love (Warp)
Upon closer inspection maybe only "Licking An Orchid" really sounds like A.R. Kane, and maybe it's fatalistic to imagine Safe inheriting the legacy of 69 and "i": invisible catalysts for redrawn boundaries of pop music in the next decade. But as "Noid" and its tangle of fears and warnings give way to grieving a few songs later, on "Lifetime," as "us" dissolves, it's clear how vulnerable an inside the songs represent, and how much damage the term "outsider art" has done to artists. Anyway, a few windows to music's center, then and now:
3. Kacey Musgraves – Golden Hour (MCA Nashville)
An album with an unusually fluid context, even by 2018 standards. Whatever yours may be, look up to find it: Is Golden Hour a beam from the great studio in the sky, like Air's impossibly good-sounding Talkie Walkie? Is it as heaven-sent as George Michael's weightless, fully lived "Fastlove"? For me, yes and yes, and that makes the details of Musgraves' phrasing all the more precipitous. Lonely contentment gives way to "and if my sister lived in town I know that we'd be doing something fun," and suddenly the distance is untenable and Lucinda's "Crescent City" appears on the horizon and I'm homesick. The sound that follows is decades of weekends with sisters, in one mmm.
4. Meshell Ndegeocello – Ventriloquism (Naïve)
Ndegeocello plays the R&B hits of her formative years, '82-'90 (plus "Waterfalls"), but Ventriloquism avoids many trappings of the covers album (memoir, nostalgia, even the question of interpretation) in favor of a disappearing artist reappearing history. In terms of cultural mourning, the time for these songs is right now, and the elasticity and resonance of the performances suggest a band trying to capture and hold vibrations as they pass, transmuted, through yet another set of objects. In the liner notes Ndegeocello writes about the sanctuary of process, about how playing these songs offers reprieve from the present until it too has become the past. That trick of time works in the opposite direction, too, as Ventriloquism stretches out with a grace that lets the past become the present.
5. Speedy Ortiz – Twerp Verse (Carpark)
Their best and least immediate album, for the same reason: it bears all the marks of poet-leader Sadie Dupuis sharpening her focus, line editing the music for inefficiencies. Atomize the guitars and you'll find syllables, morphemes; there's no room for pillowy language, though the pillowy synths of "You Hate The Title" somewhat cushion the landing. After 33 minutes spent relentlessly untangling a knot, it's the first chance you'll have to rest your fingers, catch your breath.
6. Belly – Dove (self-released)
After Tanya Donelly's Swan Song Series triple-set in 2016, I predicted new experiments in sound, not scale, from a reunited Belly. I was wrong, which isn't to say Dove doesn't sound terrific, but it's so comfortable in its predestined '97 shininess (Lovesongs for Underdogs-bright, with 20% more country) that the band is liberated to more important work: intergenerational empathy, massive choruses. The first three songs pass the 5:20 mark with many, many rounds of the refrain, but consider these no lesser gateways to appreciation than whatever forbidding passages a more difficult album might put in your way. Give in. The last of this trio, "Human Child," is as generous toward the wind-facing youth of the title as it is toward its probable (older) listener, and was ending Belly's encores during their recent tour. It held the audience, grateful for a band that changed at its pace, as rapt as "Super-Connected" or "Low Red Moon."
7. Jennifer Castle – Angels of Death (Paradise of Bachelors)
Did I imagine a consumer warning on the back cover? "This record is meant to be played quiet." Hear it as if from another room, another summer. The metronomic austerity of "Crying Shame" sets the pace and for a while I was tempted to call it Plastic Castle Band, but then I started to hear the songs as built up from silence, not stripped down from spiritual exhaustion. There's a whisper that subsumes Castle's voice, meaning that there are always two melodies happening simultaneously, the song and its afterimage.
8. U.S. Girls – In A Poem Unlimited (4AD)
The most poorly served band at Rock The Garden was also the 2018 band most capable of summoning urgency, so a 30-minute midday set was hardly a wash. "Time" went to battle with time: embrace the material richness of the given moment, then reject its constraints. I went forth into the day's oppressive heat but many months later still haven't figured out what this evidently political album is saying. And I love it for that reason, and for the typographical detail that suggests U.S. Girls are simply players in A Poem Unlimited, not agents of it. All that matters is that Emma Goldman would dance to these grooves, right?
9. Kadhja Bonet – Childqueen (Fat Possum)
"Procession" is A Seat at the Table's "Rise" reimagined as Spaghetti Western overture, and what follows is so subtly adventurous, the voice that binds it so hypnotic, that it's easy to drift through these 37 minutes and scarcely notice their macro view of the 70s, from Hot Buttered Soul to Perfect Angel to The Pleasure Principle.
10. Jorge Elbrecht – Here Lies (self-released)
A scattered portfolio of Elbrecht's production talents slowly reveals itself as a marvel of sequencing, a trip back in time through the first musical decade of the artist's life, from the synth-pop of arpeggiated hallucinations ("Endless Fire") to the post-punk of repurposed political imagery ("Guillotine," and its "downfall!") to the soft rock of starched-stiff wordplay ("Words Never Fail to Fail"). And then back again or somewhere else entirely, on "Mirror." Better, Elbrecht employs only whatever studiocraft the songwriting supports, e.g. you don't record a song as if you're trying to keep the radio within range of its signal unless you've written a verifiable gem.