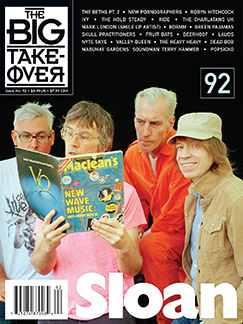 Shop our Big Takeover store for back issues, t-shirts & CDs
---
Facebook
Follow us on Instagram
Follow The Big Takeover
La Sera – Queens (Polyvinyl) – It's almost a crime that something this excellent is contained to a digital-only stopgap EP. 2016 is Katy Goodman's year of wonders. Not only has she released this excellent EP, but she's also released two other excellent Lps earlier this year, one with La Sera (her collaboration with guitar slinger and husband Todd Wisenbaker that also produced Music for Listening to Music To early in the year) and a covers album called Take It, It's Yours with Greta Morgan of the also excellent Springtime Carnivore. Anyhow, the title track is one of their best songs to date and the other new song here, "Magic in Your Eyes," isn't far behind. The rest of the EP consists of re-workings of 2 of the songs from Music for Listening to Music To, "I Really Need an Angel" and "Shadow of Your Love (Slight Return)" and a cover of Led Zeppelin's "Whole Lotta Love" that improbable, but actually works. Wisenbaker's guitar theatrics on the new "Shadow of Your Love" are yet enough reason this one has gotten many repeat plays.
Big Star – Complete Third (Omnivore)
I'm not usually one for these sorts of releases as it can be exhausting to hear every single recording from a given session. Not so in this case, though. The 3 discs in this incredible set show Third as a work in progress from its earliest demos to semi-completed work to mixed and mastered tracks that were never officially released in 1978 since every record company they took it to had no idea what to do with it. Fans of Big Star and Alex Chilton will likely already have this, but in case you missed it somehow, it's an absolute must and one of the year's best reissues.
The Monochrome Set – Cosmonaut (Tapete) – The long-running English band led by Bid don't stake out new territory on this, their 13th album, but like last year's wonderful Spaces Everywhere, I think they're better now than they were in the early '80s. The songs are less quirky and herky-jerky, but they breathe more and in some cases are even more memorable. The difference is palpable like between what contemporaries

XTC

did on their first few albums to what they would do in the '80s. It took The Monochrome Set decades longer to get to that point, but it's welcome regardless.
The Pop Group – Honeymoon on Mars (Freaks R Us) – Though not quite the colossus that is their 1979 debut album Y or as overtly political as 1980's For How Much Longer Do We Tolerate Mass Murder, the 4th Pop Group album (2015's Citizen Zombie followed a 35 year gap between albums), Honeymoon on Mars is a fitting, modern update to their sound. With old producer Dennis Bovell and Bomb Squad guru Hank Shocklee behind the boards, The Pop Group produce a more modern, electronic-tinged version of the doomsday scenarios they projected all those years ago.
The Lovely Intangibles – Air and Numbers (The Lovely Intangibles) – Those missing upstate New York's excellent goth/post-punk styled The Lost Patrol are advised to check out the brand new album by most of the members of that group (minus singer Mollie Israel), joined by guest bassist Jon Camp (of the classic Renaissance lineup of the early '70s) and singer Mary Ognibene.
Dot Dash – Searchlights (The Beautiful Music) – From The Undertones' referencing opening track "Dumb Entertainment," Dot Dash's fifth (!) album in as many years doesn't mess with their well-honed formula, but with former Minor Threat bassist Steve Hansgen back on guitar, they've added a crunch missing on some of their (also very good) older records.
Deniz Tek – Mean Old Twister (Career) – Radio Birdman guitarist Tek's new solo album is more in the mold of a rootsy, '70s-inspired hard rock record than the punk rock of the band he founded in 1974 as a transplant from Ann Arbor to Sydney and thus inadvertently birthing the Australian underground punk scene. However, his tone is instantly recognizable and the album quite enjoyable.
Teenage Fanclub – Here (Merge) – Following 2010's excellent Shadows, Here is equally lovely but a bit more of a shall we say, grower. Still, there's no arguing the rush of Norman Blake's opener "I'm in Love" or the loveliness of "The Darkest Part of the Night," however!
Urgent Fury – Let Freedom Sting (Deathproof/Core Tex) – Writer, activist, South Bronx native and former Vietnam veteran Abraham Rodriguez started this now Berlin-based band in New York all the way back in the mid '80s and on this brand new album, they re-recorded many of the classics that ended up on the Broken Rekids 10" originally released in 1993. The recordings here are sharper, clearer and more modern, but still full of the righteous anger and passion that exploded out of the speakers in the original versions. It's sad that many (like "Justice is for the Rich" or "Just a Cog in the Corporate World") are still relevant to our current political situation, but it makes them timeless.
sciflyer – The Age of Lovely, Intimate Things (Elephant Stone) – The 2nd release this year on the long dormant but now suddenly thriving again label Elephant Stone is a welcome reissue of a 2005 release by these dream-pop mavens. 13 of the disc's 30 minutes is taken by up by a too-long closer, but the rest of this burns and stings like the Swervedriver song they're likely named after.