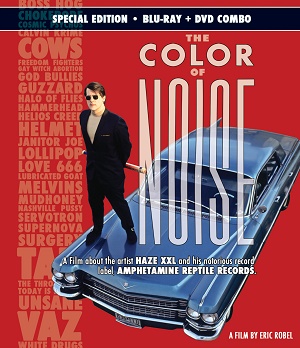 19 November 2015
Today, a trip to any bar on '90s night will only assault you with music you thought would be forgotten twenty years later. Millennials happily gyrate to The Spin Doctors, Blues Traveler and Hootie and the Blowfish like they're The Beatles and The Rolling Stones while the DJ gets edgy with songs from Beck, The Red Hot Chili Peppers and Nine Inch Nails. Maybe Nirvana or Pearl Jam pops up between that "Breakfast at Tiffany's" song and Counting Crows, or some other one hit wonder you'd forgotten about and hoped to never hear again. That's when you realize you're too damn old and close out your tab.
Some of us, however, were unsatisfied by the eternally vapid mainstream, and we spent most of our free time in independent record stores discovering new music from a burgeoning post-punk, post-hardcore underground. Sub Pop rode the coattails of the Seattle explosion, but still found the time to release great albums by Mudhoney and Six Finger Satellite, while Alternative Tentacles in San Francisco documented oddities like Tragic Mulatto and Nomeansno. Chicago's Touch and Go had The Jesus Lizard and Laughing Hyenas, and Matador in New York City released Come and Jon Spencer Blues Explosion. In the middle of it all, a small label out of Minneapolis put out some of the loudest, noisiest, most aggressive and strangest records of the decade. That label was Amphetamine Reptile, and this is its story.
AmRep, as it came to be known, started in 1986 when US Marine, Tom Hazelmyer needed an outlet for his own band, Halo of Flies. Later, he released a series of seminal compilation 7"s called Dope, Guns 'N Fucking in the Streets, which introduced a number of bands that would be on the label's roster. Albums by God Bullies, Cows and Helmet followed, with more by Hammerhead, Unsane and Melvins on the horizon. Director Eric Robel tells the story through interviews with those that made it happen, from Hazelmyer to the bands to graphic artists, like Shepard Fairey, Frank Kozik and Coop, who visually defined the music around them. Lubricated Goat's hilarious Stu Spasm raves drunkenly, though members of Surgery, Boss Hog and Janitor Joe provide insight into a scene that was built from the ground up. Strangely, Helios Creed, who recorded some of his best albums for the label, is absent, save a brief soundbite to complain about royalties. Regardless, it's an honest depiction of a movement that built careers and took lives, but persevered through it all with a relentless blue collar ethic.
It isn't just a great story about music, it's a great story period, and anyone interested in music and art will want to see this film, whether they've heard of any of the participants or not.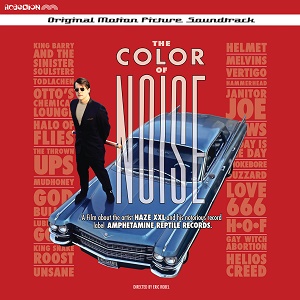 For the completists in the audience, the soundtrack is available as a colored double LP. Through various live recordings, alternate takes and album cuts, the AmRep story unfolds through music alone as it did twenty five years ago on the Dope, Guns 'N Fucking in the Streets comps. Hear for yourself why the label is more than a footnote in the annals of indie rock.
Both the film and its soundtrack are available from MVD Entertainment.