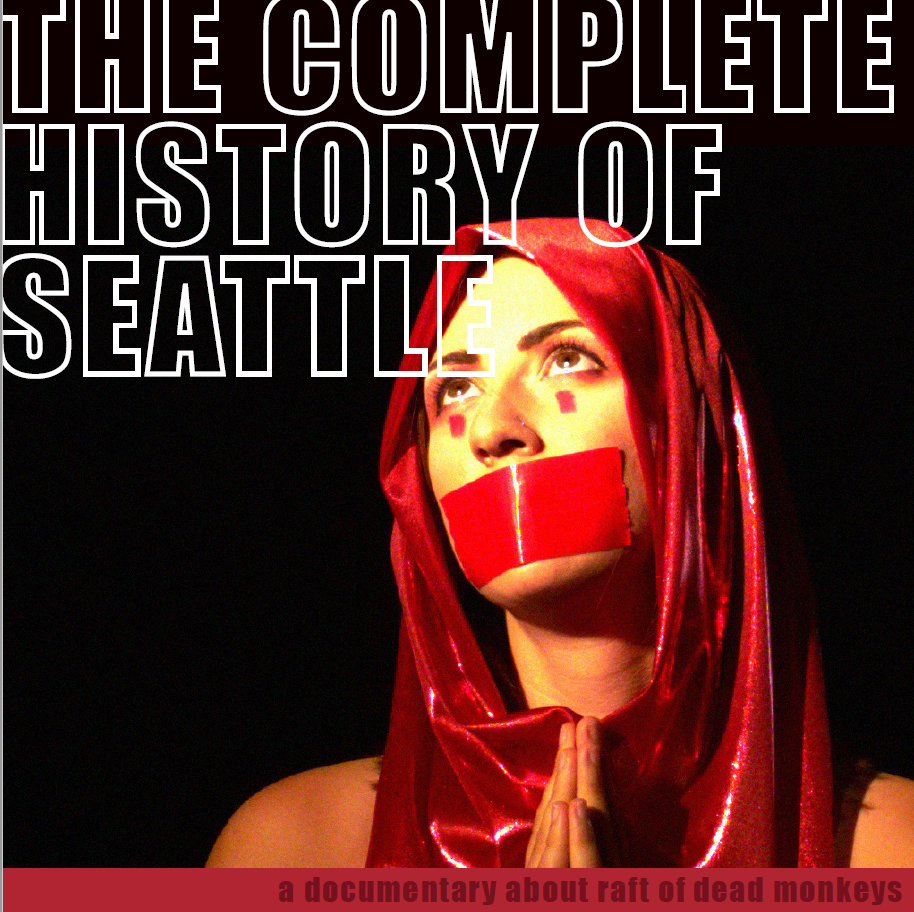 6 June 2016
A city where roughly a third of the population considers itself religiously unaffiliated isn't a place you'd peg as a Christian rock stronghold. But for a few brief years in the post- Nirvana '90s, Seattle was, making for strange bedfellows, as told in a new documentary, The Complete History Of Seattle.
Director Nick Toti's wryly-titled film, screening Wednesday, June 8th at Northwest Film Forum in Seattle and available on DVD via Interesting Productions, looks back on this unusual era. In it, Toti critiques the Christian music industry's manipulation of youth culture as well as the creeping conservatism behind Seattle's liberal veneer, catching up with the members of Raft of Dead Monkeys — a group of resourceful young contrarians that rose up against those twin forces — to illuminate his points.
Raft formed out of the ashes of Roadside Monument and Ninety Pound Wuss, a pair of upstart Seattle-area bands snapped up in the wake of Nirvana-mania by Tooth & Nail — a Christian record label, technically, but one with offices in Pioneer Square just steps from Sub Pop's.
Initially thrilled to have backing for their decidedly radio-unfriendly records, Roadside and NPW quickly learned they'd ghettoized themselves to the Christian realm despite holding their own, both as rockers and partiers, with their secular punk peers.
This confused, then angered them — and in Raft, which was not on T&N, they let that be known. 49 percent band, 51 percent art project, their gigs involved male strippers, fascist imagery and self-induced vomiting, among other unsavory hijinks designed to clear rooms and piss off the Christian establishment — while acting as double agents within it at their main hangout, a black-box theater near the University of Washington aptly dubbed The Paradox.
Finding a shrewd workaround to the draconian Teen Dance Ordinance that still gives Seattle punk promoters headaches today, The Paradox gained non-profit designation by hosting weekly sermons by the then-new, since-disbanded Mars Hill Church, who also funded it.
The rest of the time, it booked touring bands, mostly secular ones, and from 1999 to 2003, was an all-ages oasis during a dry spell for such spaces in the city, successfully using the church to expose audiences to envelope-pushing music and art from outside of it — "Church of the Immaculate Loophole Concert Venue," in Raft frontman Jeff Bettger's words.
But as Toti's film tells it, Mars Hill's increasingly heavy-handed outreach efforts "effectively and ironically ended Raft."
Aesthetically, much like the band it focuses on, Complete History Of is definite art-house fare, an audio-visual collage of creepy re-enactments of Raft's stage show, choppy VHS footage and found photos, and interviews with the participants.
The 75-minute movie over-extends itself somewhat during its final act, which attempts to tie the Raft story into a broader history lesson about how Seattle, for all its pride about its pioneering spirit, isn't as progressive as it wants to believe.
Still, sarcastic title aside — a Ken Burns doc this isn't — Complete History Of sheds honest-to-God light on a period in Northwest underground lore otherwise doomed to "scenes missing" status.
Watch a preview of the film below. For streaming and DVD purchasing info, email Nick Toti at interesting.productions@yahoo.com. Tickets to Wednesday's Seattle screening are available here.