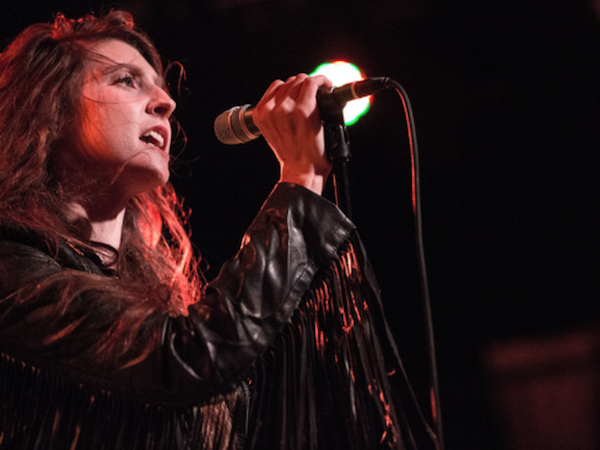 16 July 2019
Photo: Tim Bugbee
For some bands, Psycho Las Vegas will be their pinnacle performance of 2019. For others, it may mark just another stop on an ongoing tour supporting their new album. But for Cincinnati rock 'n' roll purists Electric Citizen, their show next month at the Mandalay Bay Resort and Casino will complete a Psycho-tic circle that began earlier this year.
Electric Citizen — which consists of singer Laura Dolan, guitarist Ross Dolan, drummer Nate Wagner and bassist Nick Vogelpohl — kicked off their 2019 tour at the first-ever Psycho Smokeout Festival in Los Angeles on April 20. Come August 16, they will wrap their trek supporting Helltown at Psycho Las Vegas.
Add to that the band's previous shows at Psycho California in 2015, as part of the Road to Psycho Tour that same year and at Psycho Las Vegas in 2016, and Electric Citizen has more stamps on their Psycho passport than just about any other band.
The Big Takeover recently caught up with Dolan for the 32nd installment in our ongoing series profiling participants at Psycho Las Vegas. Waxing grateful for the festival throughout the interview, she noted how Psycho attracts freethinkers — unlike the many other cookie-cutter fests now scattered across the U.S.
She also referred to it as a "family reunion" (just like Stephen McBean did in our recent interview with the Black Mountain frontman), where like-minded musicians can chill with each other when they're not performing.
Here's what else Dolan had to share about Electric Citizen's upcoming gig at Psycho — as well as a very special anecdote involving one of her idols, Alice Cooper.
Why are you particularly excited to play Psycho? What makes the festival special, both from a performance perspective and as a personal experience?
DOLAN: As far as this music scene goes, I feel like Psycho is one of the most important fests happening in the USA right now, and bringing a lot of attention to hard rock and metal music. We are happy to be a part of it again this year. I love the people in this scene; it's a big party for the freethinkers that have found each other though this music.
What memories do you have of your past performances at Psycho?
DOLAN: Everything Psycho Entertainment gets behind is rad, and we love the people behind it. We played Psycho once when it was still in California in 2015, and once at the Hard Rock in Vegas in 2016. Every year it gets bigger. We can't wait to be back. It feels like a rock 'n' roll family reunion of sorts.
Do you have any surprises planned for your Psycho set, whether they be songs you wouldn't normally play, added stage elements, etc.?
DOLAN: Possibly. We do have a special guest flying in to play the keys. Moving forward, we've vowed to consistently have a keys player live; it's always been a big part of our studio recordings since we started as a band in 2012.
Do you prefer playing in the heat or in the cold? Indoors or outdoors? What are the advantages and disadvantages of playing at the time and on the stage where you're scheduled to perform?
DOLAN: I prefer an indoor stage for sound quality, but the outdoor shows can be really fun. I don't have strong feelings about where I perform, I just like to perform. At age 4, I started asking my mom, "When do I get to be onstage?" It's inborn, I suppose. I don't know where our set will be for Psycho 2019. We played the main stage the first year in California at 4:20, and I got to hand joints out into the audience. We played the pool party last time we were in Vegas, that was a blast too.
Tell me something that happened to you in Vegas that was supposed to stay in Vegas.
DOLAN: This one stayed in Vegas because I suck at checking my phone. We played Psycho Vegas the year Alice Cooper performed [2016]. He's a favorite of mine; I even drove to Nashville last year on my birthday to see him perform with his original band. So I get back to my hotel room one night and look at my Instagram messages just to realize I was invited to meet him, and I blew it by not looking at my phone.
Alice plays us on his radio [show, "Nights with Alice Cooper"]. I have a custom embroidered Alice Cooper jacket that was gifted to me … I mean, I really fuckin' blew it.
I did get to meet Arthur Brown that year, and we ended up touring with him the following spring, so that was pretty redeeming. He's one of my greatest musical heroes (and Alice's too) … the godfather of shock rock!
What other bands are you most excited to see perform at Psycho?
DOLAN: There's a lot of bands on this bill I'm excited to see, most of which I've seen before, but I'm even more excited to find one I've never heard, doing something new and outstanding. With festivals like this, every band brings their best — at least you hope they do — so it's fun to trip around from stage to stage waiting for something to really surprise you.
What friends of yours are also playing at the festival? Who are you planning or hoping to hang with in your downtime?
DOLAN: We've toured with Fu Manchu and the Crazy World of Arthur Brown, really looking forward to seeing them both again. We have loads of friends that will be there. I can't say I make plans for this sort of thing, the spontaneity is what makes it interesting. Everywhere you turn you see a familiar face.
What can fans and newcomers expect from your performance(s) at the festival?
DOLAN: Unpretentious, authentic, American Rust Belt rock 'n' roll. I'm a wild woman onstage, I guess I'm most at home up there, and the guys always play nice and tight. We make this music for ourselves, as something we can all be proud of, and we're always challenging ourselves to do more, try more. I wish to create something that might live beyond us one day — even if it's not on a large scale. I feel lucky that I get to share this with people.
For previous installments of the Big Takeover's Psycho Las Vegas preview series, check out our interviews with:
• Colin H. Van Eeckhout, vocalist for Belgian post-metal purveyors Amenra
• Jason Shi and Scott Key, singer/guitarist and drummer, respectively, for melodic hard-rock masters ASG
• Stephen McBean, singer/guitarist of long-running psychedelic-rock project Black Mountain
• Jean-Paul Gaster, drummer for "the quintessential American rock band," Clutch
• Greg Meleney, vocalist/guitarist for Portland psych-rock mainstays Danava
• George Clarke, vocalist for shoegaze/black-metal powerhouses Deafheaven
• DJ Painkiller, an L.A.-based metalhead who will be spinning between sets
• Darkest Prince, lead guitarist for black-metal punks Devil Master
• Victor Vicart of Scottish progressive-metal quintet Dvne
• Zack Simmons, drummer of blackened death-metal demigods Goatwhore
• Emil Amos, drummer of experimental post-rock band Grails
• Julien Chanut, guitarist of French sludge-doom band Hangman's Chair
• Tony Campos, guitarist and founder of thrash revivalists Hell Fire
• Nashville cosmic-riff connoisseurs Howling Giant
• Gabriel Franco, vocalist/guitarist for gothy post-punks Idle Hands
• Joshy, drummer for crusty death/doom-metal outfit Ilsa
• Johanna Sadonis, vocalist for "heavy magic rock" band Lucifer
• Stuart Braithwaite, founding guitarist/vocalist for beloved post-rock legends Mogwai
• Thomas Eriksen, centrifugal force behind true Norwegian black-metallers Mork
• All-female Motörhead tribute band Motorbabe
• Mikael Åkerfeldt, frontman for Swedish progressive-metal kings Opeth
• Ethan Lee McCarthy, frontman for blackened-doom trio Primitive Man
• Tobias Grave, frontman of shimmering post-rock trio Soft Kill
• Derrick Vella, guitarist of death-metal arsonists Tomb Mold
• Niklas Källgren, guitarist of Swedish fuzz fanatics Truckfighters
• Los Angeles Satanic doo-wop duo Twin Temple
• Kevin Starrs, frontman of British fuzz royalty Uncle Acid and the deadbeats
• Sean Killian, vocalist for cult-favorite Bay Area thrash band Vio-lence
• Bruce Lamont, frontman of experimental heavy-jazz project Yakuza and Led Zeppelin tribute band Led Zeppelin 2
• Aaron Rieseberg, bassist of Oregon doom-metal dealers Yob
Also, don't miss our special feature in which Deafheaven's Clarke and Mogwai's Braithwaite discuss their mutual affection for each other's bands, whether Deafheaven should play their Mogwai cover at Psycho Las Vegas — and the possibility of a collaboration between the two projects.