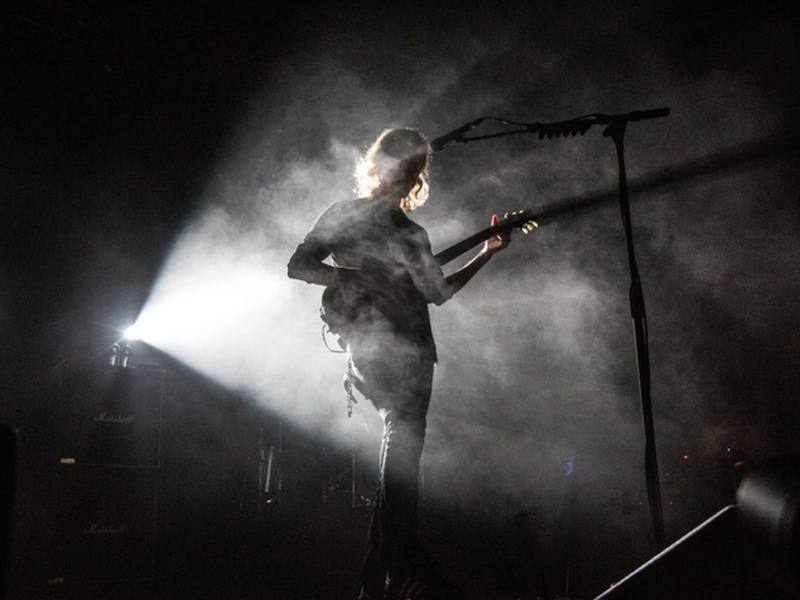 14 July 2019
Photo: Tim Bugbee
On Friday, Stockholm progressive-metal kings Opeth dropped the first single, "Heart in Hand," from their upcoming 13th studio album, due later this year. Technically, the Friday release amounted to 17 minutes' worth of new music, as the single was released in English and Swedish — in keeping with the band's plans to release In Cauda Venenum separately in both languages.
Frontman Mikael Åkerfeldt quickly earned positive reviews for the vocal range he exhibits on the galloping new track, which is also rife with intoxicating and dizzying chord progressions, loud/soft dynamics, and — of course — Opeth's trademark time signature changes.
As luck would have it, the Big Takeover just caught up a few weeks ago with Åkerfeldt to discuss In Cauda Venenum and Opeth's festival-closing appearance on August 18 at this year's Psycho Las Vegas, which will be headquartered at the Mandalay Bay Resort and Casino. He also candidly discussed why he decided to play Psycho, his disdain for Offspring and Nickelback, whether Opeth will dip into their new material at the show — and why he still gets stage jitters 30 years after forming his band.
Hey, Mikael. What are you up to today?
ÅKERFELDT: Trying to get my headphones to work. I just came back home from holiday and am now in Stockholm.
How was the holiday?
ÅKERFELDT: We were on an island on the southeast coast called Gotland — if you know Ingmar Bergman, that's where he [lived and died]. It feels like a different world. We went to a Midsummer's event there, this old pagan holiday where we eat fermented fish. This was our fourth consecutive year — we rent a house on the north part of the island. I went there many times as a kid, so it's in my DNA.
Are you familiar with Psycho Las Vegas?
ÅKERFELDT: Not really. I heard about the festival from a friend of mine in Tribulation, who played there [in 2016]. He said that he was not super overjoyed with it, to be honest. There were a lot of people but so much other stuff going on that he felt that when they played the show, there were too many distractions. It is Vegas, after all. But he said it was well-organized.
So why did you agree to play Psycho?
ÅKERFELDT: I looked at the lineup and saw that Megadeth was on, and the pay was good. It's a lot of stuff for us to take over there — the taxes and crew — so we always have to do the calculations. We can't just take shows for fun; they have to work on a financial level, even if that sounds crass. We only recently said yes to a show that was a loss for us, in Greenland.
This'll be the first time — as far as I remember — we come into a country, play a show and fly back the next day. For us, the summers usually mean we do festivals in Europe. It's a distance to the U.S. — and there used to be not many festivals that would invite us here.
What do you think will make Psycho a particularly special experience for Opeth?
ÅKERFELDT: It seems a bit more artsy and contemporary than other festivals in the U.S. Many are overblown [and feature bands like] Offspring and Nickelback, which I don't like. This is more street-level, even though it is a big operation.
It's intriguing because of the lineup. It reminds me of Roadburn in Holland for some reason. It's almost springing from the same idea. [Stephen McBean, singer/guitarist of long-running psychedelic-rock project Black Mountain, made a similar comparison in a recent interview with the Big Takeover.]
Megadeth aren't playing now [due to Dave Mustaine's throat cancer diagnosis], but it seems like it is more directed at proper music fans, rather than a cool event to hang out at, like some of the festivals in the U.S. and over here. Massive festivals and the organizers don't always really care about bands anymore. We've played many shows where the crowd was distracted.
What do you have in mind for your set list? How many new songs are you planning to play?
ÅKERFELDT: Don't know yet, to be honest. The new record won't be out by the time we play there, and we're reluctant to play new songs before an album is out. We've started rehearing some of the new stuff. I'm wary of playing a new song in front of a festival audience. We've done many records and try to cover as many as we can. … We try to please the fans.
Do you have any special bonuses planned for your Psycho set, whether they be obscure songs, covers, collaborations, etc.?
ÅKERFELDT: Most of our tracks are quite obscure — we have "Deliverance" and a few other "we-have-to-play" songs, but most of our songs are obscure. We haven't really talked about it. We just played stuff that we know well recently in Europe. We have many records and many songs that we've never played live. When we pull out an obscure track, the crowd will be like, "What's this?" "Blackwater Park," we have to play. [But if we perform a] song from first record, people will probably go, "Hmm?"

Will it be hard to top your performance at Red Rocks two years ago, in terms of U.S. shows?
ÅKERFELDT: Red Rocks was memorable for both good and bad reasons. It's a beautiful place — I forgot the night before about the show and woke up and opened the blinds on the bus, and it was beautiful. I knew bands that played there. So it was definitely memorable — but also because it was so fucking cold when we played. [It was also] a bit chaotic, because it was going to be filmed. That always puts extra stress on you as a band and individuals.
We once played a Mexican restaurant in Salt Lake City with people eating tacos as we were playing. We were on a small stage and one of us had to stand on a windowsill. It doesn't have to be a super-legendary classic venue for us to have a memorable time.
What other bands are you most excited to see perform at Psycho this year? Will it be your first time seeing any of those bands?
ÅKERFELDT: Godspeed, I've never seen. I'd like to see them. High on Fire, we've toured with, they're good guys. Arthur Brown will be a treat. Clutch. Triumph of Death, I love Tom G. Warrior. Obsessed, I've never seen them. Led Zeppelin 2. Rotting Christ, I know the singer Sakis Tolis a little bit. Vio-lence … I have Eternal Nightmare or something. There's a bunch of bands I could see. But if I go out into the crowd, I like to see bands that I've never seen or heard before. But I'll watch High on Fire, Clutch, Triumph of Death and Carcass.
Will you be there for the entire festival, then? Do you plan to run into a lot of your friends?
ÅKERFELDT: I think we come in on Saturday, so we may miss High on Fire. We haven't made our travel plans. It really depends on the backstage area. If it's open, we'll run into other bands that we know and hang out or whatever. Generally I'm a bit jumpy before we play, so I have to drag myself to the stage to watch a band out of nervousness. I usually go out and check the stage and see the front from the sides to see what it looks so I can memorize it once we go on. But then I just hang out, sit around and wait.
What does backstage look like at a festival like Psycho?
ÅKERFELDT: [In June] we played in England at Download Festival at Donington Park — it was such a classic festival. Rainbow, Mötley Crüe and we were sitting around backstage just watching the other bands walk around. It's just so calm. Nothing happens. People in gun boots walking around drinking their tea. Not that I want [metal] to be how it was, but it's really changed. It's like a knitting club. Now we're calm.
We weren't completely chaotic, but like everybody else, when you start touring, it's a dream come true, there are expectations of where you're going to take the band, first couple of tours and festivals, it was amazing. Now I'm 45 and a bit more jaded, so I don't have the same youthful energy. I'm there to do a job and do it well. After the show, you have a couple of beers and hang out with a couple of bands. We drank more 10 to 15 years ago.
Do you find yourself becoming more disinterested in performing as well?
ÅKERFELDT: The passion is always there. We're still a live band. We don't have anything to hide behind. You feel — not literally, but you feel naked up there. You might forget a lyric. There are technical difficulties. Personally, I'm still nervous about making an ass of myself. Otherwise I just want to be good every night. We try our very, very best every night. We always go out there with the same intention; no show is more intense than any other. If you go up and have the odds against you, you get a bit nervous.
What challenges do you face when performing at a festival versus one of your other headlining shows?
ÅKERFELDT: Sometimes you start singing and you can't hear any vocals in your monitors or in your headphones, and there's 30,000 to 40,000 people out there, and you can't let it show. You just have to play the fucking song, even if you can't hear anything. You can't complain about the shitty sound either. You have to pretend it's fine and dandy, and that can be a struggle. We don't have masks or costumes or capes — everything is live. [We don't use] click tracks, which are common today. We want to feel that we can keep that tradition in rock music and for ourselves. We want to be humans up there the best we can.
What's the best festival you've played as of late?
ÅKERFELDT: We played in Spain just before holiday, in Málaga, a beautiful tourist paradise, at an outdoor show called Rock the Coast. I really liked it. There was good lineup and organization, and we played right before Rainbow. [Deep Purple guitarist] Ritchie Blackmore, who is my idol, was there. I was nervous for him and transported to when I was 10 years old when I saw him come in. It was like, "It's God, right there." I was really excited for his show, and that made me excited about our own show. Not that I wanted to give him any competition, I just wanted him to pay well.
How many times have you performed in Vegas?
ÅKERFELDT: I've been there maybe between five and 10 times over the years.
Do you gamble?
ÅKERFELDT: I don't gamble much. I usually set aside 100 to 200 bucks, and once that's gone, I'll stop. But our guitar player Fredrik Åkesson loves it and excuses it with, "Well the drinks are free, otherwise they're gonna cost you 20 bucks, so I've been sitting here for six hours. What if I gambled away $500, but I had six drinks for free?" So I usually sit with him sitting at the slot machines. I pay my $20 and sit next to him, haha.
Are you a fan of the Sin City?
ÅKERFELDT: It's a weird place. It's lovely and appalling at the same time. I watch people, and there's old ladies sitting by the slot machines, and they win and just go, "Hmm," and continue. It's like, "You won!" It's like it's their job. I find it intriguing but I don't think I could last in that environment. I've been on the Strip, but it's super fucking trippy. We're Swedish too, so it's in the Swedish soul that you're laid-back and don't really want to be seen. In Vegas, it's kind of the opposite — which I find intriguing. I'd like to be more Vegas-y.
More like a rock star, perhaps?
ÅKERFELDT: [Laughs.] Yes, it wouldn't hurt. But I like that we have our feet firmly planted on the ground.
For previous installments of the Big Takeover's Psycho Las Vegas preview series, check out our interviews with:
• Colin H. Van Eeckhout, vocalist for Belgian post-metal purveyors Amenra
• Jason Shi and Scott Key, singer/guitarist and drummer, respectively, for melodic hard-rock masters ASG
• Stephen McBean, singer/guitarist of long-running psychedelic-rock project Black Mountain
• Jean-Paul Gaster, drummer for "the quintessential American rock band," Clutch
• Greg Meleney, vocalist/guitarist for Portland psych-rock mainstays Danava
• George Clarke, vocalist for shoegaze/black-metal powerhouses Deafheaven
• DJ Painkiller, an L.A.-based metalhead who will be spinning between sets
• Darkest Prince, lead guitarist for black-metal punks Devil Master
• Victor Vicart of Scottish progressive-metal quintet Dvne
• Zack Simmons, drummer of blackened death-metal demigods Goatwhore
• Emil Amos, drummer of experimental post-rock band Grails
• Julien Chanut, guitarist of French sludge-doom band Hangman's Chair
• Tony Campos, guitarist and founder of thrash revivalists Hell Fire
• Nashville cosmic-riff connoisseurs Howling Giant
• Gabriel Franco, vocalist/guitarist for gothy post-punks Idle Hands
• Joshy, drummer for crusty death/doom-metal outfit Ilsa
• Johanna Sadonis, vocalist for "heavy magic rock" band Lucifer
• Stuart Braithwaite, founding guitarist/vocalist for beloved post-rock legends Mogwai
• Thomas Eriksen, centrifugal force behind true Norwegian black-metallers Mork
• All-female Motörhead tribute band Motorbabe
• Ethan Lee McCarthy, frontman for blackened-doom trio Primitive Man
• Tobias Grave, frontman of shimmering post-rock trio Soft Kill
• Derrick Vella, guitarist of death-metal arsonists Tomb Mold
• Niklas Källgren, guitarist of Swedish fuzz fanatics Truckfighters
• Los Angeles Satanic doo-wop duo Twin Temple
• Kevin Starrs, frontman of British fuzz royalty Uncle Acid and the deadbeats
• Sean Killian, vocalist for cult-favorite Bay Area thrash band Vio-lence
• Bruce Lamont, frontman of experimental heavy-jazz project Yakuza and Led Zeppelin tribute band Led Zeppelin 2
• Aaron Rieseberg, bassist of Oregon doom-metal dealers Yob
Also, don't miss our special feature in which Deafheaven's Clarke and Mogwai's Braithwaite discuss their mutual affection for each other's bands, whether Deafheaven should play their Mogwai cover at Psycho Las Vegas — and the possibility of a collaboration between the two projects.