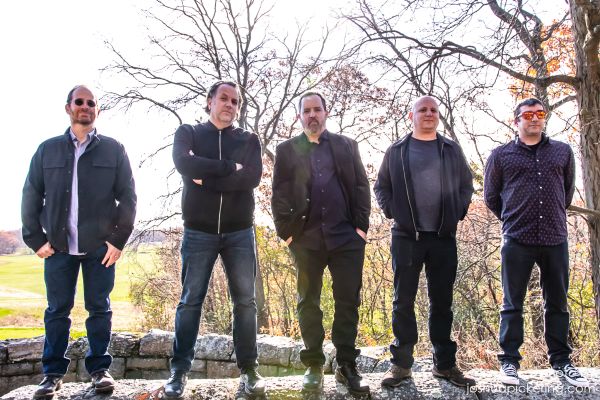 11 January 2021
Devil Love – Photo Credit: Joshua Pickering Photography
Blurring the boundaries between '90s alt-rock, '70s rhythmic crunch, and the savvy songwriting of Big Star and Elliott Smith, Devil Love makes its brand of hook-heavy pop/rock. It's a modern sound that nods to the best parts of the past, fusing the melodies of frontman Peter Buzzelle — a longtime member of Boston's songwriting community — with the thick guitars and stomping percussion of a full-throttle indie-rock band.
Buzzelle's career that began in the Pacific Northwest, where he attended college with members of Sleater-Kinney and played drums for The Posies' opening act. This was the last decade of the 20th century — the golden era of alternative music — and Buzzelle had a front-row seat to history in the making, often sharing shows with the genre's bigger acts. Although he'd later return to his native Massachusetts and kickstart his songwriting career, something about those years in Oregon never left him.
Buzzelle began making a name for himself in Boston's diverse music scene, releasing four solo albums that blended indie-rock punch with bright melodies. Along the way, he began collaborating with some of the area's most celebrated instrumentalists, gradually laying the foundation for the band that would take the place of his celebrated solo career.
Drummer Chuck Ferreira was the first member to join Buzzelle in Devil Love's lineup, bringing a love of Led Zeppelin and other bottom-heavy rock acts to the table. Lead guitarist Ken Rothman was next, complementing Buzzelle's guitar playing with his Stones-inspired approach. Bass player Jason Raffi finalized the rhythm section, while Josh Cohen — a veteran keyboardist who'd toured with Guster and ran sound for John Fogerty — completed the quintet.
Led by Buzzelle's songwriting, the group began recording their debut full length, Broken Things, at various studios across Boston, working with studio pros like Benny Grotto (Ben Folds, Dresden Dolls), Matthew Ellard (Elliot Smith, Wilco), and Matthew Girard (Parks, The House Jacks) along the way.
Broken Things,which releases on February 12th, is a rare kind of debut album — one filled not only with the electricity of a new band but also with the sharp expertise of all-star musicians.
Big Takeover is pleased to host the premiere of "Gold Currency," a reflective, yet vibrant cut off Broken Things. Buzzelle's heartfelt and wistful vocals gently float over warm guitar buzz that cranks up at times to a fiery churn, low bass line simmer, and a measured, but richly rolling drum pace.
Buzzelle comments, ""Gold Currency" is a simple love song about two people on the same journey together through life. "Growing in the weeds, gold currency" symbolizes their union. But also, as a song writer, I like to throw in some disguised absurdity every now and then, even in a very sincere song such as "Gold Currency."
"With this song I had an idea of celebration and partaking in plenty of libations. To find the humor in that, I quoted Steve Martin requesting only fresh wine in the movie The Jerk. A bit of an inside joke, but maybe someone else would get a laugh out of it too."