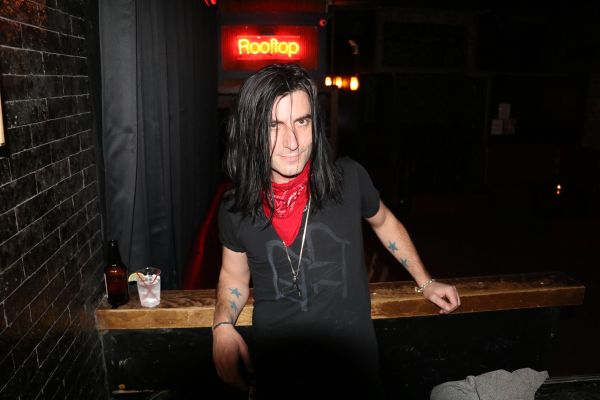 8 January 2021
Jeremy Bastard – Photo courtesy of Jeremy Bastard
New York City-based DJ and Autodrone guitarist Jeremy Bastard is set to release Everyone is History, There is No Memory, his first official full-length on January 22nd via Somewherecold Records (vinyl, digital download).
The album is a product of Jeremy Bastard being sequestered in Florida during 2020 and communicating with fellow artists who are striking singers. Vocalists/musicians who contributed to the LP include Elektra Monet, Sean Flannigan, Dissolve, Peter Riley, The Dossier, Vladimir Vallette, The Mystic Underground, Emilie Bienne, and David Katz.
Utilizing meticulous song-craft, Jeremy Bastard lays down the club-thumping, shoegaze-laden, moody Goth foundations for his choice of vocalists who each wrote his/her own lyrics. Even though the mix of contributors is very diverse, the album is very cohesive instrumentally and atmospherically, with Jeremy Bastard's sonic vision shining through on each track.
Composed of 10 songs, Everyone is History, There is No Memory is accompanied by two previous singles ("Shadow Boxing" featuring Elektra Monet and "Gemini" featuring David Katz) that on their own contain unique numbers that do not come with the album. Furthermore, there are plans to eventually add hidden tracks to the final album download, including new remixes from various collaborators.
Big Takeover is pleased to host the premiere of Everyone is History, There is No Memory in its entirety well before its official release date.
At the center of the album is Jeremy Bastard's expert work which shows his ability to blend, enhance, and reinvigorate a disparate mixture of shoegaze, dreampop, Goth, electronica, dance, and DJ material. Jeremy Bastard is not only a founding member of Autodrone and a dance music DJ, but also a remixer and producer of darkly and restlessly moody music, which courses through this LP.
All the tracks were composed, performed, and recorded at Sea Turtle Studios in Cape Canaveral, Florida by Jeremy Bastard between May and September of 2020, except for the live guitars on "Shadow Boxing" from Tristan.
The talented musicians who contributed to the album are all artists who Jeremy Bastard has met at different stages of his musical development, and they bring a multi-dimensional aspect to his output, giving the listener an engagingly varied experience of vivid audio tableaux.
A rapidly pulsating electronic texture and emphatic beat greet the ear on kick-off industrial electowave "Needle," which features Sean Flanigan's coolly shivering echoed vocals.
Trippy single "Shadow Boxing" is graced by Elektra Monet's airily drawn out vocals and hypnotic sonic loops, while the other single, "Gemini," bounces with a squelchy beat, sharp drum strikes, and David Katz's spaced-out vocals.
Dissolve's velvety, hushed voice floats through the more pressing tempo and kinetic percussion of the at times lyrically bleak, New Orderesque "Love Is A Mistake."
Peter Riley and The Dossier figure on the relentlessly rhythmic "Kisses" that smashes together up-tempo techno with Placebo-like rock churn to compelling effect.
The disorienting "Scream Inside" plays with mono and stereo sound, as Vladimir Valette and The Mystic Underground create a foreboding ambience of edgy industrial shards and passionately delivered vocals.
Emilie Bienne sways through the mesmerizing "I Am The Blue Lidded Daughter Of Sunset," which runs with an unhurried pace, but is dense with various percussive elements.
Jeremy Bastard Bandcamp
Somewherecold Records Bandcamp
Somewherecold Records Facebook