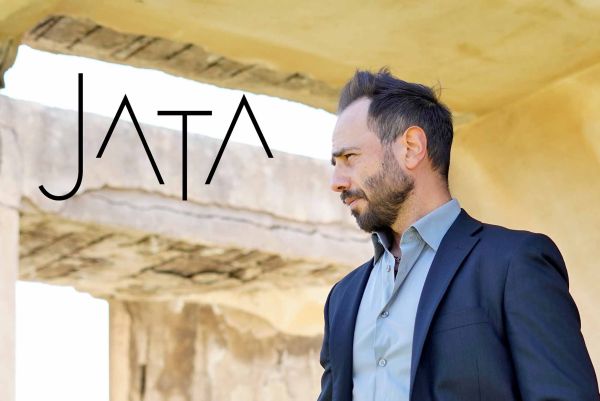 24 August 2021
JATA – Photo Credit: Alessio Reitano
Over the past half-decade of so, we've covered quite a few artists from Seahorse Recordings:
Bilbosa ft. Lori Sky
Outwave
Moonshine Booze
Neil
Sebastian Straw
and Someday
Today, we return to their arena to present the latest artists to have signed to the indie label – synthpop / indie rock artist JATA (aka Gaetano Russo) comes to our attention with a sound that presents an intriguing mixture of influences. With a vocal timbre that is reminiscent of a cross between Gavin Rossdale (Bush) and Alphaville, on October 1, fans of such bands as Depeche Mode, Gary Numan, De/Vision, Drab Majesty and Trisomie 21 can enjoy the release of JATA's new single 'Crazy Game of Phobias' across digital platforms.
Flawlessly delivered with an important message in hand, JATA makes a clear and hope-filled statement about the need to overcome phobias concerning social interaction in this Covid-laden day in age. His is a slick sound, put to an enticing backbed of synth grooves and an uplifting orchestral soundscape.
The music video is part passionate performance of the song by JATA and part visual commentary on the price humanity pays for disconnecting from one another. But there is hope by the end of the video that we will be able to get together once again, free of protective measures and able to fully be present in each others' company. Hopefully that time will come sooner than later…
In the process of writing and recording this EP, JATA essentially reinvented his sound, exploring the use of electronics and early sampling technique, in a mix of pop, catchy groove, and harmonies.
JATA explores one of the most negative effects generated by the pandemic – a phobia about social contact, stemming from the distancing rules and lockdowns, not to mention the constant media hype. Exploring this fear by contrasting our recent past with today, JATA lyrics emphasize he need to take back the greatest and most significant human trait – the need for socializing and contact.
As an artist influenced by Depeche Mode, Planet Funk, Almamegretta, Blonde Redhead, Arcade Fire, Editors, Interpol and Block Party, it is no wonder this lead single is laced with a Depeche Mode-flavor.
On this EP JATA takes us on a captivating electronic journey between the '80s and the present day. 'Crazy Game of Phobias' is a sonic springboard, from which you can explore one or more destinations of positive rediscovery, resilience, personal and collective rebirth. These traits are already within us and can be drawn to the surface through a path of sensation and atmosphere.
"The EP's leitmotif starts with the current pandemic and the changes this new era has brought to the world. With its huge global impact, this crisis has encouraged me to think about how unstable and unpredictable our life is and how important it is to have the right approach to change," says Gaetano Russo.
"The concepts of resilience, future vision and goals, personal growth and discovering loved ones are issues presented from my personal point of view. As a professional coach and NLP professional practitioner, I take the view towards developing the human potential inside each of us, breaking a 3-year writer's block during which I had zero inspiration to write new songs."
As of August 25, the 'Crazy Game of Phobias' single will be available across digital platforms, including Apple Music and Spotify. The full EP will be released via Seahorse Recordings on October 1.
CREDITS
Music and lyrics by Gaetano Russo
EP produced & mastered by Marco Di Dio at Roccascina Studios
'Crazy Game of Phobias' video produced by Luca Biondo & Stefano Lorillo
Single cover artwork drawn by Santi Partito
Graphic adaptation by Davide Arona
EP artwork cover by Davide Arona
Artist photography by Alessio Reitano
JATA
Facebook
Instagram
Twitter
YouTube
Spotify
iTunes