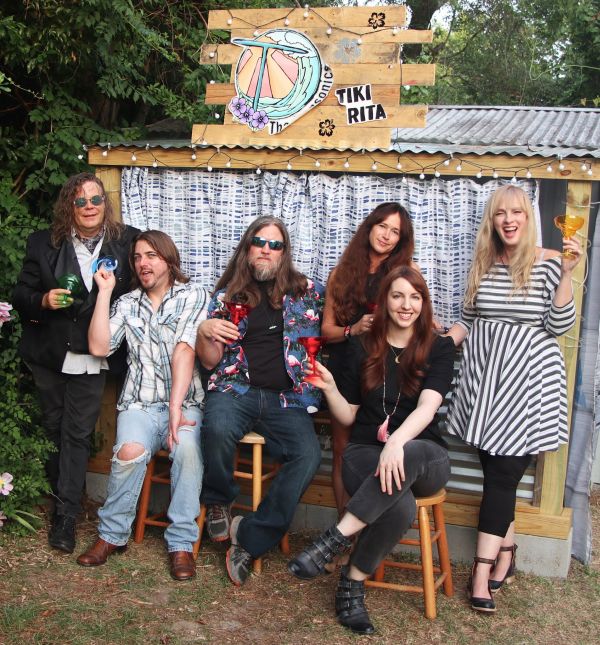 24 August 2021
The Transonics – Photo Credit: Patti Davis
The Transonics are a six-piece, female-fronted band from Columbia, South Carolina. Their high energy music combines elements of New Wave, surf, psychedelic rock, and power pop. They draw inspiration from the great of the '60s through the early '80s, when rock music ruled the airwaves.
On August 27th, The Transonics will be releasing, Tides, the follow up EP to their debut album, Lost in Time that spent 13 weeks on the NACC charts in the spring and summer of 2020.
From the danceable groove of the title track "Tides," to the gutsy power pop of "Getcha," the Transonics' infectious melodies will guide you on a fun summer escape.
Big Takeover is pleased to host the premiere of "Orange Sunshine," a warm and inviting track from the EP.
"Orange Sunshine" is a mellow retro-pop track that radiates copacetic vibes with softly pushing bass line, fluid and shining guitar chime, muffled drum beats, and gently flowing vocals.
The tambourine accents (and the changeable bass line) add a dancier groove to the mix, and the lyrics are drawn out like a hazy daydream.
Vocalist Patti gives some details about the number, explaining, "[Band member] David came up with the main riff to "Orange Sunshine" right after we wrote "Lost in Time." Around the same time a friend of the band had told us a story about how she did some Orange Sunshine in the '60s when she was young and she and some of her friends did a diner dash and ran [off] into the sunset."
"We ended up working on the song later that night and [band member] Lisa just started spouting out a bunch of lyrics about the story, so I grabbed a pen and started scribbling them down. At first we thought they were going to be placeholder lyrics for the song, but the simplicity and innocence of the lyrics fit the music, so we ended up keeping them. I love the imagery of Jan running off happily into the sunset."
Lyrics…
Hey baby, when you come around
And the orange sunshine's coming down
You won't find me coming round
Coming round, round this town
Run Jan run into the orange sunshine
Run Jan run into the orange sunshine
Run Jan run into the orange sunshine
Run Jan run into the orange sunshine
You be Jack and I'll be Jill
As we run back up the hill
Could be mellow, could be harsh
We won't know until we play the cards
Run Jan run into the orange sunshine
Run Jan run into the orange sunshine
Run Jan run into the orange sunshine
Run Jan run into the orange sunshine
Hey baby, when you come around
And the orange sunshine's coming down
You won't find me coming round
Coming round, round this town
Run Jan run into the orange sunshine
Run Jan run into the orange sunshine
Run Jan run into the orange sunshine
Run Jan run into the orange sunshine
Website
Facebook
Instagram
Twitter