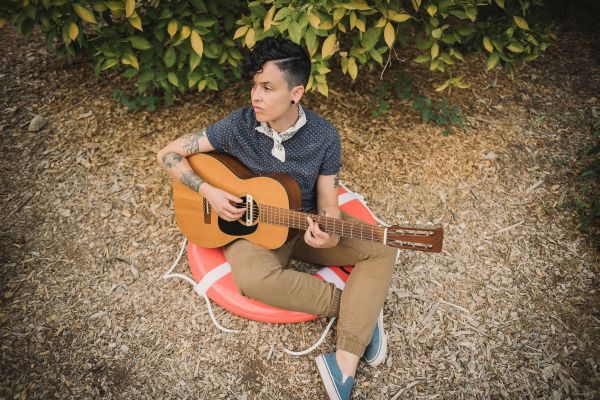 1 November 2021
Abby Posner – Photo Credit: Rollence Patugan
Abby Posner has been a working musician in Los Angeles for the past 16 years. She is best known for her ability to play nearly any instrument that she can get her hands on, twisting genres, and pushing the boundaries of folk, roots, and pop, self identifying as "Genre Fluid."
If you have seen Abby perform live, you know she can play a mean leadblues guitar solo, or throw down a complex Earl Scruggs banjo riff. You also may have spotted her playing drums, mandolin, or bass while using her looping pedal. In addition to her versatility, she puts passion and soul into everything she plays.
This CalArts music graduate has composed music for commercials/TV, films, and radio shows all over the globe (including Old Fashioned, The Fosters, This American Life, The Art of More, and Last Tango in Halifax just to name a few). She also has music placed in commercials and TV shows all over China, Sweden, The UK, and Australia.
Posner appeared in two episodes of GLEE on season four playing banjo and guitar, and the Freeform show Famous In Love playing banjo. In 2015 Posner performed live on KCAL 9 news and Good Day LA playing her original songs.
Posner has scored four films (Across Land Across Sea, Through Their Eyes, award winning short Animation Elizabeth Sees, and in 2020 completed the score for feature doc Lady Buds) while playing and touring with her indie folk band Abby and The Myth. In 2019 Posner played banjo and sang "Wagon Wheel" as a featured principal role in Bank Of America's ad campaign for the Ken Burn's PBS Country Music Documentary.
Posner formed her project Abby and The Myth in 2015 and they have taken LA by storm with their catchy indie folk songs. The band released their EP Ghosts and Frames April – 2015 and have been touring nationally. They have had several residencies at the famous Hotel Cafe in Hollywood, and in 2017 released their full length record titled When You Dig A Well. After signing with Gary Calamar's licensing company, Laurel Canon, Abby and The Myth have gained recognition in the LA music scene. They have opened for such iconic acts as PHRANC, Sierra Hull, and Dustbowl Revival.
In 2020 Abby Posner won the Carl Gage "Give me Shelter in Place" Songwriting Award through the Topanga Folk Festival for her original song Blind Spots.
Big Takeover is pleased to host the engaging live performance music video for the tuneful and heartfelt track "Wishing Well, which is from the upcoming album Kisbee Ring that will be released on November 12th. "Wishing Well" was written, arranged, produced and mixed by Abby Posner, and she played all the instruments on the song.
It's an affecting performance, with just acoustic guitar – and four beautifully harmonizing voices, with Posner's sincere and expressive tones upfront in the mix.
Posner digs into the details of the song's meaning, explaining, "The song "Wishing Well" is about the ups and downs, being a full time musician, how the industry keeps changing, with social media being a prominent part of creating content. We often find ourselves comparing ourselves to our peers, and wishing we could have more, rather than soaking in each moment of creativity, and making music without expectations…detaching from any outcome."
She also gives some information about how the music video came out, commenting, "I wanted to shoot this video live, in my favorite little walking tunnel in West LA. The natural reverb fills up the space, and the visuals are super vibey. It is the perfect outdoor space for any acoustic performance."
" I chose to collaborate with three of my favorite vocalists in LA, Ashley Maietta, McKail Seely, and Ari Tibi from the band Luci. They elevate the song with their three part harmonies. It always fills up my heart to hear them sing together, and I get full body goosebumps, so it was a real honor getting to work with them on this."
"It has also been a goal of mine to collaborate with different talented folks that bring something else to the creative table. It is fun for me to be a one-person band and play all the instruments, but I like I grow more as an artist when get to make music with people like Luci."
Pre-order Kisbee Ring HERE
Website
Facebook
Instagram
Twitter