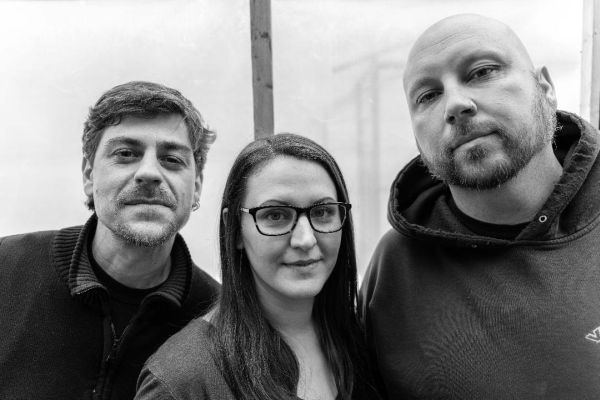 29 October 2021
The Last Mile – Photo Credit: The Last Mile
The Last Mile are a Canadian melodic punk rock band composed of veteran musicians Chris Snelgrove (Prevenge, Whiskey Trench, Offside), Stephanie Cole (Answers), and Josh Carothers (Chilton, Ifarm, Funbox). Snelgrove and Cole are from Quebec, but Carothers is actually residing in Brooklyn.
Their new album Respect The Frequency unleashes today through Rad Girlfriend Records.
Big Takeover is pleased to host the premiere of the dynamic and tuneful album in its entirety. The LP is jam-packed with energetic and melodic tracks that balance sonic and emotional aggression with up-tempo pacing and sing-along anthems.
Having played in over 30 countries since 2015, being featured on multiple compilation appearances, and a well-received full length, The Distance Between, under the moniker Chris Snelgrove & The Last Mile in 2016, the name was shortened to just The Last Mile in 2019.
In 2020, the band released a two-song EP entitled II on Pavones Records and Palpebrite (Brazil) to positive reviews. Featuring Scott Wade (Comeback Kid) and Patty O'Lantern (Brutal Youth), this release showcased the newer, grittier style of the band.
Now Respect The Frequency has emerged, radiating tracks that span the gamut of punk music. The Last Mile write songs that are rooted in melody and angst, love/hate and an unwavering hope, even in the darkest of times.
The current lineup has proven to be extremely proficient, arranging and recording all of the drums and bass for 11 songs over a week at The Posicorebox studio in Brooklyn.
The guitars and the vocals were recorded in Montreal with Ryan Battistuzzi and feature help from some great friends, including guest vocals from Greg Laraigne, as well as Lucas Rupnik (Dirty Tricks, Delta 666), Mathieu Forcier (Oktoplut, Prevenge), and Mike Gabriel (Answers, PL Mafia) on guitar, and Delano Pelletier (Indochine) on saxophone.
The record was mixed by Jesse Gander and mastered by Stu Mckillop at Raincity Recorders in Vancouver. And, like every other band in the world, The Last Mile are looking forward to getting back on the road in 2022.
The band members divulge some details about creating Respect The Frequency, revealing, "Lyrically, this album is a culmination of massive self-reflection amidst a world in political, environmental. moral, and ethical turmoil. Everyone in the band had a hand at writing, so these songs represent points of view from every member of the band."
"This album is a labor of love that couldn't have been possible without the help of our dear friends. For the three guest guitarists, all of the songs were chosen specifically for that person and they were given free rein to come up with whatever they wanted, and that's what made it onto the songs' final versions. Total trust. Lucas, Mathieu, and Mike are/were members of Chris and Stephanie's previous or other bands and Mike has recently become the second guitarist."
Bandcamp
Rad Girlfriend Records Bandcamp