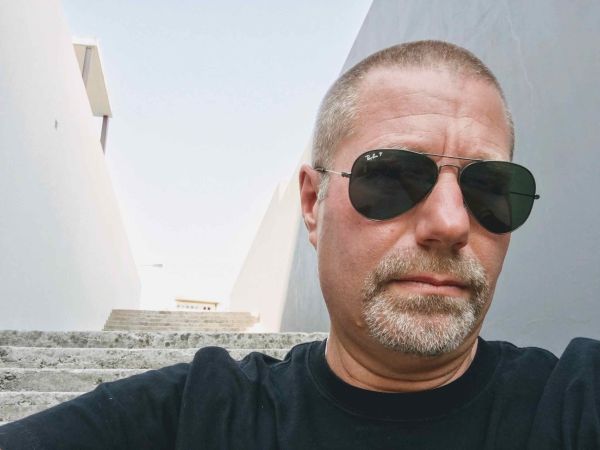 24 October 2017
David Wesley; Photo Credit: Bernadette Carroll
Recently a US-European ambient/ dub label has come onto our radar and now today The Big Takeover presents you with the third release we've featured from their output. Following up on our coverage of previous releases from Arctic Dub Records – namely for artists Dave Wesley and Existente – at this time we have the pleasure to introduce you to The Mayhem Lecture Series.
The Mayhem Lecture Series' Structures And Behaviors EPv1 is a collection of experimental tracks, which are part of an ongoing exploration of human structures and behaviors. These compositions lean heavily on appropriated found sound, field recordings, musique concrète, and process-oriented experimental forms categorized into various personality traits and disorders.
The artistic inspiration for this series lies in the deconstruction of spoken word podcasts with their stereotypical approach to production, incorporating myriad vectors of dialogue with foley, background ambient noise, and contextual musical cues.
"Structures And Behaviours (Intrepid)" is a composition ever as beguiling as David Sylvian and Holger Czukay's collaboration "Flux + Mutability" with hypnotic dub ebbing and flowing in perfect sync with the hypnotic speech of a Russian female. Truly enthralling!
"Growing up in the 70s, I've always been fascinated and attracted to the incorporation of found sound and spoken dialogue with music – think Pink Floyd – The Wall… "See he keeps hanging up, and it's a man answering…" In the early '80s, I was driving through a nighttime Midwest cityscape, possibly pursuant to visiting The Walker contemporary art museum, when Laurie Anderson's "From the Air" came on the radio. It blew my young mind," explains Dave Wesley, the man behind The Mayhem Lecture Series.
"I will never forget that moment. I immediately started making weird cassette tape mixes juxtaposing my favorite songs with snippets of spoken word, lifted from talk radio, comedy records, etc. I loved the synchronicity of randomly grabbing dialogue off the radio and having it coincidentally match the subject matter of the previous song… and, having it lead me to selecting the next song on the tape, within the context just set by the random found sound snippet."
Originally from Minneapolis, Wesley is a veteran experimental dub, techno, and ambient producer and DJ. Now based in the Portuguese city of Porto, he is much closer to many other locations in Europe for playing live DJ sets, as well as treating the local audience there in Portgual and reaching out to the world through regular podcasts and live streams. As an active DJ and performer, he mixes eclectic deep sets and also performs live space ambient guitar with TV Crush, an experimental and an improvisational chill music ensemble, as well as performing with Casey Borchert under the moniker The Push.
"As I developed as a music producer, the incorporation of found sound into my productions has been a staple. In the late 90s – early 2000s I produced a lot of live internet radio and comedy (pre-cursor to podcasting), which provided fertile ground for my predilection for all audio things found and collected. With further development as an artist, and with the excessive proliferation of podcasting, YouTube, and various other DIY non-music media, the deconstruction of those media into more succinct re-contextualized forms, including experimental music production, has been a natural progression for me," says Dave Wesley.
"The Structures and Behaviors concept naturally emerged from a series of tracks that I created in reaction to exposure to endless and continuous talking heads in all forms of media… the short subset sampling of which tended to focus on various human behaviors and characteristics."
Arctic Dub (Sursumcorda) is the sister label to Sursumcorda Recordings (also a magazine), which is focused on finding and curating cool and interesting music and culture across genres. Arctic Dub (Sursumcorda) releases deep, dark, lo-fi, ambient, cinematic, meditative and experimental music that germinates from dub techno origins. It also puts out monthly releases, and is becoming known for live streaming events. It has just launched a series of live stream events, called 'Arctic Dub Continuum Live'.
Structures And Behaviors will be officially released on October 31 on all the major streaming and download sites, including iTunes and Spotify. It is already available for pre-order via Arctic Dub Records' Bandcamp
TRACKLIST
1. Structures And Behaviors (Intrepid)
2. Structures And Behaviors (Group Dynamics)
3. Structures And Behaviors (Expertise)
THE MAYHEM LECTURE SERIES / ARCTIC DUB RECORDS
Facebook
SoundCloud
Twitter
Bandcamp
Resident Advisor
Arctic Dub
Instagram
comments powered by