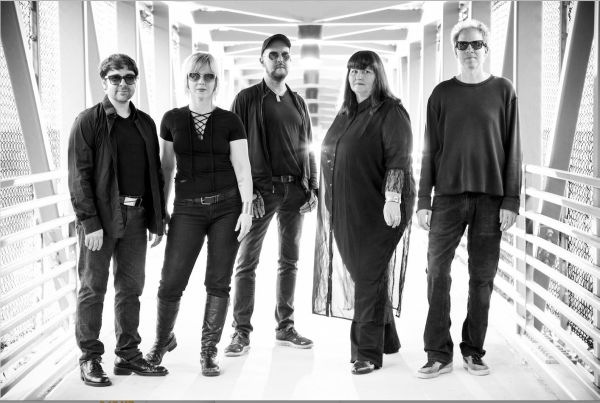 18 September 2017
Pylon Reenactment Society; Photo Credit: Jason Thrasher
The Big Takeover is pleased to present the premiere of "Feast On My Heart", the lead track from the Pylon Reenactment Society's forthcoming album Part Time Punks Session. We are well familiar with this outstanding LA-based radio show and event organizer, having previously covered their output (check out their recent release from INHALT ), which Chuck Foster also reviewed
"Feast On My Heart" is a rough, in-your-face punk track reminiscent of the very early stage of Blondie's output and also on the same wavelength of current L.A. buzzband Starcrawler. Also a kickback to early new wave due to the use of synths. With snarling vocals (you can even picture the scowling facial expression of the vocalist), this track is catchy as hell, summoning the listener on an imaginary trip to the legendary CBGB's.
Pylon Reenactment Society will release the 6-song Part Time Punks Session EP on Chunklet Industries with distribution by Revolver U.S.A. The EP will be released digitally on October 6th and on 12" vinyl, with a limited edition of 100 on color disc, on October 20th. There will also be limited number of cassettes available at shows only.
The EP was recorded in December 2016 the same afternoon that the band played the Part Time Punks series at the Echoplex in Los Angeles. In the spirit of renowned DJ John Peel, Part Time Punks DJ and organizer Michael Stock invited the band to visit *Josiah Mazzashi'*s studio The Cave to record exclusive tracks for his Part Time Punks radio show, which has been running on KXLU since 2006.
"I was struck by the energy of the performances and the quality of the recording. It reminded me somewhat of Pylon's recording of "Gyrate". That record had also been done very quickly with the band playing together and a minimum of overdubs," says front woman Vanessa Briscoe Hay. "This way of recording can lend a dynamic live feeling if done properly and if you have a good performance. An elusive goal had been achieved and not really noticed for what it was: something really good."
After getting permission from Stock to release the recording on Chunklet Industries, a hip, tastemaker record label in Athens founded by Chunklet publisher Henry Owings, PRS guitarist and audio engineer Jason NeSmith mastered it at Chase Park Transduction in Athens, GA. The vinyl lacquers were cut by Adam Smith, and pressed at MUSICOL. The cover graphics were suggested by the poster for the actual show, which had been cut and pasted from the Pylon EP released in 1980. The label design and graphics were created by Bill Gridley in the spirit of Pylon under the direction of Hay, Owings, and Pylon founding member Michael Lachowski.
Pylon was one of the most influential bands at the outset of what would become known as the "Athens, GA music scene" along with The B-52's and R.E.M. They were every Athens, GA band's favorite Athens band. Their musical naïveté, southern upbringing, art school smarts, and house-party roots exploded together to create something quite improbably amazing simultaneously hitting the listener on a mental, physical, and spiritual level. Fronted by Vanessa Briscoe (now Briscoe Hay), whose inimitable vocal textures and phrasing defined the band's sound for most listeners, Pylon's celebrated history came to a sudden end in 2009 with the death of guitarist Randy Bewley. Pylon was, and always will be, Hay, Bewley, Michael Lachowski, and Curtis Crowe.
Pylon Reenactment Society was created in 2014 when Athens' artist Jason NeSmith headed the music committee for the first annual Art Rocks Athens, an event exploring the connection between the art and music scene in Athens in 1975-1985. He approached Hay about performing a short set of Pylon songs (all four members had attended Lamar Dodd School of Art at UGA). NeSmith's band, Casper & The Cookies, had already recorded and performed with Hay as Supercluster, so it was natural that they back her at this event if she was willing to perform. The response was very positive. The following year found the group opening for Fred Schneider (of The B-52s), touring with indie darlings Dressy Bessy, and performing shows in conjunction with the release of Pylon Live. What started as a one-off gig transpired into a tight, touring unit. In addition to Hay and NeSmith, the band is rounded out with Kay Stanton (Casper & The Cookies) on bass guitar and backing vocals, pianist Damon Denton on keyboards (Big Atomic), and Joe Rowe (The Glands) on drums.
The Part Time Punks Session album releases on October 6 via Chunklet Industries and will be made available across all the regular digital sales and streaming platforms, as well as on vinyl. It is now available for pre-order via the label's Bandcamp
TRACK LIST
1. Feast On My Heart
2. Beep
3. Buzz
4. Precaution
5. K
6. Crazy
LIVE DATES
Fri, Oct. 6 Augusta, GA – Maxwell Performing Arts Center/Westobou Festival (with screening of "Athens GA Inside/Out")
Fri, Oct. 20 Athens, GA – The World Famous
Sat, Oct 21 Atlanta, GA – The Earl
Also check out their live video for 'Buzz', another track featured from this live album.
PYLON REENACTMENT SOCIETY
Official Site
Facebook
Twitter
SoundCloud
YouTube
Instagram
Bandcmap
comments powered by