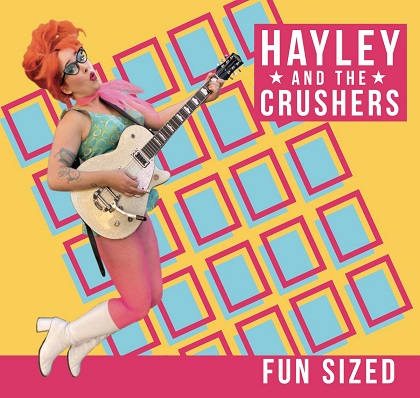 3 March 2021
This is a flaming kiss of distorted passion, and a well needed piece of electric escapism. The Californian-based dynamic outfit Hayley And The Crushers return with a new set of tracks, a six-song set aptly titled Fun Sized. In truth, it follows up last year's Vintage Millennial stylishly, at times the energy is filled with more hunger than that previous work, and it is something that deserves investigation. 

This three-piece consisting of
Hayley Cain
,
Dr Cain
, and
Action Ben Cabreana
launch an undeniable racket here. Crossing the divide between the
Cramps
and the
Go-Go's
with a shade of their own personality. Hayley And The Crushers reverberate with a nostalgic surf-fuzz, fully on display from the get-go. Note the retro "Jacaranda" which opens the set, and begins a raw execution of precision rock music with the obvious appeal to a wide audience base. The bouncy track sets the scene perfectly, with the injection of head nodding, foot tapping reverberations. 
The sullen beat of the dramatically paced "Angelyne" keeps everything within the right scope. The lyrics define a tongue-in-cheek outlook of modern society creating a rollicking tale which sets the scene for "Church Of Flag". The latest single, and standout piece sees the outfit open up the musical throttle that little bit more, and soar with a sledgehammer impact. With a somewhat aspect of eighties metal entwined within the track, it becomes an exciting listening experience. 

Continuing "Kiss Me So I Can" arrives with a sweet bass line, and kicks off the second half of
Fun Sized
respectfully. The following "Water On Glass" is a new wave based banger. There is an air of
Blondie
to it, with the sound of an organ which brings the song in a completely unexpected direction. The closing "Suzie Is A Headbanger" is similar to the light-punk of the opening, a more soothing brand of rock. However, lyrically it keeps that singalong appeal over the surf-guitar and nostalgic reverb. 
While not a lengthy release, Fun Sized does exactly what it says on the tin -a sparkling blast of fun, mixed with a sizable amount of melodic noise. Containing a lack of filler in place of some feel-good, upbeat music this is an exceptional release. Ultimately, Hayley And The Crushers remind us while no music nowadays is original, some bands still manage to remain unique. 
Tracklist: 
1.Jacaranda 
2.Angelyne 
3.Church of Flag 
4.Kiss Me So I Can 
5.Water on Glass 
6.Suzie is a Headbanger
For more info: 
Bandcamp
Facebook
Website
Hayley and the Crushers are:
Hayley Crusher Cain – vocals and guitar
Dr. Cain, ESQ – Bass
Action Ben Cabreana – drums tracks 4,5.
Dougie Tangent – drums tracks 1,2,3.
Gab Usery – drums track 6.