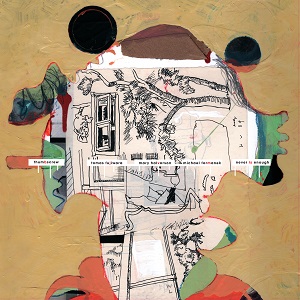 2 March 2021
Back in 2019, when bassist Michael Formanek, drummer Tomas Fujiwara and guitarist/MacArthur fellow Mary Halvorson were holed up in Philadelphia working on 2020's The Anthony Braxton Project, the trio known as Thumbscrew also put together a new album of originals. Never is Enough, the group's sixth LP, adds some Braxtonian flavorings to its patented brand of avant-garde jazz, though considering how the compositional maverick mentored all three of these folks at one point or another, it's hardly any more overt than usual.
"Unsung Procession" and "Through an Open Window" present Thumbscrew at its most prototypical, with guitar melodies that leapfrog over expected changes, non-conformist harmonies and a rhythm section that keeps the ground unsteady under the lead instrument's feet. "Sequel to Sadness" comes off like the band's twisted version of a ballad, one that's unlikely to provide any solace, while "Fractured Sanity" swings the hardest, as Fujiwara pushes his compadres into post bop, encouraging them with a groovy drum solo. The title track begins with free-floating swirl, Halvorsen's semi-acoustic guitar flitting in and out of the rhythm tree grown by Formanek and Fujiwara. But then the guitarist kicks on her distortion pedal, injecting psychedelic muscle into the arrangement, before the threesome brings the track to an explosive close in a blaze of near-punk aggression. "Scam Likely" shuts the record's door with a tumbling rhythm section and an unsettling undercurrent of feedback.
What really sets Thumbscrew apart is that, despite a general lack of musical qualities that could be defined in any way as conventional jazz, there's really no other way to describe them. The way the group's improvisations meet its compositional skills is the hallmark of its chosen field, whether or not it sticks to any lanes. It's what makes Thumbscrew one of the greatest jazz bands currently going.