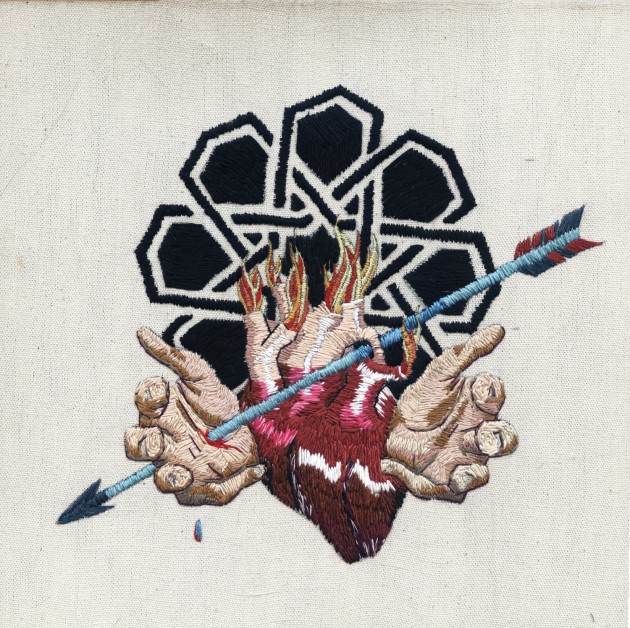 11 May 2015
On April 5th of 2014, Brown Bird's lead singer David Lamb passed away after a year-long fight with leukemia. He was 36 years old. I didn't know the man, but was nevertheless struck a bit dumbfounded upon hearing of his death. It is perhaps the world's strongest argument for art that it can create that kind of connection with another human being; to grieve for a stranger that touched your soul, if only in some seemingly cosmetic way. It was just a few years earlier that I had come to know Lamb's music, with the release of 2011's Salt for Salt. In that short time, he'd become one of my favorite vocalists. The performance on "Bilgewater", from Sea for Salt, is still one of those incredibly rare vocals that brings goosebumps to the back of the neck.
In 2003, having lived briefly in Seattle, Lamb moved east to Portland, ME, where he started working on a handful of folk tunes that compared favorably to the spare, rough-hewn work of artists like Bonnie "Prince" Billy and Iron & Wine. Lamb's friends, Jerusha and Jeremy Robinson, were soon brought on board to round out Brown Bird's sound, and the trio self-released their debut full-length, Tautolougy, in 2006. The band self-released one more disc, Such Unrest, the following year before they were picked up by Portland, ME's Peapod Recordings. Their first album on that label, The Bottom of the Sea, came out in 2008; Lamb undertook a solo tour of the U.S. in support of that release soon after. While he was on the road, Lamb made the acquaintance of the Rhode Island-based multi-instrumentalists MorganEve Swain and Mike Samos, who ended up playing in support of Lamb for a couple of his solo shows. Swain and Samos were brought on board as full-fledged members of Brown Bird before the year came to a close. Lamb and Swain would later marry. Brown Bird's fourth studio album, The Devil Dancing, was released in November of the next year, followed by 2011's Salt for Salt and 2013's Fits of Reason. After David's passing, I know I wasn't alone in assuming Fits of Reason would be the last I'd get to hear of him on record.
So, when it was announced a few months ago that Lamb and his wife/collaborator MorganEve Swain had finished a complete album of new material (some of which Swain recorded alone after Lamb's death), I think I was more excited about it than a supposedly objective critic should be. David would have one more bite at the apple; one final gift to the world. That is the kind of news that just makes you feel a little bit better about the world. Along with that announcement came a frankly moving 'band bio' written by MorganEve herself. These are the kinds of things that PR folks typically write to give people like my some kind of angle or exposition story on albums in an effort to give us a reason to write about them. Most of the time, we steal from them wholeheartedly to make ourselves sound like all-knowing experts about the artists we are typically completely unfamiliar with. Instead of doing that this time, I've decided to reprint Swain's writing here in full, because my plagiarism wouldn't do it justice.

Axis Mundi is the album that Dave and I wrote during the year of his battle with leukemia. Excluding "Tortured Boy", which I wrote for him in the first stage of our relationship, these songs were written in the months leading up to his diagnosis, and the months following his bone marrow transplant, when he was confined to our home. As long as he felt well enough to be working, he was. He would spend hours in our home studio, meticulously recording and rerecording his parts – full drums, guitar, vocals, and percussion ideas… This album is different from our others in that it is, in many ways, the album we always wanted to make. It is fuller, louder and more rock-inspired than our previous efforts, while still holding tight to the Middle-Eastern and Eastern European influences we'd become known for. We'd intended to record the record at home during Dave's recovery, and release and tour on it when he was well enough to get back on the road.

After Dave passed, I poured myself into finishing the record, working with friend and engineer Seth Manchester at Dave's and my home to record my parts into Dave's existing demos. My brother, Spencer Swain, acted as producer. Staying true to Dave's and my original vision for it, Seth, Spencer and I had the record completed just three months later.

The name, Axis Mundi, is a phrase I found written in Dave's lyric notebook. Upon looking it up, I learned that the "axis mundi" represents the place where heaven connects with the earth. Often associated with mandalas (which Dave had tattooed on his hands, and which are often featured in our imagery), it expresses the point where the four compass directions meet; where correspondence is made between higher and lower realms. Anything or anyone suspended on the axis becomes a repository for potential knowledge.

Axis Mundi, though it wasn't our intention, is a body of work, which illustrates our musical and personal journey together. Musically, it spans our evolution from solo project to psych-rock, Balkan, Romani, blues inspired duo. Lyrically it alludes to our joy and our pain. Obviously this album is very close to me. Though Brown Bird will never tour on it, I believe that our story is an important and a universal one: One of love and hope and the belief that we each leave a legacy after we leave this earth.

In January of 2014, Dave wrote: "I tend to measure the value of the music I make by several things. One is by how well I've expressed something within myself that can't be expressed in words alone. Another means of measuring value is the depth of impact it has on those listeners that it really speaks to. Whether it's on an intellectual, emotional, spiritual, visceral or some other indescribable level, if my music can speak to someone on one or hopefully several of these levels, it has value."

This April marks one year since Dave passed. It is imperative to me that our final collection of music, made together, finds as many people as possible. Thank you.
-MorganEve
I have spent a lot of time with this new album and I am honestly having a really hard time writing about Axis Mundi. There is very little I could say that MorganEve didn't already say better. In truth, I'm not so sure I should even attempt to comment on a work that should (and does) speak best for itself. In many ways, this is the album I think any artist would want to make if they knew it would be their last. Rather than sounding like a collection of unfinished thoughts and pieced together performances, this LP is an absolutely complete work. That is largely due to the work that MorganEve has put in to get it there. More than any Brown Bird record made before, her vocals take a central spotlight on Axis Mundi and her performance in that role is. at times, breathtaking (like on the poignant "Tortured Boy"). It is really hard to tell what of this was designed and what became necessary after David's passing. That is perhaps the best compliment one can pay to the record. These two were so in tune with one another that everything they do on record sounds as if it was being recorded live to tape.
There is plenty enough on Axis Mundi to satiate any Brown Bird. There are the great Lamb lead vocals, as on the opening track "Focus". You have their specific flavor of Middle Eastern gypsy hop on "Bannermen". But most importantly, the lyric writing is absolutely top notch throughout. What comes new with this album is that sort of straight up rock sound that MorganEve alluded to. You get the sense that the purpose of this album was to write great songs and play them in a way that focused solely on the strengths of everything that had been built before. As such, this album doesn't do a lot to stretch that existing Brown Bird sound. Then again, I didn't really want it to. This is an album that celebrates what Lamb & Co had built, which is exactly what it should be.
Tethered to the cure
I focus on the pain
Transformation comes
Tempered by the flame
-David Lamb, "Focus"
Maybe that's it. Maybe that is the best way to discuss Axis Mundi. The absolute soul of the record is "Tortured Boy", a song MorganEve wrote, not about David's passing, but the blooming of a relationship with her future husband. What could have been mired by dark discussions about mortality and finality is instead about celebration and beginnings. At the end of the LP, I find myself thankful for getting to experience Brown Bird and their music. I feel better having known that David Lamb was in our world and contributed as much as he did while here. This collection is David's final gift to us. As such, Axis Mundi isn't the period at the end of Brown Bird's career. It is the exclamation point.