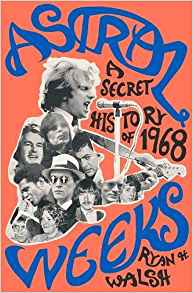 30 April 2018
Ryan H. Walsh
www.thepenguinpress.com
Hard to believe that Van Morrison's stunning masterpiece Astral Weeks is 50 years old. Its intricate beauty is both timeless and of an era, as Ryan Walsh's engrossing look, subtitled "A Secret History of 1968" shows. Morrison came to America with the Them, having written one of the all-time classics of garage rock with "Gloria". He met up with Bert Berns, New York music hustler, and established himself in Boston, at the height of the turbulent '60s. But this book is more than a detailed look at a beloved album and its creation. It's the story of a town and its unique inhabitants – such as Peter Wolf, local DJ and later the leader of the J. Geils Band, who became friends with Morrison when Wolf was the singer for The Hallucinations. It's the story of Mel Lyman, who started out with Jim Kweskin performing jug band music before deciding he was a god and forming the Fort Hill Community, a commune that like many sprung up in the hippie days.
Boston in 1968 was the second home to the Velvet Underground, where a young Jonathan Richman became a fan, before launching The Modern Lovers. It was the home to the "Boston Sound", a weak marketing attempt centered around bands such as Ultimate Spinach and the like. It was into this scene that Van Morrison crafted Astral Weeks, who's delicate, jazzy songwriting sounded like nothing before or since. Morrison comes off, as he does in most accounts, as a tactless maelstrom of a man, dedicated to his craft – and getting paid.
Walsh is to be commended for his insights not only about Van Morrison's legendary creation, but also capturing a sense of what Boston was in the waning days of the '60s. From Lyman to the Boston Strangler, the city was beset with a strange, troubling energy at that time, and Morrison – and his preoccupation with the mystic writer Alice Bailey – found a home far from his Irish birthplace and created a masterpiece. Astral Weeks: A Secret History of 1968 is one of the most engrossing and enjoyable looks at an album, a man and the times that shaped them you'll ever find. Kudos to Ryan H. Walsh.