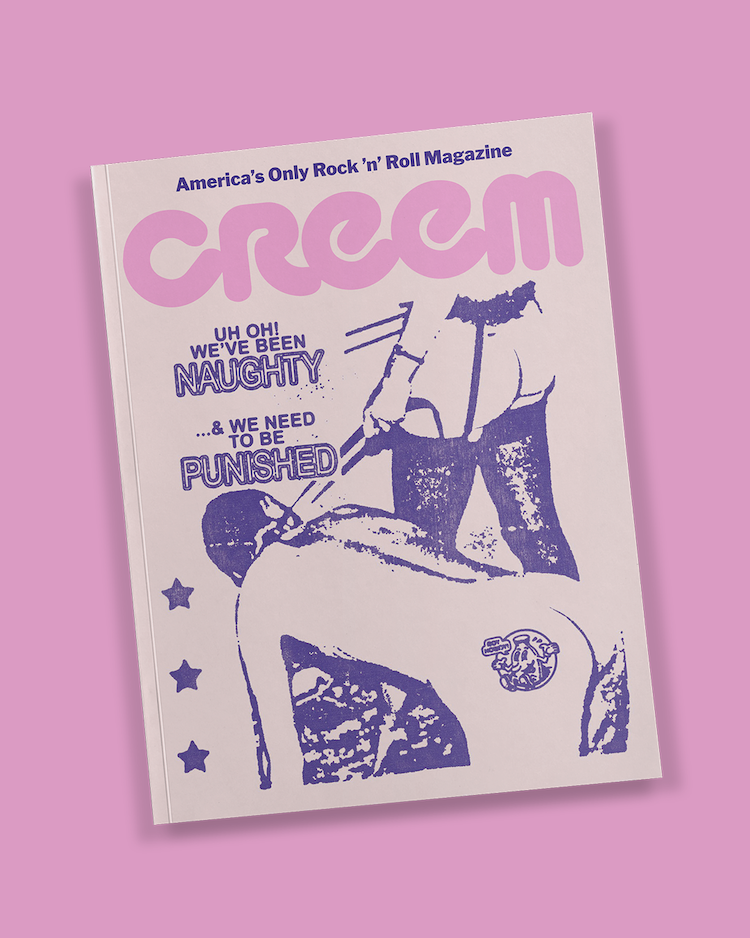 7 March 2023
Those of us devoted to
The Big Takeover
as readers and writers may consider this publication to be the pinnacle of musical prose and opinion, but
Creem
long ago dubbed itself "America's Only Rock 'n' Roll Magazine" in underdog opposition to more mainstream fare like
Rolling Stone
. The relaunched
Creem
is now into its third issue, and its staff are in pursuit of their goal to reclaim the brash attitude and irreverent reputation earned during the magazine's original 1969-1989 run. With glimpses into the magazine's own sometimes sordid history and an emphasis on current music rising from the underground, the results can be good fun.

Notable writers in Creem's heyday included Lester Bangs, Cameron Crowe, punk priestess Patti Smith, and Robert Christgau. The title has been relaunched under Chairman JJ Kramer (son of original publisher Barry Kramer), with former writer Jaan Uhelszki returning as Editorial Director. #003 features a cover image by fetish artist Iphigenia of Foie Graphics.
Subjects of the new issue include a range of veteran artists and sounds. Pixies guitarist Joey Santiago prefaces his war stories to writer Dan Morrissey with a pause before saying, "Ah, my kids won't read this." Martin Sorrondeguy offers a pictorial history of the '80s underground punk scene. Zachary Lipez explains the '90s Britpop scene. "The defining characteristic of all Britpop bands was that Britpop bands were not American, and they did not play grunge," summarizes Lipez. Hether Fortune attempts to understand Tom Waits "and his annoying fans." Jeff Slate talks to Peter Frampton about the forced end of the guitarist's touring career, and the optimism that Frampton maintains in the face of degenerative disease.
Contemporary coverage includes Maria Sherman's story on NNAMDI's "weirdo art-pop-jazz" from Chicago. West Philadelphia modern punks Poison Ruïn tell tales of irresponsible road life to Morgan Aparicio. The power-pop heroines of Tchotchke hold court in a kosher diner while telling Grace Scott their origin story. The return of Seattle punks Botch straddles scenes of the past and present.
Regular features include the familiar Stars Cars page, this time spotlighting Ty Seagull and his rusted surf wagon. You'll find off-kilter art and fashion coverage. Leah Mandel describes the lifestyle choices rooted in punk and rave culture underpinning clowncore fashion and music. Alynda Segarra of Hurray for the Riff Raff follows Gwar and Kurt Vile in the new era of Creem Dream pinups. Also included are loads of salty photo captions and a snarky letter column – write at your own peril.
Physical issues are now available in an oversized subscription-only print format, delivered quarterly. A subscription also gains access to online access of the vintage magazines of yesteryear. (creem.com)