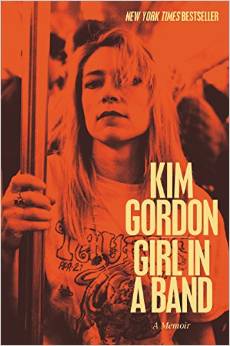 9 April 2015
Kim Gordon
Dey St.
www.hc.com
Musical pioneer, fashion icon and visual artist Kim Gordon begins her memoir Girl In A Band at the end- on a stage in Brazil for Sonic Youth's final concert. Separated from husband and co-founder of the band Thurston Moore, she performs one last festival, adrift from her familiar surroundings- a mate, a band, a scene- that has given her strength for 30+ years. But as you come to find out reading this illuminating, somewhat dishy account, Kim Gordon doesn't rest- or back down.
From growing up in California with her older brother, the troubled Keller, to the dirty, alive streets of New York and then to small town living in Northhampton, Massachusetts, Gordon's life is tied to the locales in which she lived, drawing from each place new challenges and wisdom. California, under the spectre of Charles Manson and the end of the hippies- a place of death- in her words gave her her first taste of the artistic life that has remained a constant throughout her travels. New York was another world- a wide-open, never-ending panorama of passion, pain and struggle. Her accounts of that time seem more elegy than fond recollection of a city lost to gentrification, the drive that propelled the punk/No Wave scene of the '70s that gave Sonic Youth their first success long past, erased by Disney and family-friendly Times Square. Decamping the city for a more rural life in order to raise their child Coco, Massachusetts is where she watches her marriage disintegrate due to Moore's infidelity. Her account, I'm sure, omits much, but what she does share shows her resilience and survivors spirit.
Fans of Sonic Youth will eat this book up, but it's not a history of the band, but rather Gordon's impressions of the songs, people and times in which the band found themselves. From the early days touring with The Swans, her friendship with Kurt Cobain and R.E.M's Michael Stipe, and being on the road with Neil Young, give a glimpse behind the scenes. Her takes on Courtney Love and Lydia Lunch are catty, perhaps, but not without reason- as she relates well.
Kim Gordon is a true innovator, from Sonic Youth to her X-Girl fashion line and numerous artistic endeavors, and her account is a riveting look at one of America's most gifted cultural trend-setters and the world that formed her. A must read.