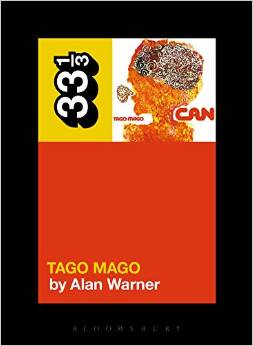 6 December 2014
Alan Warner
33 1/3- Bloomsbury
www.333sound.com
Scottish novelist Alan Warner (Morvern Callar, The Deadman's Pedal) has given us a unique and absorbing look at the great Krautrock classic Tago Mago by Can. Or rather, he relates his coming to find the album and his eventual obsession with the group from the wilds of Scotland as a teenager. The details of how he first heard of the group (from an NME interview with John Lydon), his first Can purchase (Soundtracks, chosen because prior all he listened to were movie scores) and how such initial impressions came to color his listening patterns for the rest of his life are equally perceptive and engrossing as his accounts of the record. In fact, he admits his book is as much about those facets as with the LP itself, and it creates a rather singular look at a critical history.
Music fans will find themselves nodding in solidarity with his admitted obsession with the record. The details of the cover, liner notes, photographs on the sleeve, all this formed itself into a form of pre-Google research. He read an interview with Can bassist and sound manipulator Holger Czukay where he talks about creating Can albums from endless edits of recorded jam sessions, ala Ted Macero's work on such Miles Davis landmark records such as In A Silent Way and Bitches Brew, which in turn leads him to a love of electric period Miles. This is how a music fanatic grows- from the connections, and Warner illustrates this in an account both witty and at times, poignant. As he points out, all this was done pre-Internet, where you had to come up with your own details, surmise the meanings of lyrics to the best of your ability (and in the case of Can vocalist for Tago Mago Damo Suzuki, just understanding what was being sung), by yourself. It's these early conclusions that stick with you, even after you discover they might have been in error.
Later in life Warner interviews Can members Jaki Liebezeit (drummer) and keyboardist Irmin Schimidt, which adds to his reminiscence, but it's his early account that forms the most compelling portion of the story, and one which true fanatics will most relate. Can's Tago Mago is a masterpiece that still enthralls and informs listeners 40+years past it's debut, and in a different way, Alan Warner's look at his relation to the record, and music in general, is much the same. Our most deeply felt connections with art are the pieces that cause us to grow over time with the work, and Warner has given us a near-perfect description of such. Highly recommended.