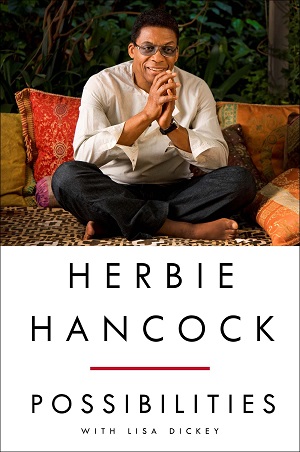 26 October 2014
Herbie Hancock is a name synonymous with Jazz. In his memoir Herbie Hancock: Possibilities, the living legend takes on every facet of his career and life head on with a plainspoken zeal. Those familiar with his history will be fascinated by the first hand accounts of Hancock's time with Miles Davis in the Second Great Quintet while additionally getting a true sense of his artistic passage both before and after his time with one of the greatest jazz artists in history.
Hancock in his own right is a visionary and its confirmed here with detailed accounts of his lifelong wonder for technology, his unwillingness to look back or repeat himself artistically and of course, his broad catalog. which does much to bolster Hancock's reputation as a progressive solo artist.
Each of Hancock's significant phases are represented and delivered with a positive ease to the reader. No one phase seeming to be of any greater importance than another to Hancock, leading us all to believe that he approaches each moment/project/event with equal importance – explaining much of how Hancock has been able to maintain his incomparable abilities and stature over his lifetime.
Some of the more intriguing moments outside of music include Hancock's lifelong difficulty with emotion, his turn to Buddhism, and his surprising later struggle with crack cocaine. To be sure, Hancock does afford a myriad of moments that will be of big interest to jazz aficionados and music lovers of all stripes, including marvelous anecdotes involving his best friend Wayne Shorter, longtime collaborator Tony Williams and of course Miles Davis. The book also gives sharp insight into some of his most important works and gives needed context to the decision making process behind Hancock's sundry catalog.
The ease and benevolence found inside the pages of Herbie Hancock: Possibilities make for an appealing read and the universality of Hancock's recollections make it a premium addition to almost any reader's library.