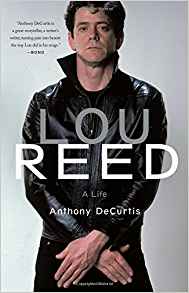 28 October 2017
Anthony DeCurtis
To crudely co-opt Eno's remark about the Velvet Underground, only a handful of folks bought Lou Reed records – but seemingly everyone who did formed a band. Or wrote a book about him. Lou Reed probably sold less in his entire life then John Mayer does in an afternoon, but no matter. Because it's not a stretch to say that with his work with the VU and his solo efforts, Lou Reed formed a part – a major, noisy, at times shocking – part of the foundation of today's popular culture. "Walk on the Wild Side" wasn't just a cool tune, it was a beacon of acceptance to those that society had written off as aberrant. "Sweet Jane" is implanted in rock's DNA as surely as "Louie, Louie" – there isn't a band in a cramped basement who can't play it. Lou Reed changed things, and former Rolling Stone editor Anthony DeCurtis illustrates Reed's oft-troubling life and times brilliantly.
Troubling in part because Reed was a paradox of a man. He craved recognition, while spurning fame. He could be generous in one moment, and then an absolutely sadistic prick in the same breath. He held grudges, ranging from former bandmates to ex-lovers. He was a self-proclaimed "rock and roll animal" who cherished the doo-wop of his youth all his life. DeCurtis shows how Reed's life was a testament to a man who achieved so much in spite of himself. A performer with an eye on the bottom line doesn't release Metal Machine Music or his collaboration with Metallica, Lulu. Or Berlin, The Raven or any of his more challenging works. No, he would continue to crank out endless rehashes of "Satellite of Love" and "Perfect Day". Lou Reed wasn't that man, wasn't that sort of artist.
DeCurtis has done a great service to the memory of Lou Reed, showing the groundbreaking innovator and creator in all his guises. From the drug-addled New York street punk to poet, from his early life in the boroughs to his last years with his wife, performance artist Laurie Anderson, Reed is made human, rising above his contradictions and faults to be shown as the remarkable talent he was. DeCurtis should be commended, and Lou Reed : A Life is a compelling look at one of America's "founding fathers". Lou Reed literally changed the world, and this book will give you a glimpse as to why.