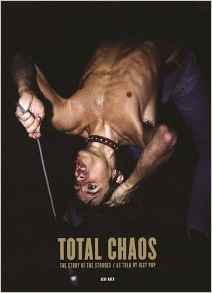 2 January 2017
The Story of the Stooges/As Told By Iggy Pop
Jeff Gold
https://thirdmanbooks.com/books
Short of sitting down on Iggy's couch (next to the full-sized woman made of fabric) in his Miami home, this is as close as most of us will come to hearing the tale of one of America's greatest bands from the horse's mouth. At 300 pages, this lavish coffee-table tome might seem a bit of overkill at five or so pounds and a list price of $50, but yesterday's punks are today's most treasured demographic, and anyway, Iggy is worth it.
Written from interviews with rock historian and collector Jeff Gold, this work of oral history (centered in large part from Gold's memorabilia collection), this is an exhaustive and eye-opening account. From his growing up in Michigan, to his early stint as a drummer in numerous high school outfits, Iggy's recollections seem to be spot-on and detailed, buttressed with previously unseen images of the young James Osterberg (who always seemed to look vaguely demonic in all his pictures). He spares no one, most of all himself from judgment, with a disarmingly frank tone. His manic side, which led him to push the envelope of blues-based rock n' roll into something that years later would be given the name of "punk", also led him into legendary substance abuse and ill-fated business decisions, but thru it all, one gets the feeling that despite it all, the Stooges are as sacred to Iggy as they to us, something larger than life that he only played a part in.
You sense that Iggy doesn't suffer fools gladly, if at all, and he spares no feelings of any of his partners in punk (James Williamson seems to be a particular victim for this), but by the end of this intensely readable tale, you respect Iggy and the Stooges in a deeper light, amazed and thankful that were able to achieve whatever they did despite complete indifference from the industry and their own failings (which, as he accounts, were legion). The Stooges only released a few albums in their heyday, but they changed the world. Read Total Chaos to find out how.