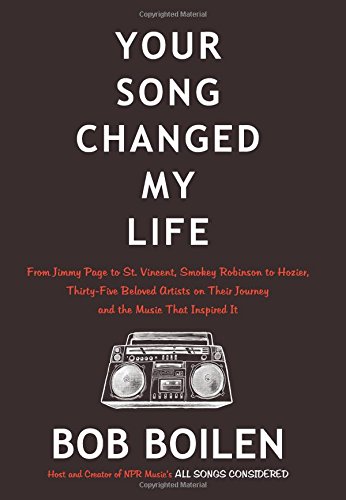 3 May 2016
Bob Boilen
William Morrow
http://www.bobboilen.info
Read any interview with any notable performer in all the creative arts, and you'll find foremost a fan. Be it Brian DePalma's legendary homages to his idol Hitchcock, or the scores of writers emulating the Beats, inspiration is born of that initial attraction to something that precedes you. In the case of contemporary musicians, a look at their influences might surprise as you read Your Song Changed My Life by the host of NPR's All Songs Considered and the great Tiny Desk Concerts, Bob Boilen.
For example, the classical composer Phillip Glass relates his early fascination with the surreal caricatures of bandleader Spike Jones, whose deconstruction of the "William Tell Overture", complete with pots, pans and puns changed forever the way Glass would hear music. Or R.E.M's Michael Stipe, who was in love with the cartoon "band" The Banana Splits (although he admits Patti Smith's Horses was a major factor to him musically). Wilco's Jeff Tweedy was captivated by his sister's 45 of The Byrds "Turn! Turn! Turn!", and Cat Stevens life changed when he heard The Beatles and John Lennon cover "Twist and Shout".
Among the dozens of artists profiled here, many share a passion for Bob Dylan or The Replacements, but it's the performers that you might discount as having a lasting effect that surprise you, such as Annie Clark (St. Vincent) and her early crush on Pearl Jam's "Jeremy". Or most surprising, Ian MacKaye (Minor Threat, Fugazi) with the syrupy bit of Nashville pop, "Last Date" by pianist Floyd Cramer. From Jimmy Page to Conor Oberst, Cat Power to Dave Grohl, these accounts of what inspired the legends of today in their earliest stage of musical development is a fascinating and oft-times simply bizarre tale. The reader will most likely find they share many of the artist's selections, such as The Banana Splits. There, I said it.