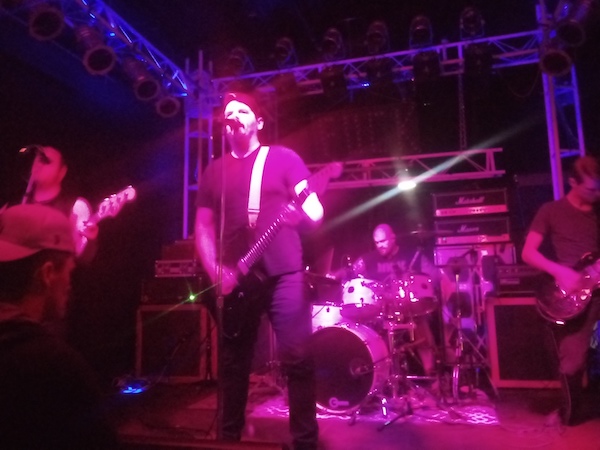 24 May 2019
Photo by Kurt Orzeck
With fire in their sails and fury in their throats, Call of the Void barnstormed the Shredder in Boise on Wednesday night, pulverizing the well-attended club with 45 minutes of sludgy punk-metal.
The blisteringly loud set heavily featured the Boulder quartet's album, Buried in Light, which dropped 12 days prior on Translation Loss. Hearkening back to defunct post-hardcore greats Harkonen, Call of the Void — now in their eighth year — played a generous 11 songs during which they barely caught their collective breath.
The band (whose name references suicidal tendencies) opened with "Old Hate/Abomination" from their 2013 debut, Dragged Down a Dead End Path. Call of the Void (gratefully, not spelled "Call Ov the Void") then dove into three songs from the new record: "God Hunts," "The Master" and "Living Ruins."
Throughout the performance, moshers and arm-swinging fans danced along to the bottom-heavy breakdowns and dual shouting from guitarist Parick Alberts and bassist Alex Pace. The latter musician wore an Axesplitter tee and a black armband that suggested a right arm injury.
Fortunately, the same-size throng of Shredder-goers who had witnessed local metal favorites Throes stuck around to see Call of the Void wreak their mayhem. (The venue has a reputation for drawing crowds early to see Boise bands but who file out for the touring talent.)
Similarly, they stuck around for progressive-crust headliner Cult Leader, whose performance was equally brutal and introspective (and irreligious throughout). Hooded menace Anthony Lucero drowsily and ominously swayed across the stage, at turns belting screams and singing in low registers. The Salt Lake City band tapped heavily into their own recently released record, A Patient Man (Deathwish Inc.)
While Cult Leader managed to get the venue to pin-drop levels of quietude during their subtly sounding passages, they unfortunately weren't able to prevent a highly intoxicated asshole from smashing his empty 40 oz. bottle on the stage. Lucero and guitarist Mike Mason (who closely resembles Mastodon axeman Brent Hines) glared at the fucked-up fan, who was promptly chased out of the venue.
It was a shitty moment but epitomized the dark, dangerous tones set by all three bands in what was one of the Shredder's stronger shows as of late.
Call of the Void set list:
"Old Hate/Abomination"
"God Hunts"
"The Master"
"Living Ruins"
"Throwing Bullets"
"Enslaved"
"ReDeath"
"On and On"
"Disutility"
"Suck Me Dry"
"So It Ends"