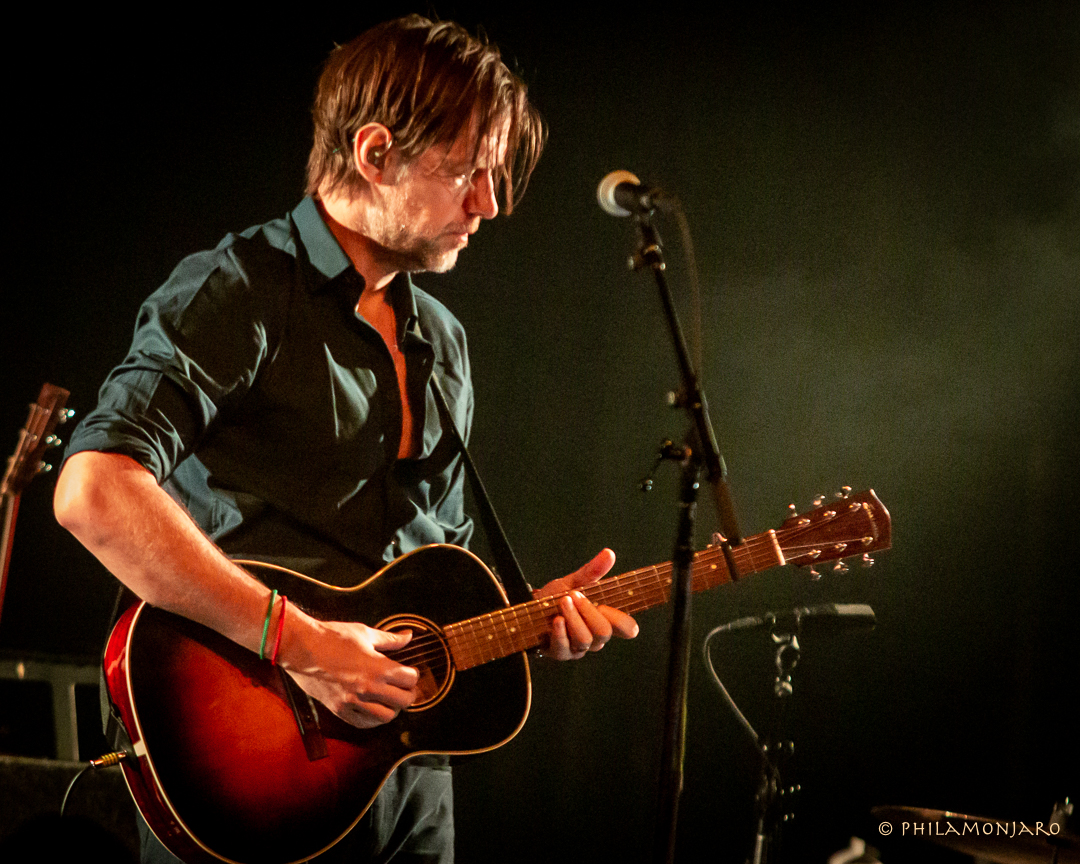 10 February 2020
Photos by Philamonjaro.
Founding Radiohead guitarist and vocalist Ed O'Brien and his skillful band played their second-ever concert on Saturday at Chicago's Lincoln Hall. Billed as EOB, the group introduced material from O'Brien's debut solo album Earth and added a couple of revealing covers.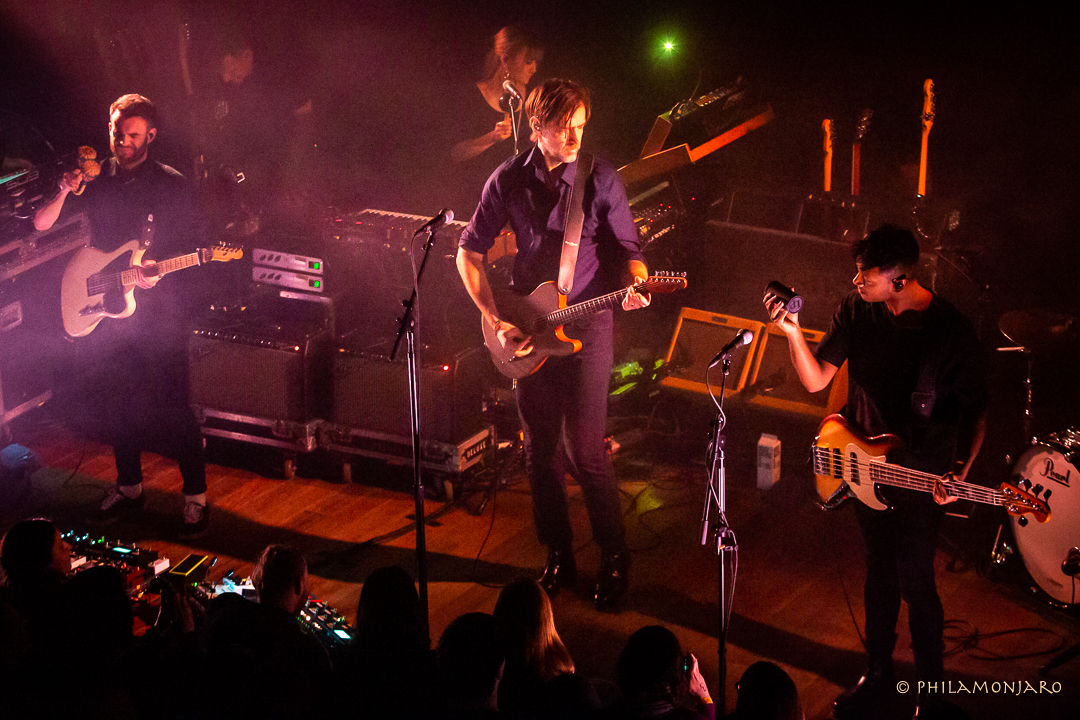 O'Brien has released teaser singles including the expansive and emotive "Brasil" and the fractured pop of "Shangri-La." Performances of the two songs demonstrated the extremes of the band's considerable range. "Brasil" stretched beyond nine minutes and featured captivating improvisational work by the five-piece band. "Shangri-La" was tautly composed and hooky.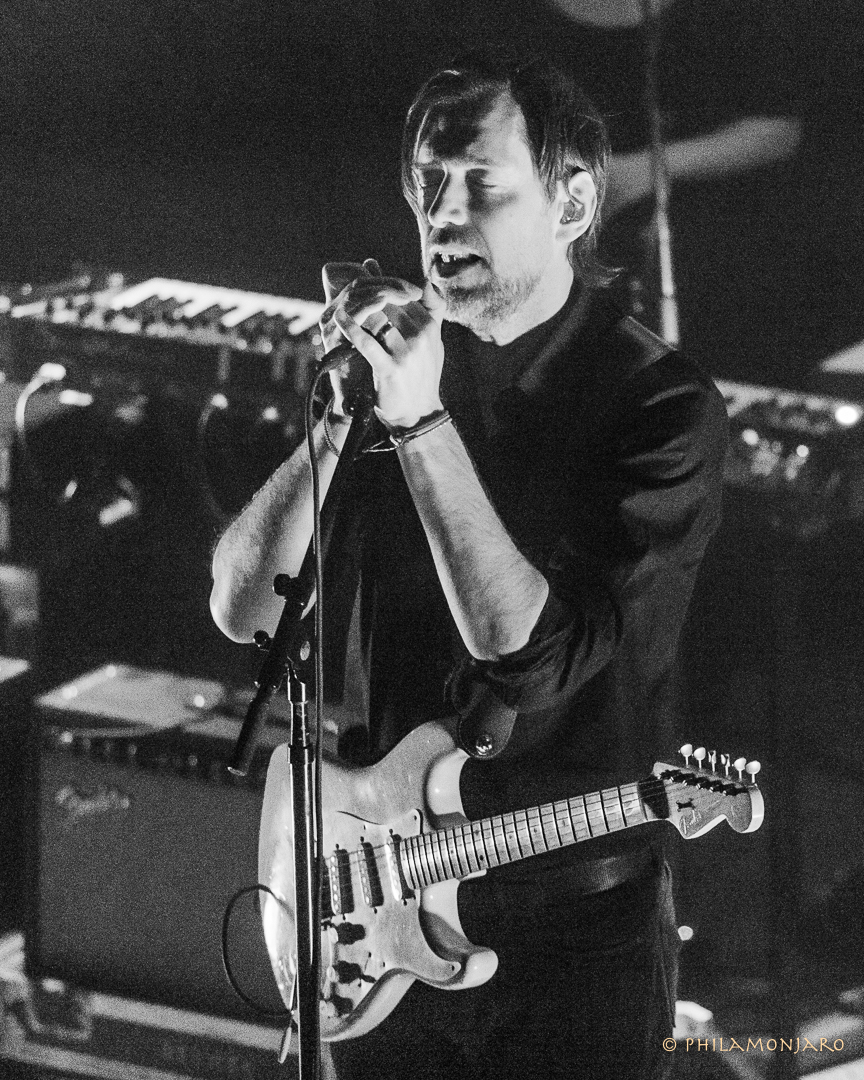 "Banksters" veered from O'Brien's gently descending acoustic guitar pattern and drummer Alvin Ford Jr.'s samba beat into the heavy lurch of the song's chorus. The violent mood swing was a reminder that O'Brien is a co-architect of songs like Radiohead's "Paranoid Android." Other touchstones to O'Brien's main gig included occasional use of the ring-modulated guitar tone heard on vintage tracks like "My Iron Lung."
The song "Mass" was muted but intense, with a low acoustic strum and a steady pulse reminiscent of "I Promise." Ross Chapman played melancholy arpeggios on electric guitar, and a trio of voices blended in ghostly harmony. O'Brien dedicated the song to Wilco drummer and Earth collaborator Glenn Kotche, who was watching from the balcony.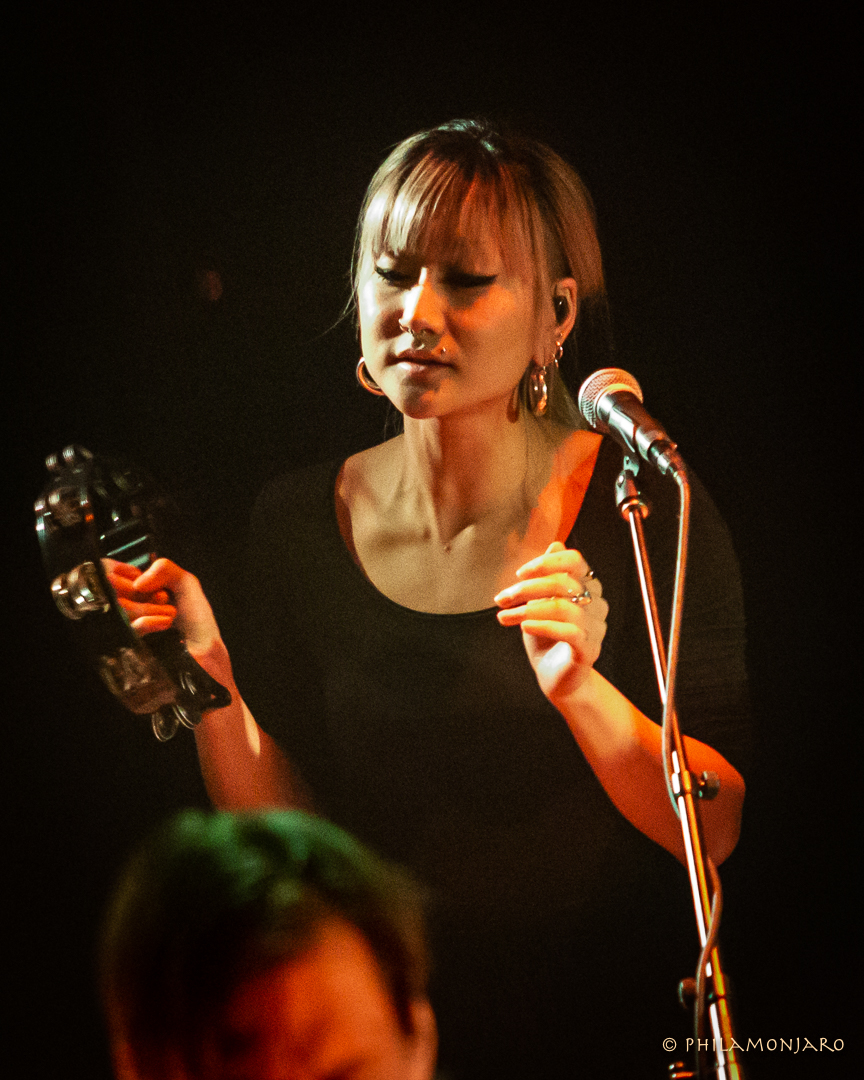 "Sail On" was formless and spectral, with the band wreathed in fog and red light. O'Brien sang a haunted vocal filled with loss and regret. The mood contrasted sharply with the urgent krautrock of Tangerine Dream bandmember Ulrich Schnauss' "On My Own." The cover song featured keyboardist Hinako Omori's icy synthesizer swells.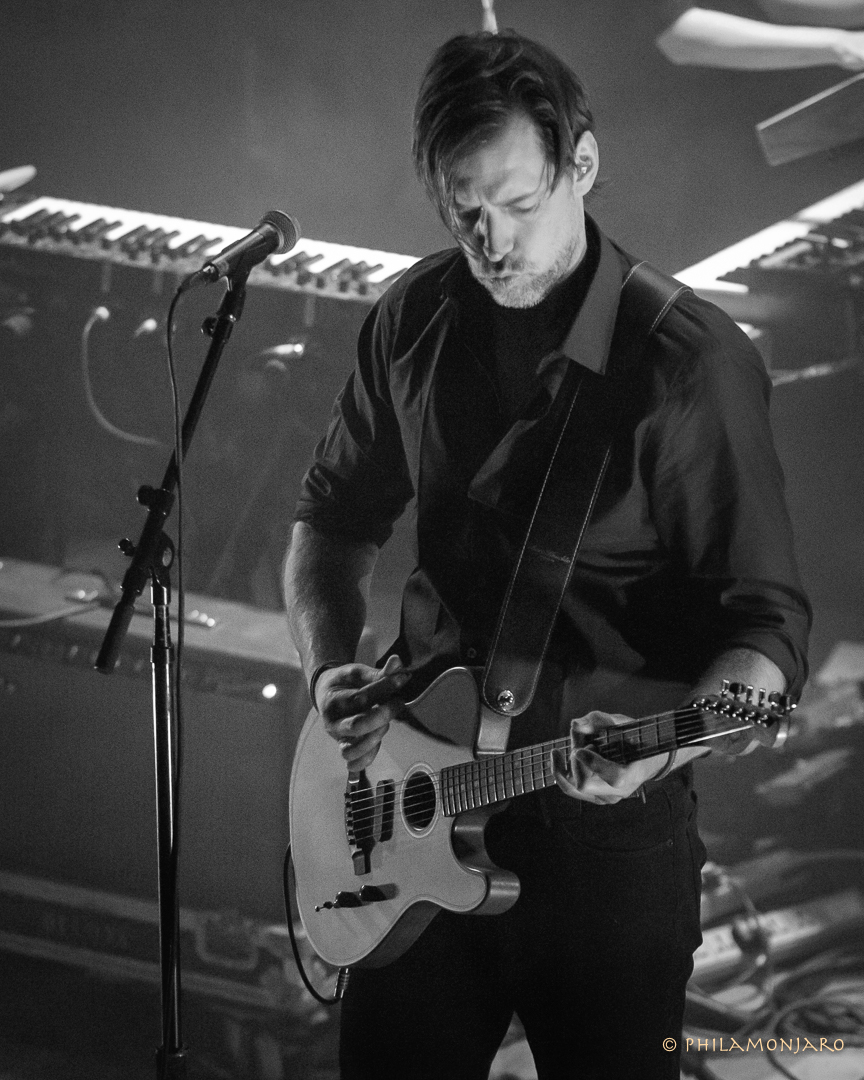 O'Brien took a moment to thank the packed house of Radiohead fans and industry supporters for helping him to exorcise his nerves. "I need all the encouragement I can get," he said with good humor, explaining his lingering second-night jitters. "Last night was an out-of-body experience. Tonight is like coming into orbit, but my feet still aren't on the ground."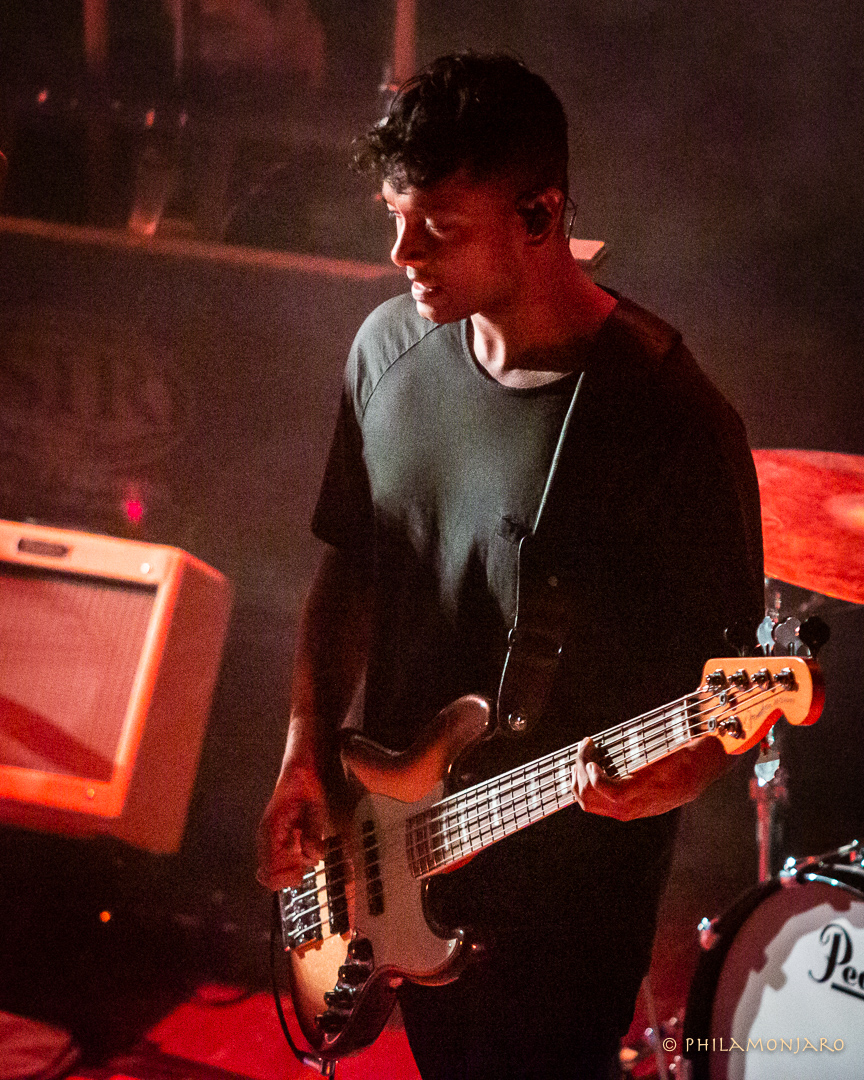 The main set concluded with "Olympik." It was a driving, urbane rocker with O'Brien and Chapman's slashing guitars and a body-moving rhythm anchored by bassist Dishan Abrahams. The band encored with "Deep Days," a grateful ode to faithful companionship.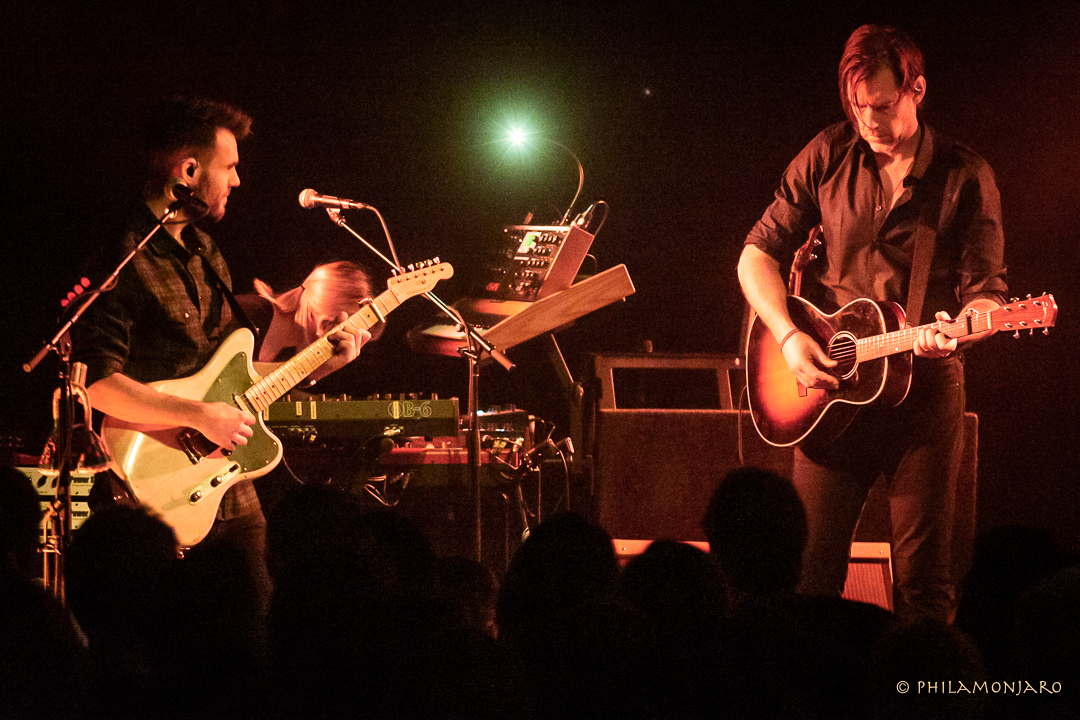 The night ended with a celebratory outlier as the band cut loose with the epic funk of Labi Siffre's 1975 single "I Got The." It made for a joyful exit and offered O'Brien's fans an unexpected glimpse of the type of music that thrills him personally. O'Brien's tastes clearly run far beyond Can, Eno, Nick Drake, and Joy Division into all corners of quality pop.
Earth is scheduled for release on April 17, 2020.
Set List:
Love Story
Shangri-La
Banksters
Long Time Coming
Mass
On My Own
Sail On
Brasil
Olympik
-
Deep Days
I Got The