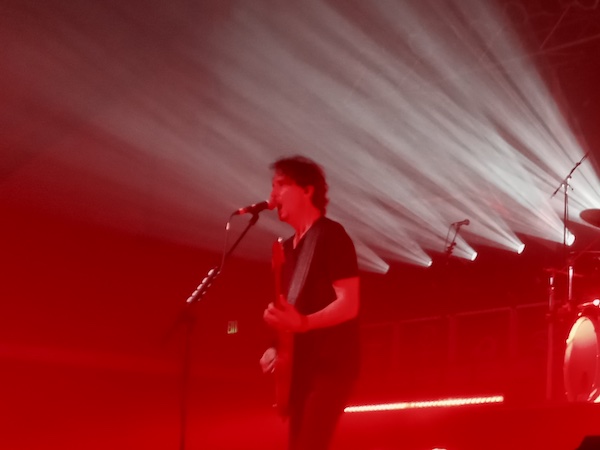 9 October 2021
Gojira – live – Photo Credit: Kurt Orzeck
Fact: Gojira is the most important band in heavy metal in 2021.
Another fact: Music tours rarely begin or end in Boise, Idaho.
As the most remote metropolis in the U.S., the perennial "up-and-coming" city infrequently attracts bands to kick off their North American treks. More often than not, bands fly over Boise to launch in the coastal cities of Seattle, San Francisco, Portland or even Vancouver instead of seven or eight hours inland.
For that reason — but not that reason alone — Friday night's performance by Gojira in rural America was one of the most notable concerts ever performed by the heavy metal masters from France. It also marked the first occasion on which the massively successful quartet played in proper support of Fortitude, one of the year's best albums in rock music writ large.
"This is our first real show in two years," frontman Joe Duplantier announced to the crowd, about seven songs into Gojira's set at Revolution Concert House. "We were shitting ourselves a few hours ago."
Somewhere between that visit to the stall and their performance onstage, Gojira must have taken stock of what will likely be a long tour behind the stunningly commercial yet uncompromising Fortitude. Already the band's highest-charting and bestselling album to date, Fortitude hammers home Gojira's recurrent themes of wide-scale environmental destruction, animal extinction and global catastrophe. What may have seemed to be the band's thematic framework in previous years is now, undeniably, front and center; what once were perceived as topical matters potentially up for debate are now universally accepted as irrefutable calamities faced by every country, city and town on earth.
The backdrop to Gojira's set was a veiny spread of illustrated tree branches — doubly apt for a performance in Boise, the so-called "City of Trees." Duplantier used effects pedals (to varying levels of effectiveness, thanks to sound issues) as a means of replicating the didgeridoo echoes heard on their new song "Amazonia," but he didn't lose the attention of the crowd in Idaho, a state that is going through its own historic battles with drought and heat.
While well-attended by a feisty throng of 2,000 fans on a rainy Friday night, the concert was hardly indiscreet. The Grammy-nominated Gojira started hitting fall festivals two weeks ago, but this was their first headlining performance after April's release of Fortitude — the bestselling album across all rock genres in the U.S., shortly after it dropped. Thanks to COVID, the only path more difficult to chart than Gojira's current tour itinerary is their career-long experimentation with and mastery of metronome.
With more festival spots sprinkled among their upcoming set of shows, it's hard to pin down the exact starting point of the Fortitude tour. Gojira unveiled the album's first single, "Another World," back in August of last year — but it was only on Friday that they delivered the live debuts of two more Fortitude songs, "Hold On," the single-worthy song to which much of the crowd sung along, and the dingier "Sphinx."
Gojira's performances of those songs and three other Fortitude tunes — the set-opening "Born for One Thing," "Another World" and "Amazonia" — felt fresh enough, with the once-underground band's evolving mainstream sound continuing to become more firma and less incognita. Diehard fans were treated to encore-set performances of "Toxic Garbage Island" and "Oroborus," which Gojira hadn't played live since 2019.
Still, it was no calculation error that Gojra scheduled the Boise show before their Sacramento gig (at the Aftershock festival) on Saturday and Salt Lake City slot on Monday: Before going full-fledged with the Fortitude tour, Gojira still have some rust to kick off.
"We got this one out of the way," drummer Mario Duplantier (brother of Joe) acknowledged to the Boise crowd while tossing them his sticks. "Thank you for being there for that. You were perfect."
Gojira's setlist:
• "Born for One Thing"
• "Backbone"
• "Stranded"
• "Flying Whales"
• "The Cell"
• "Hold On"
• "Sphinx"
• "Silvera"
• "Another World"
• "L'enfant sauvage"
Encore:
• "Amazonia"
• "Toxic Garbage Island"
• "Oroborus"
• "The Gift of Guilt"