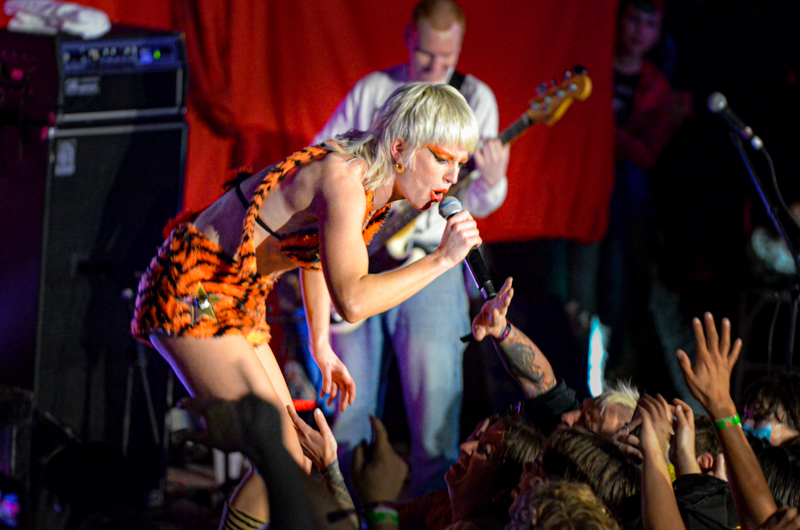 20 October 2022
All photos by Sammy Braxton-Haney
On October 8th and 9th, Halloween Meltdown was back at Mosswood Park in Oakland, offering up two days of punk, stoner, and garage rock under sunny East Bay skies. Hosted again by the Pope of Trash, John Waters, Halloween Meltdown attracted a crowd diverse in age but unified in their love of the loud. The costumed attendees added a sense of giddiness to the weekend, as aliens in silver lurex, various bug-like creatures, pirates, and former celebrities roamed the park. John McEnroe, circa 1980, was spotted on Sunday, possibly looking for Bjorn Borg.

Portland guitar and drums duo, The Bugs, started off the weekend with a stripped-down take on power pop. Switching from laconic songs of loneliness to defiant diatribes of love, The Bugs slowly won over the audience with a set that included "Who Wants to Know", "The Living Dead" and crowd favorite "She's Got Mono".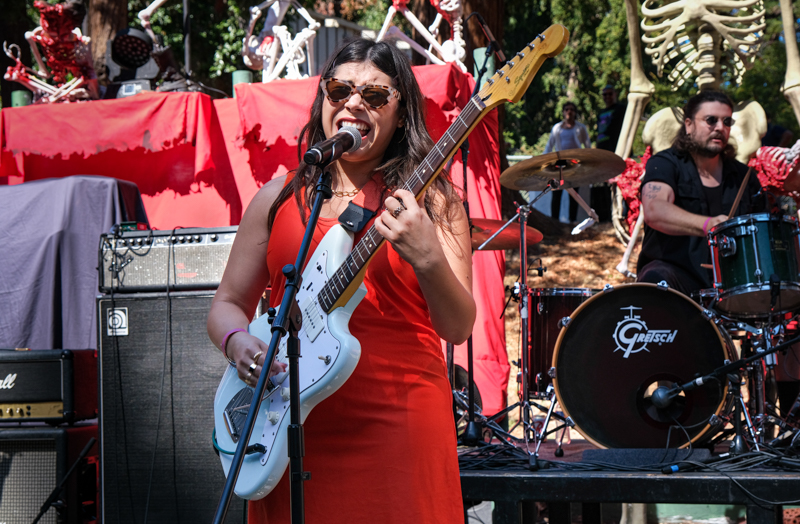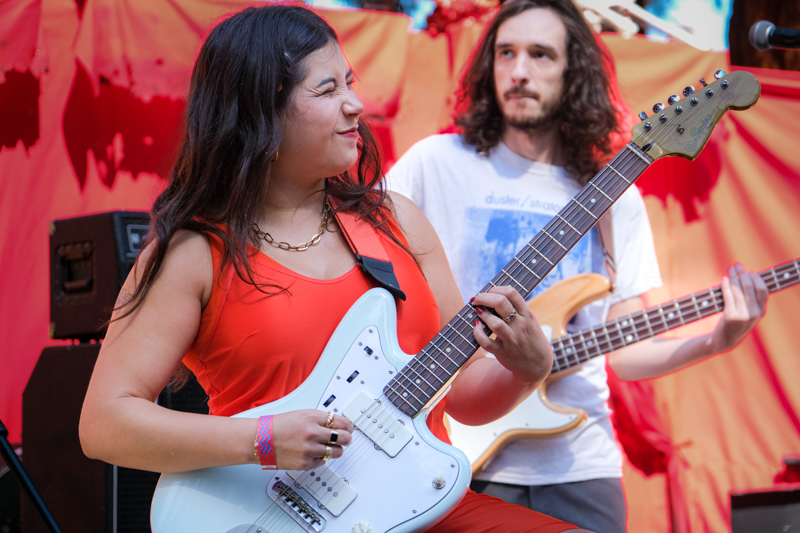 Hometown band Fake Fruit had a Breeders*/*Kleenex*/*Yeah, Yeah, Yeahs vibe to their music, and lead singer, Hannah D'Amato, unleashed a voice that shot to the back of the amphitheater. Their sound was defined by twin Fender Jazzmasters and plenty of chorus effect. With clipped, angular rhythms, Fake Fruit hit its stride with Hannah spitting out the lyrics "Hope you found what you were looking for" to the increasing crowd.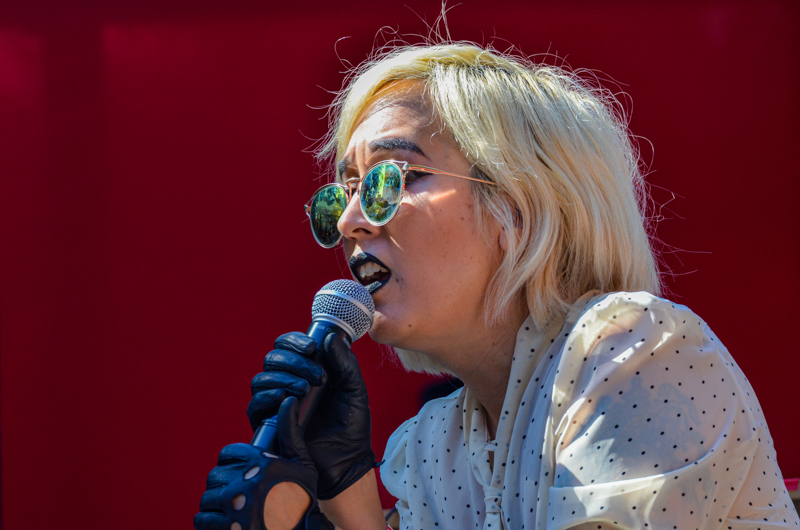 Body Double, back again after a successful show at last year's Halloween Meltdown, brought a Siouxsie and the Banshees like menace to their synth and guitar lineup. Lead singer Candace Lazarou prowled the stage, threw shapes, and draped her voice over the throbbing rhythm section to chilling effect. Their cover of David Bowie's "Scream Like a Baby" was spot on. If you were waltzing at a funeral, Body Double would be the band playing.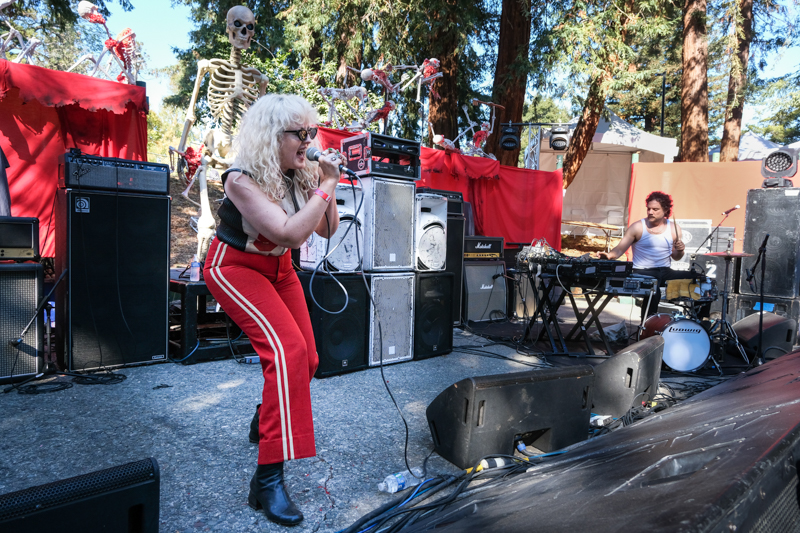 Warm Drag, a duet featuring Osees drummer Paul Quattrone and vocalist Vashti Windish, brought a punk rock sensibility and married it to beat heavy savagery. Manning both the keyboards and acoustic drums, Quattrone built up each track with layered samples while Windish sang like a chanteuse from the '60s in a perfectly matched monotone drawl. More successful when they leaned toward the atmospheric drones, Warm Drag was well received at this year's show.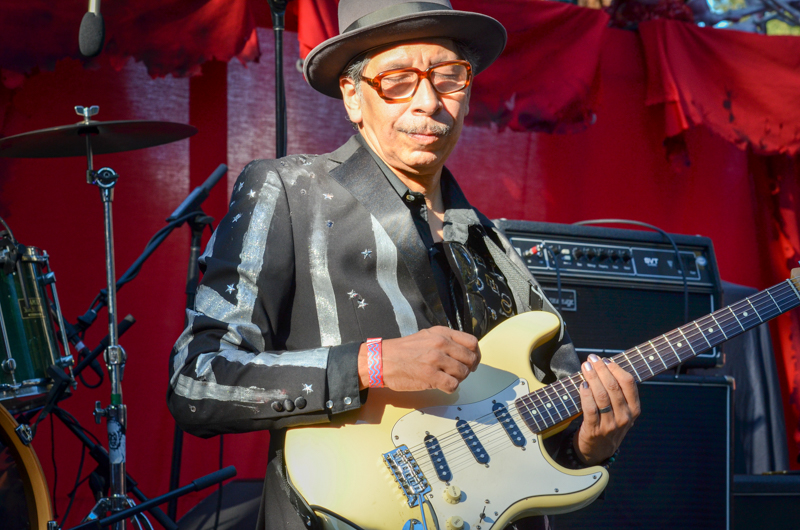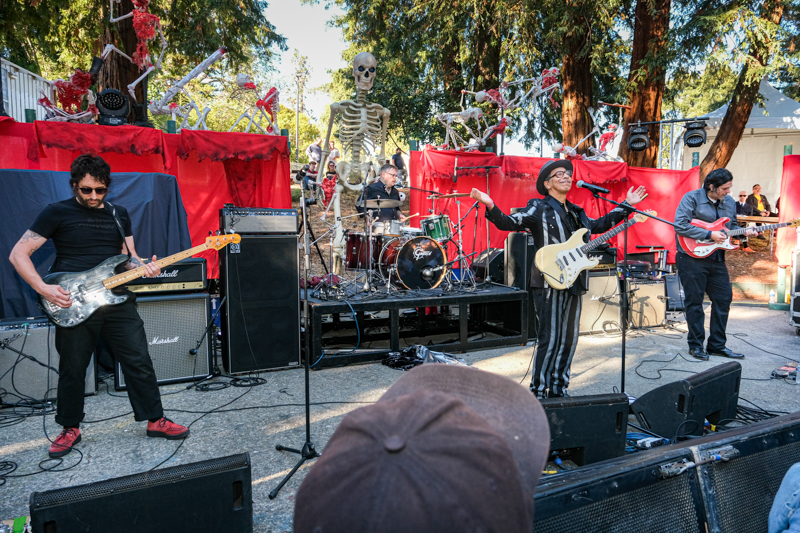 Not many people can say they have been in bands with Nick Cave, Jeffrey Lee Pierce, and Lux Interior, so when Kid Congo Powers took the stage, royalty was in the house. Calling forth a stinging and soulful tone from his Stratocaster, Powers and his band hit their stride with "Chandelier" and "Bubble Trouble" and a fittingly spooky song about "spirits greeting spirits", as Powers described it. A rare treat, the songs simmered in the late afternoon sun.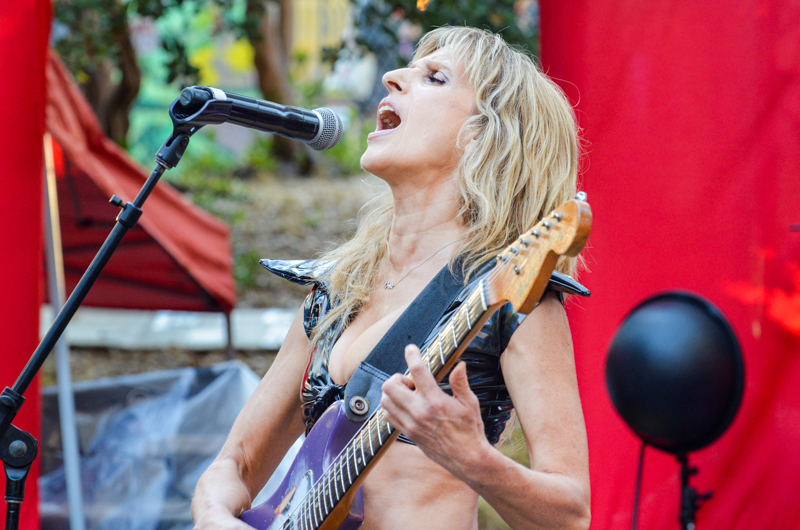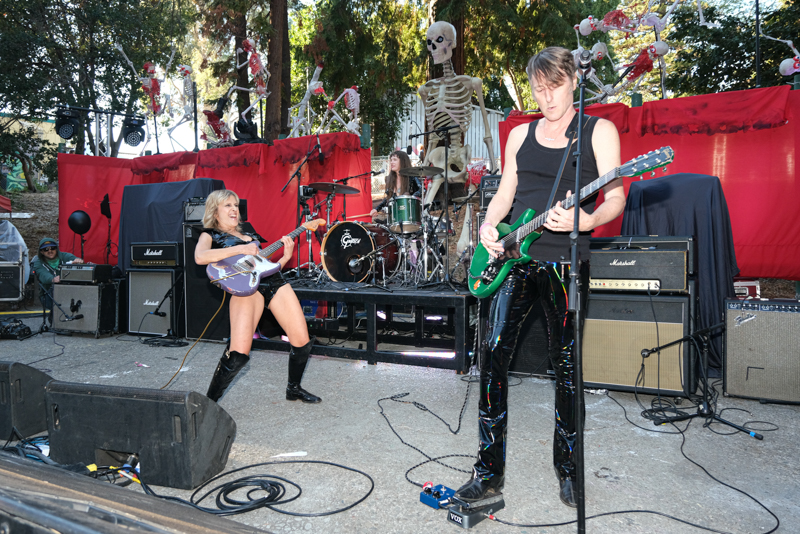 The Demolition Doll Rods made no pretense of subtlety. Wedged somewhere between garage rock and punk, the Michigan band delivered their message over two distorted squealing guitars, leaving lots of room for attitude and kink. The Stooges "TV Eye" caught the spirit of the original and was a high point.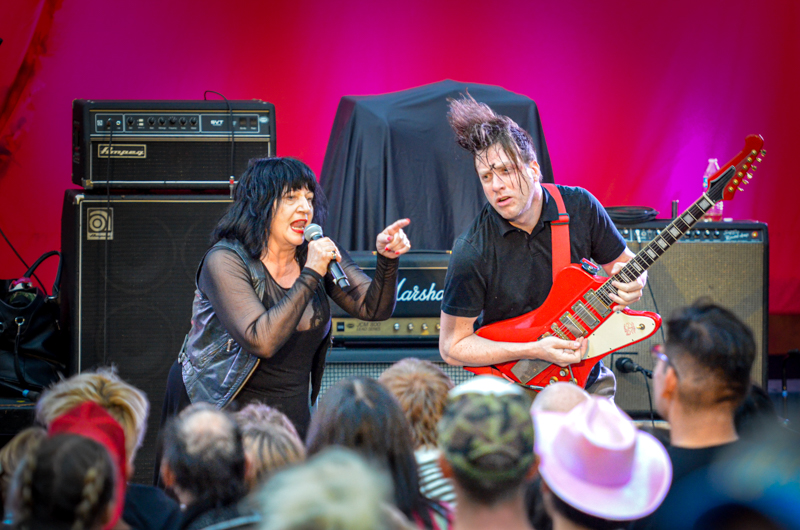 Probably most associated with the late '70s No Wave scene in New York City, Lydia Lunch is a singer, actress, author, and spoken word artist. Wasting no time in berating the audience for either not knowing her songs, or for clapping, her rasp of a voice was dead on target when pinned to the PIL era Keith Levene like shards of guitar. Songs about three-way sexual encounters, fear, and prostitution were delivered in herky-jerky, stop-start rhythms that emphasized her acerbic lyrics. Somewhere in her early 60's, Lunch owned the stage like the veteran she is.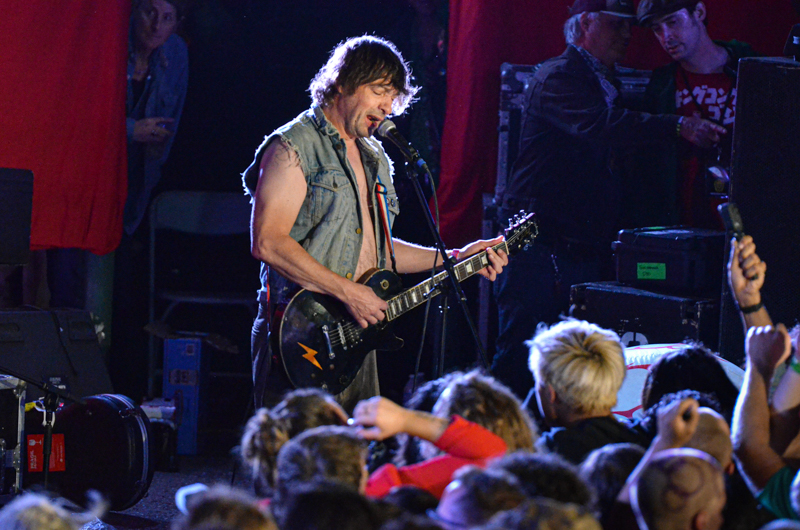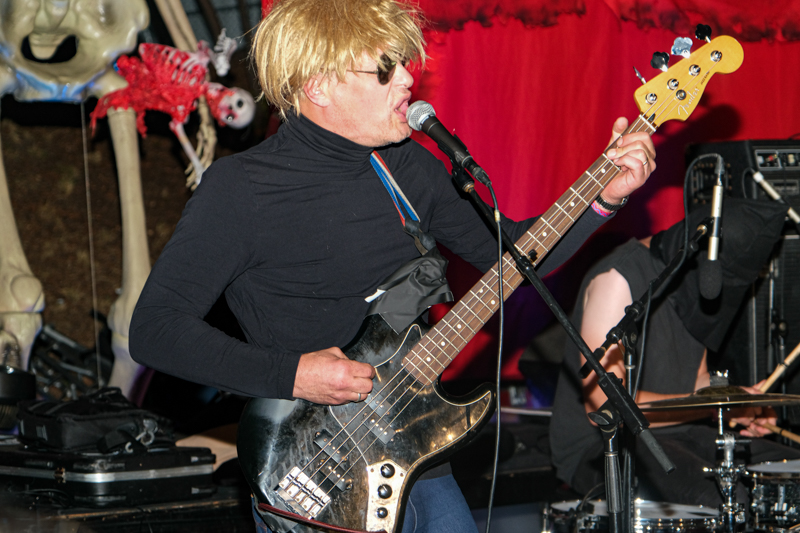 The Spits came on loud, drunken, and argumentative and the swelling crowd loved every minute of it. As the pit churned and undulated, and stage divers filled the air, the band combined distorted guitars, yowling vocals, and cheap synth sounds in a manner reminiscent of the legendary Los Angeles band, The Screamers. When it was all over, many beers had been consumed on stage and the audience was primed for the headliners. Job well done, then.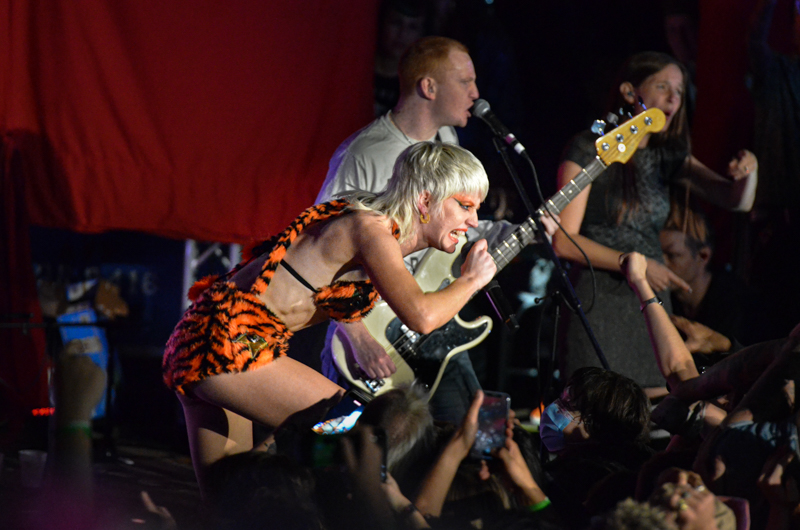 In the intervening years since their debut at Mosswood Park in 2019, Amyl and the Sniffers have released substantial new music, toured fearlessly, and developed an immense live sound. As they took the stage, anticipation was high, and lead singer, Amy Taylor, got right down to business, traversing the stage, and delivering her blistering vocal assault. Songs "Don't Fence me in", "GFY", and "Freaks to the Front" spun by in a blur as Taylor leaned out over the audience, often sharing the mic with fans. During a brief interlude, she described her furry orange and black Halloween outfit as "looking like Tigger, if Tigger was a cop". "I Got You" and "Looking for Love" also hit the mark and showcased the towering sound of guitarist Declan Martens, drummer Bryce Wilson, and bassist Fergus Romer. Will we ever see them again at Mosswood Park?