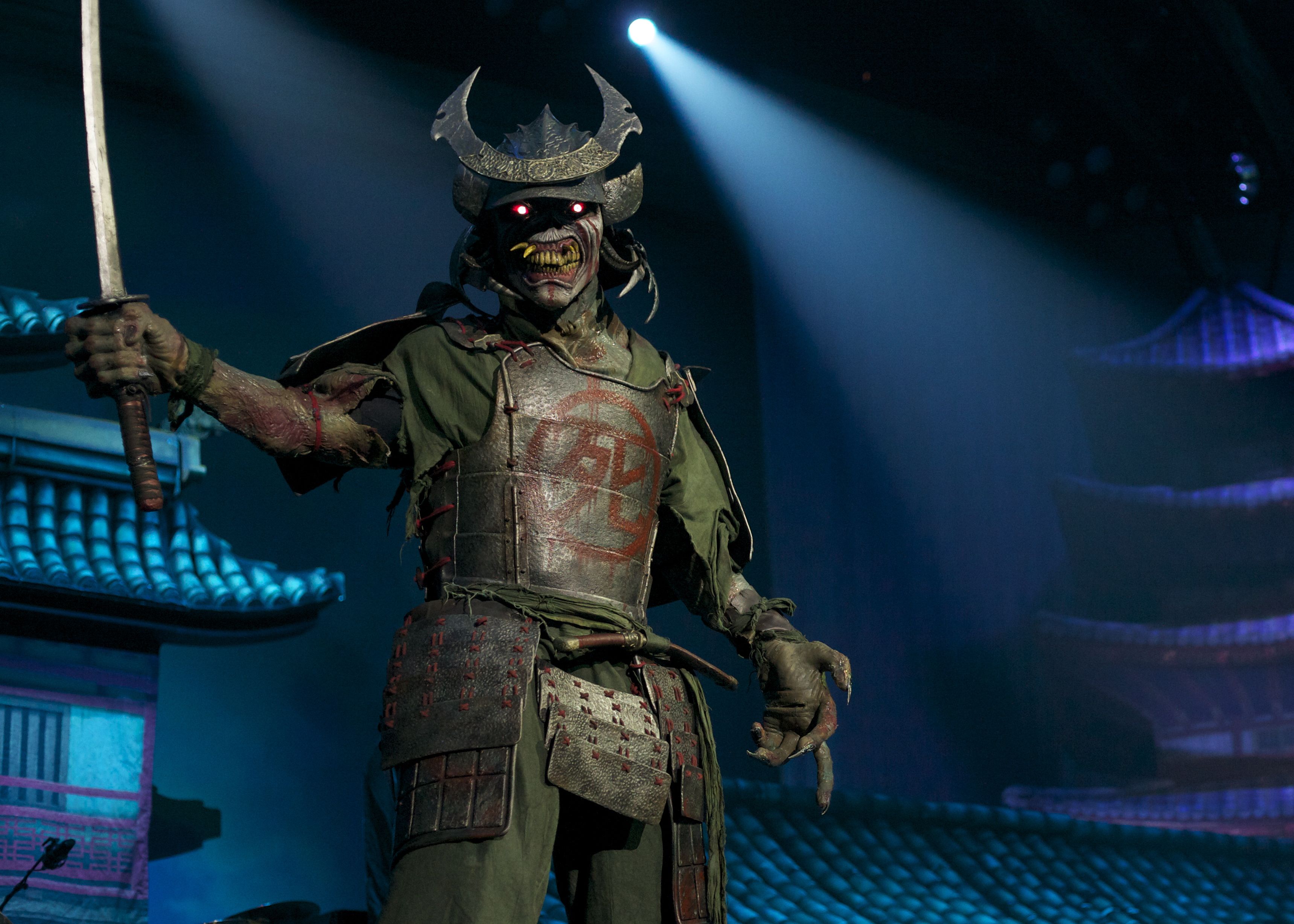 6 October 2022
With Halloween fast approaching, what better time could there be to catch Iron Maiden's literally incendiary heavy metal show and its creepy accoutrements? The band's Legacy of the Beast tour returned to Chicago on Wednesday for a dazzling show full of high-octane hard rock, pyrotechnics, and campy horror – as well as a surprising and outsized helping of goodwill.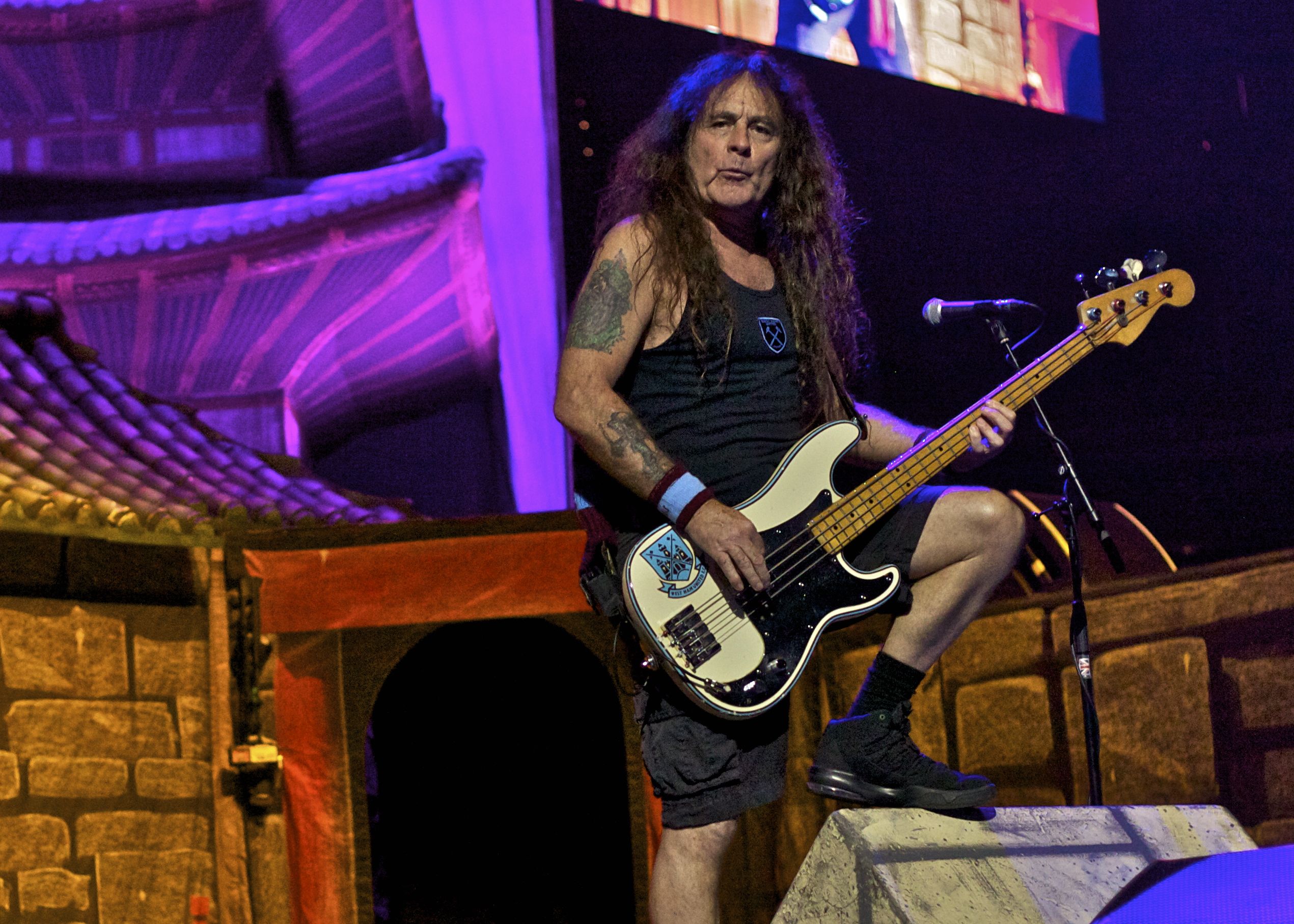 Bassist Steve Harris of Iron Maiden. Photo by Jeff Elbel.
Iron Maiden remain the frontrunners of what was once dubbed the New Wave of British Heavy Metal, fusing punk's speed and energy with metal's riffs. The band's longstanding influence has reverberated in sounds ranging from '80s hair metal to Metallica, Ghost and beyond.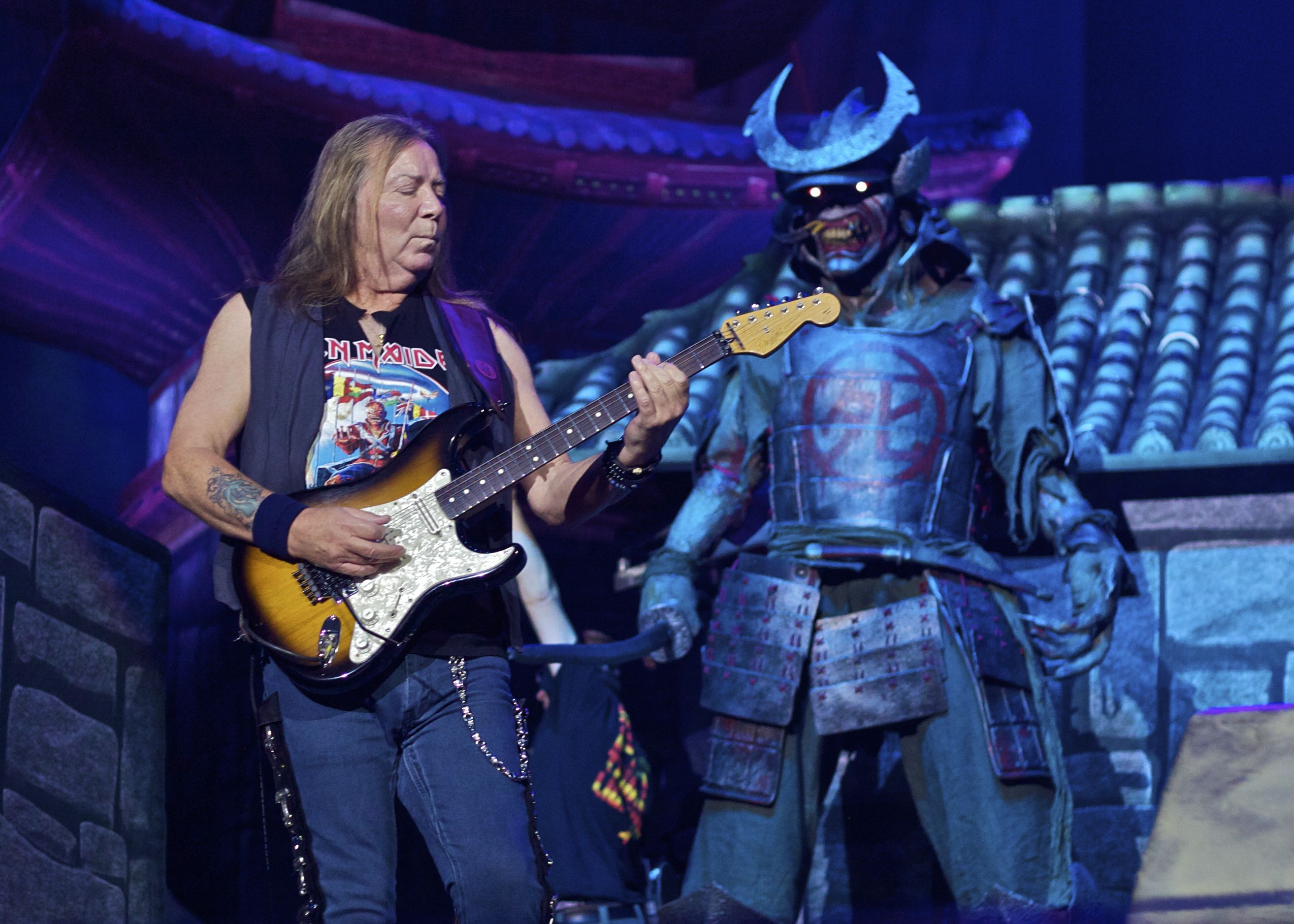 Guitarist Dave Murray of Iron Maiden and mascot Eddie. Photo by Jeff Elbel.
The veteran band promised a show full of classic riffs and favorite songs from the '80s but began with a demonstration of staying power. The show opened with a trio of fresh cuts from 2021's doom-laden prog-metal album Senjutsu. Title track "Senjutsu," the galloping and embattled "Stratego," and the portentous "The Writing on the Wall" found the songwriting of founding bassist Steve Harris, singer Bruce Dickinson, and guitarists Adrian Smith and Janick Gers as sharp as ever. A towering stilt-walker appeared during "Stratego" as gruesome mascot Eddie, clad as a samurai warrior and wielding a katana sword. The band's stage was decorated in the style of traditional Japanese Wayo Kenchiku architecture. The epic compositions, intricate interplay, and bombastic solos drawn from Senjutsu demonstrated that Iron Maiden has aged supremely well and maintained its mojo.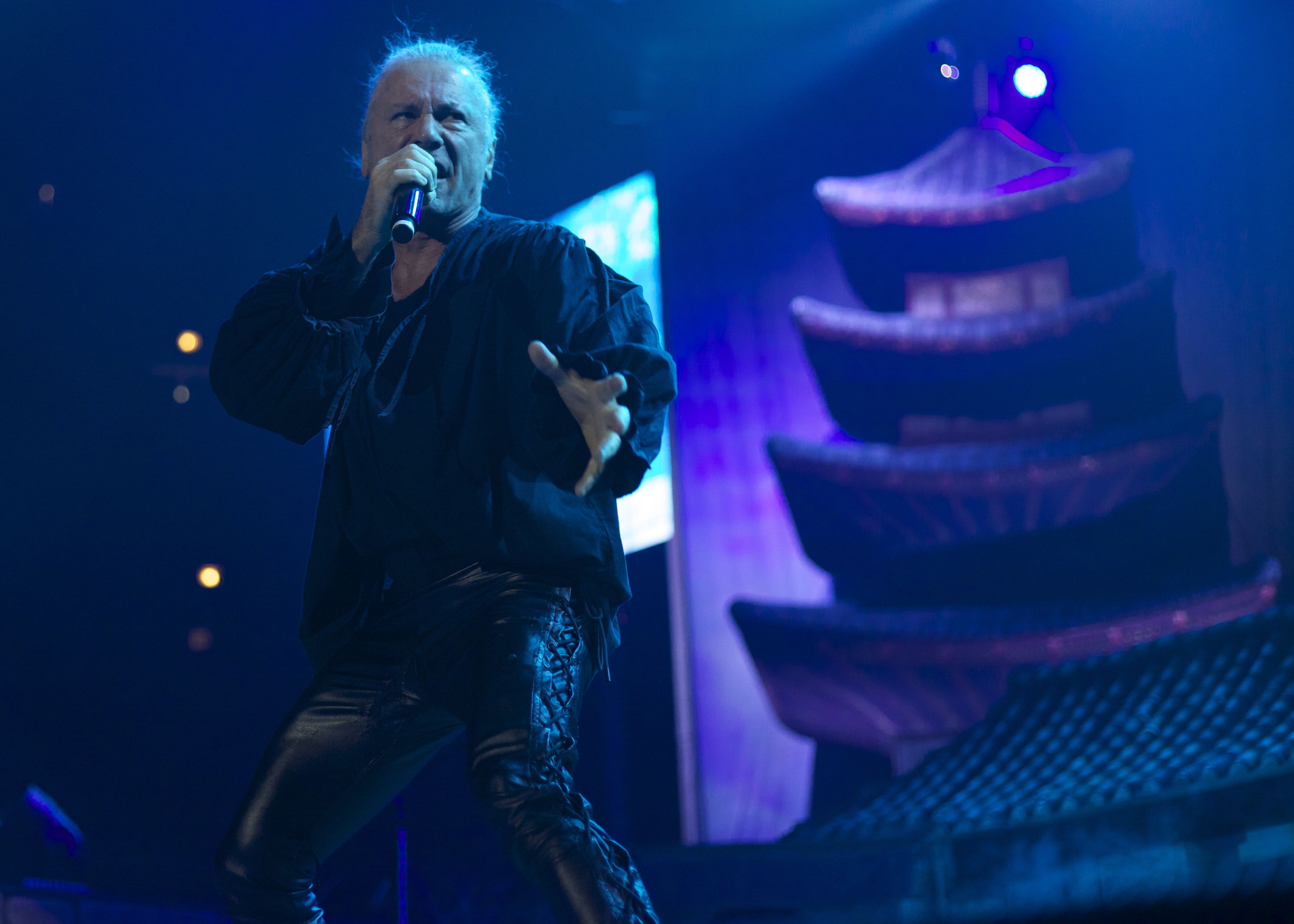 Singer Bruce Dickinson of Iron Maiden. Photo by Jeff Elbel.
Following the new fare, the stage trappings changed to a heavy metal cathedral with stained glass windows depicting different albums' incarnations of Eddie. The band raced backward in time to feature "Revelations" from 1983's Piece of Mind. Next came the anthemic declaration of solidarity "Blood Brothers," prompting a field of raised fists among the rowdy audience. Dave Murray played a lyrical lead with an enviable blues-based tone, followed by a shred session from bandmate Smith. Dickinson claimed the song's bond within the band, reinforced by repeated glimpses of smiles, laughter, and contact between the musicians. The singer also acknowledged the thread between Iron Maiden and its audience. He made a particular point of the band's connection with the metal crowd in Chicago.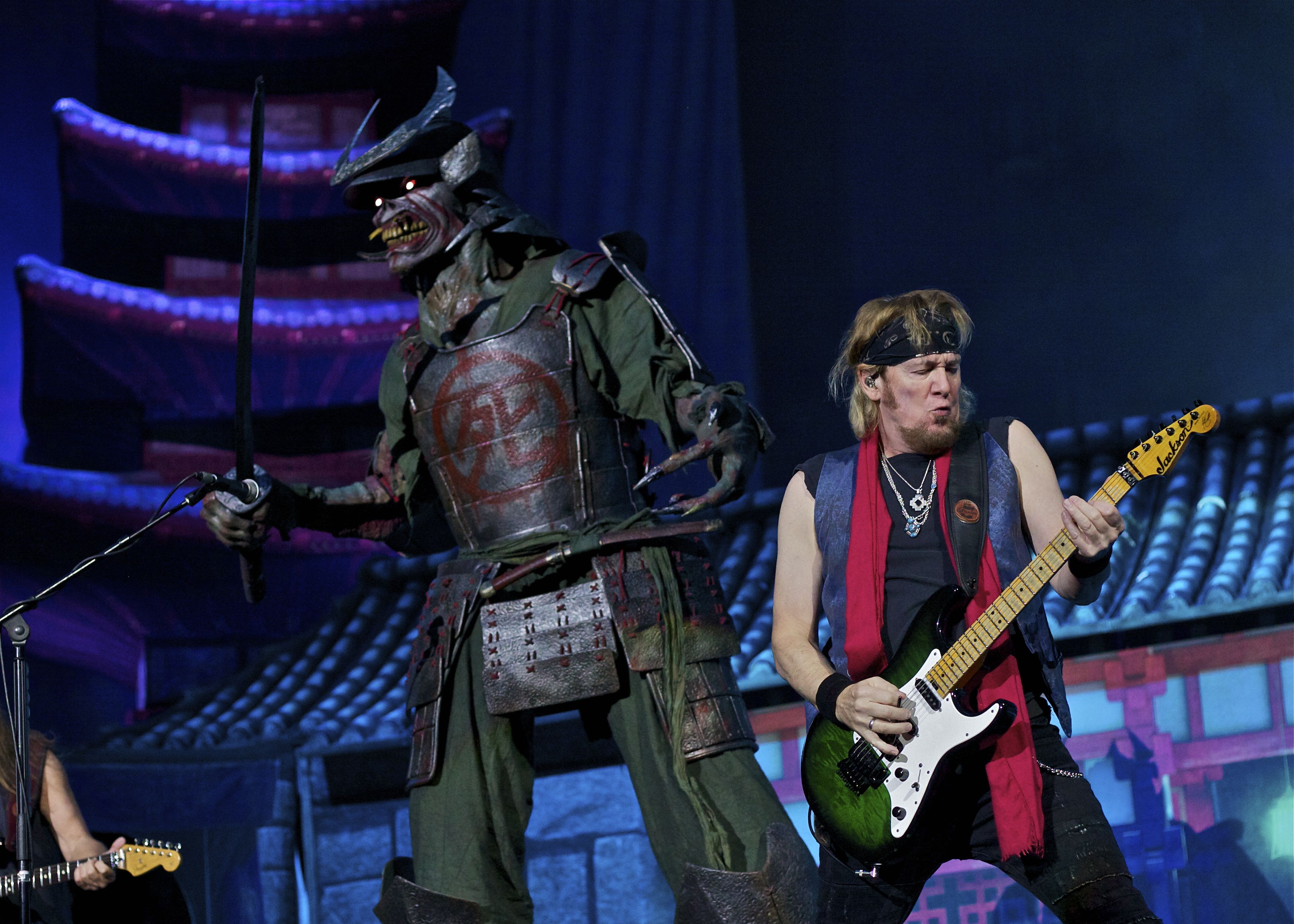 Guitarist Adrian Smith of Iron Maiden and mascot Eddie. Photo by Jeff Elbel.
"Maiden goes back a f—-ing long way, right to the beginning, here in Chicago," he said. "My first time in Chicago, we played the f—-ing Navy Pier, all right? Who was alive when we played the Navy Pier?" Dickinson counted the smattering of raised hands inside the packed United Center and considered it a good sign, emphasizing Iron Maiden as a band for all generations. "It means that somewhere between the Navy Pier and now, there's been a Maiden population explosion."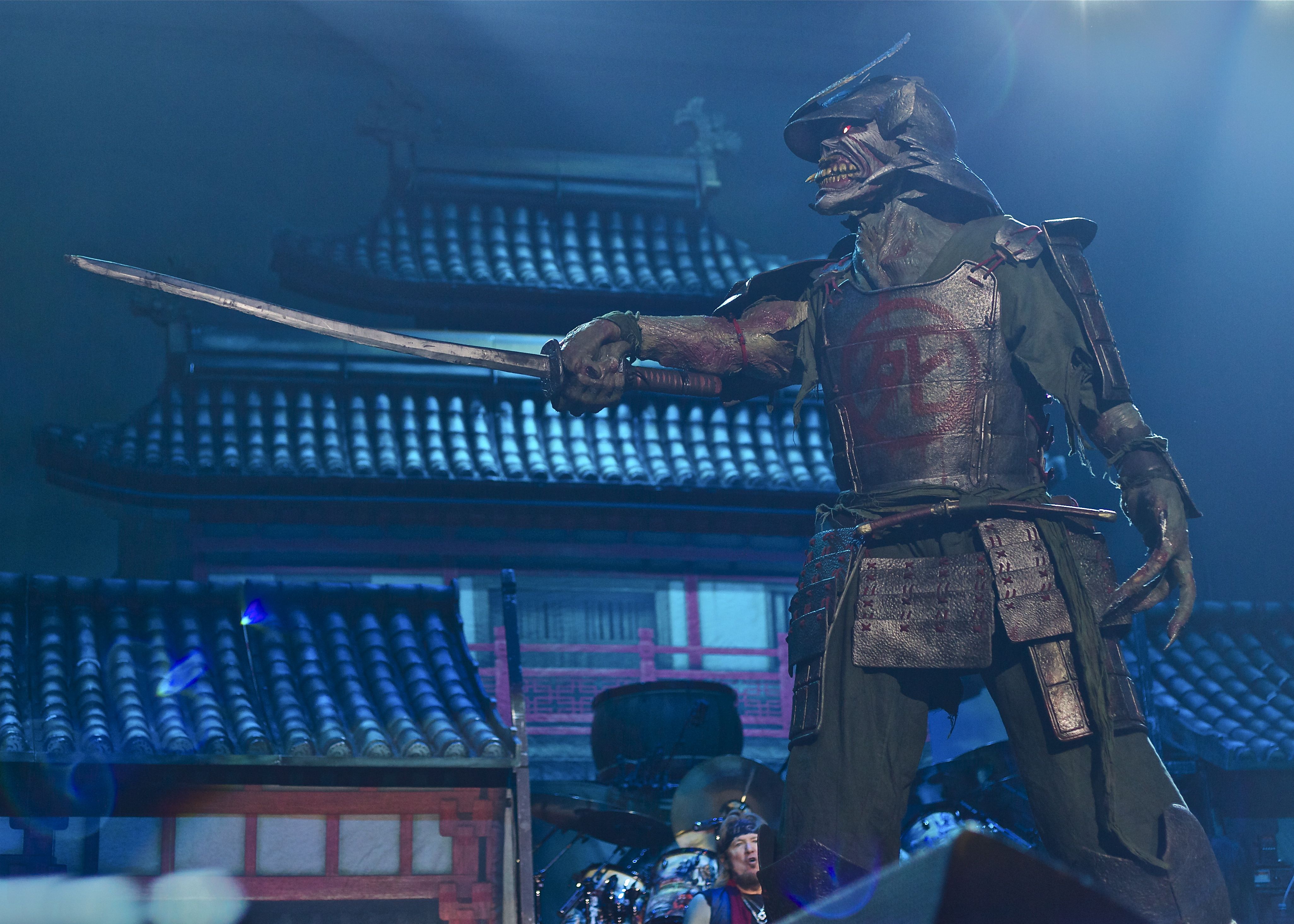 Iron Maiden mascot Eddie. Photo by Jeff Elbel.
The band's lengthy run in 2022 covers dates that were postponed during the prior two years due to pandemic concerns. Dickinson celebrated Iron Maiden's reunion with its fans, and the collective relief at leaving lockdown in the past. Dickinson remarked that fans from all over the world had gathered in Chicago. "The truth is, it doesn't matter where you're from, who's your daddy, or whether you're rich or poor," he said. "Whoever you are, you showed up tonight. You're part of our family."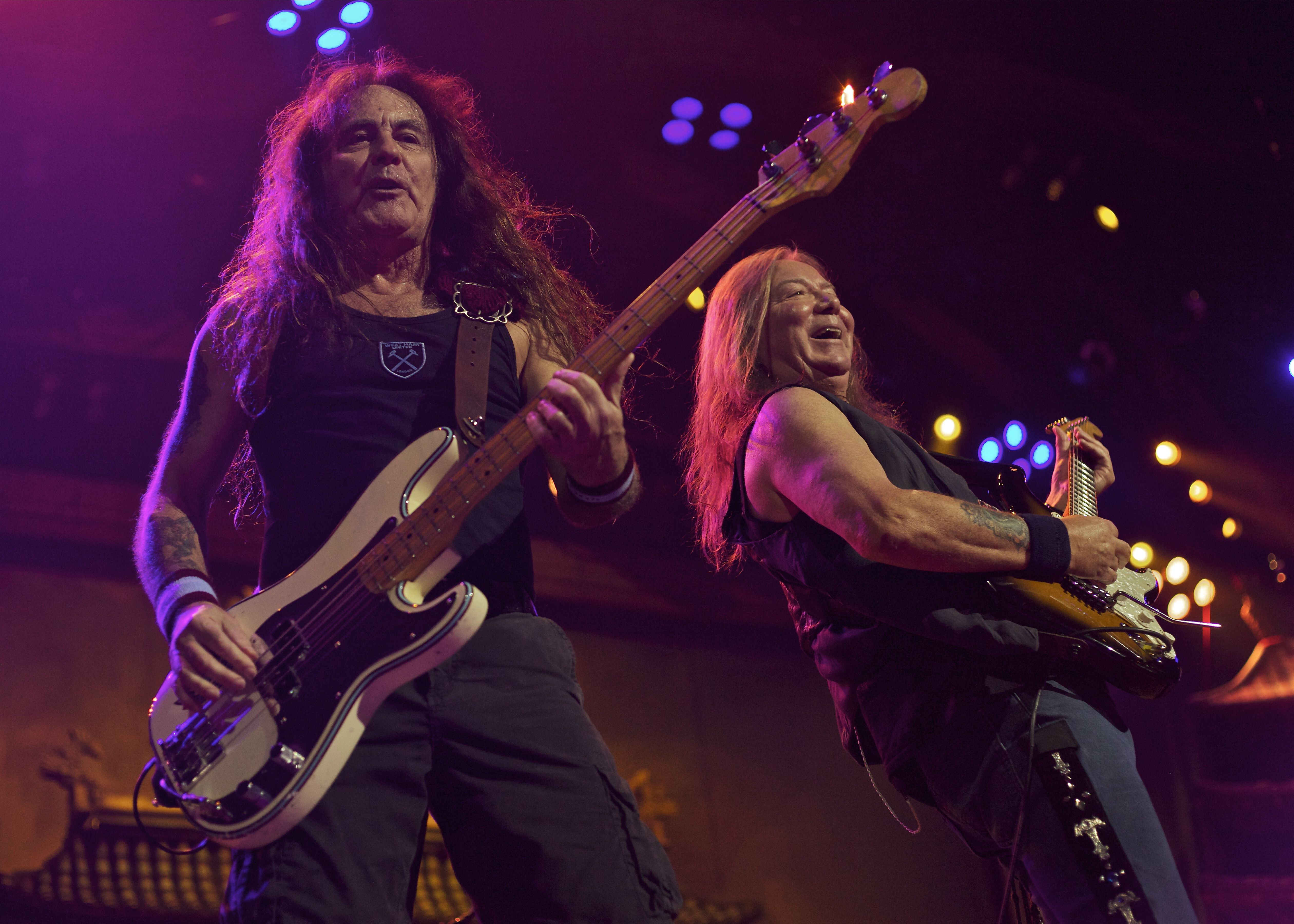 Bassist Steve Harris and guitarist Dave Murray of Iron Maiden. Photo by Jeff Elbel.
The show's top-flight production put many Broadway blockbusters to shame. Backdrops and set decoration changed to fit the theme of each song. Dickinson emerged as a hooded monk in the gothic setting of "Sign of the Cross," which erupted with flame and fireworks as Harris' nimble fingers played a frenetic bassline. "Flight of Icarus" featured a gleaming winged statue that loomed over the stage in radiant pride, only to buckle and fall as a symbol of hubris and betrayal. Dickinson roamed the stage with flamethrowers during the song. What great fable isn't heightened by operatic theatricality and fire?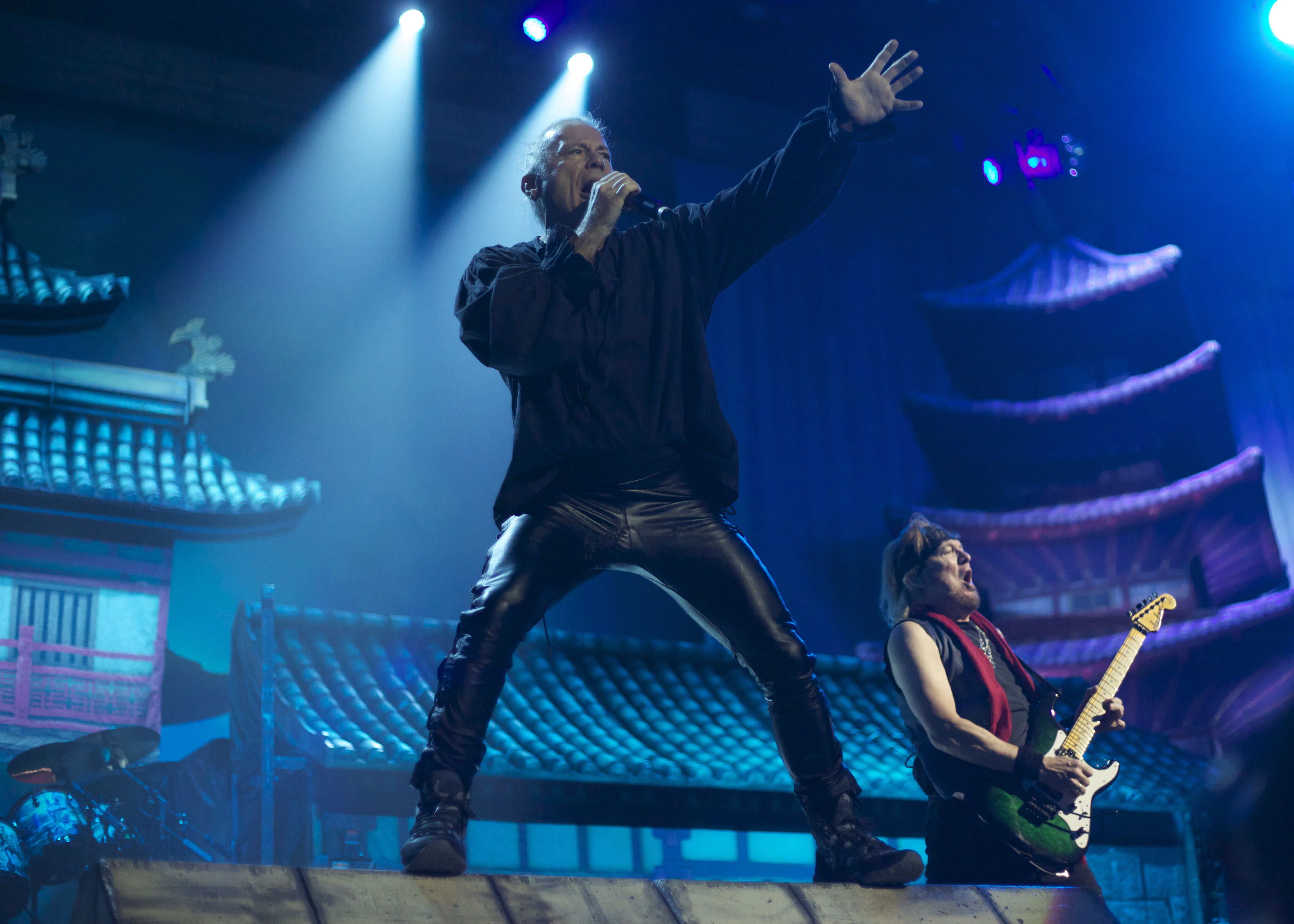 Singer Bruce Dickinson and guitarist Adrian Smith of Iron Maiden. Photo by Jeff Elbel.
Fans launched a raucous chant as the chilling "Fear of the Dark" began. Dickinson prowled a catwalk wearing a plague doctor mask and cape, carrying a lantern that threw eerie green light across the stage. As the song reached its apex, drummer Nicko McBrain played a thundering and feverish beat while Harris bounded with irrepressible energy.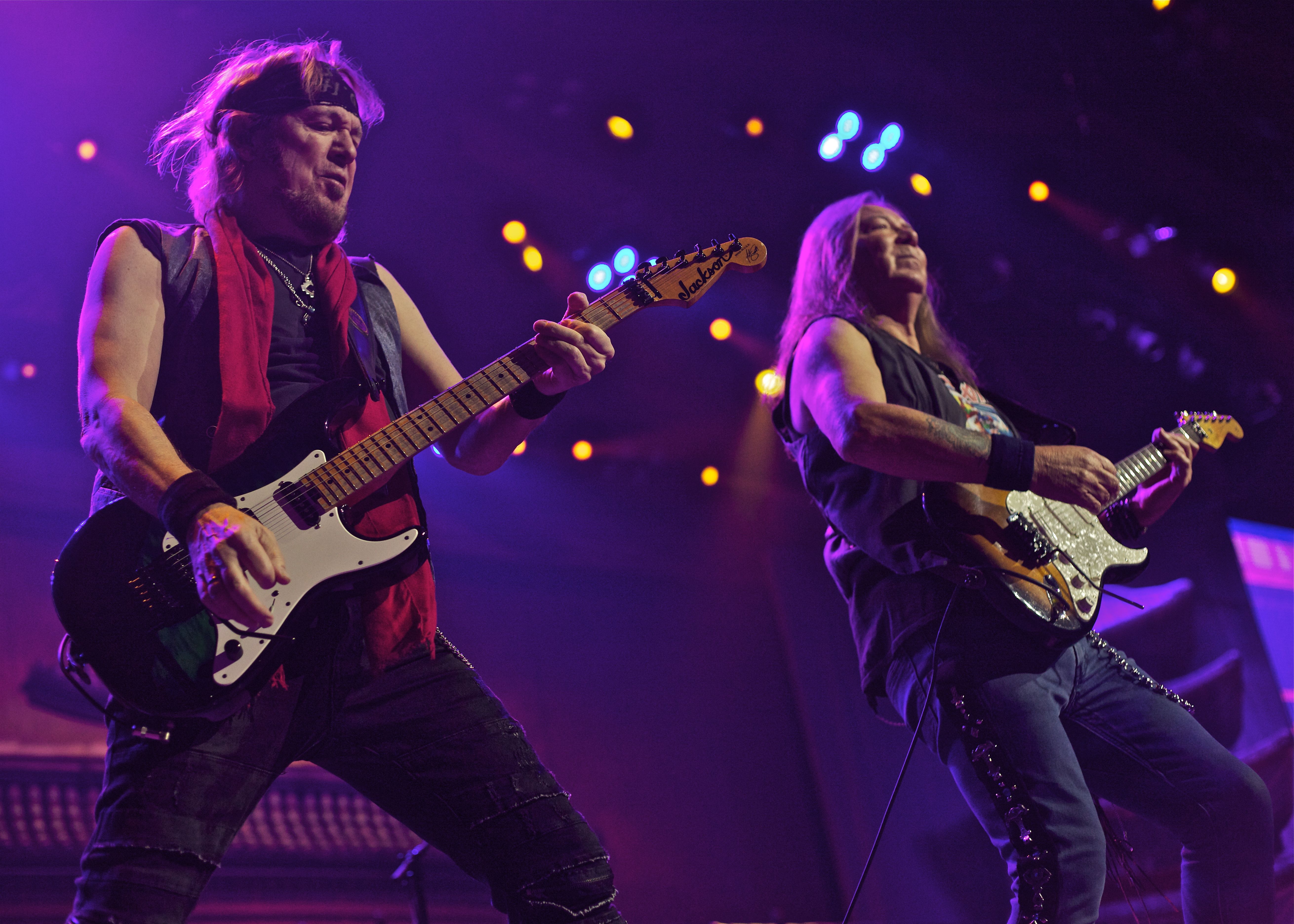 Guitarists Adrian Smith and Dave Murray of Iron Maiden. Photo by Jeff Elbel.
"Scream for me, Chicago," demanded Dickinson as the band began a pair of cinematic songs from 1982's The Number of the Beast. Dickinson began "Hallowed Be Thy Name" from the confines of a prison cell atop the catwalk, under gloomy blue light and with a threatening noose swinging nearby. The players interlocked shoulder-to-shoulder at the rim of the stage for furious unison riffs and the guitarists traded flashy solos during "The Number of the Beast." Gers did guitar twirls and stunts at stage left. Harris crouched, scowled, and brandished his bass at the audience as if it were a machine gun.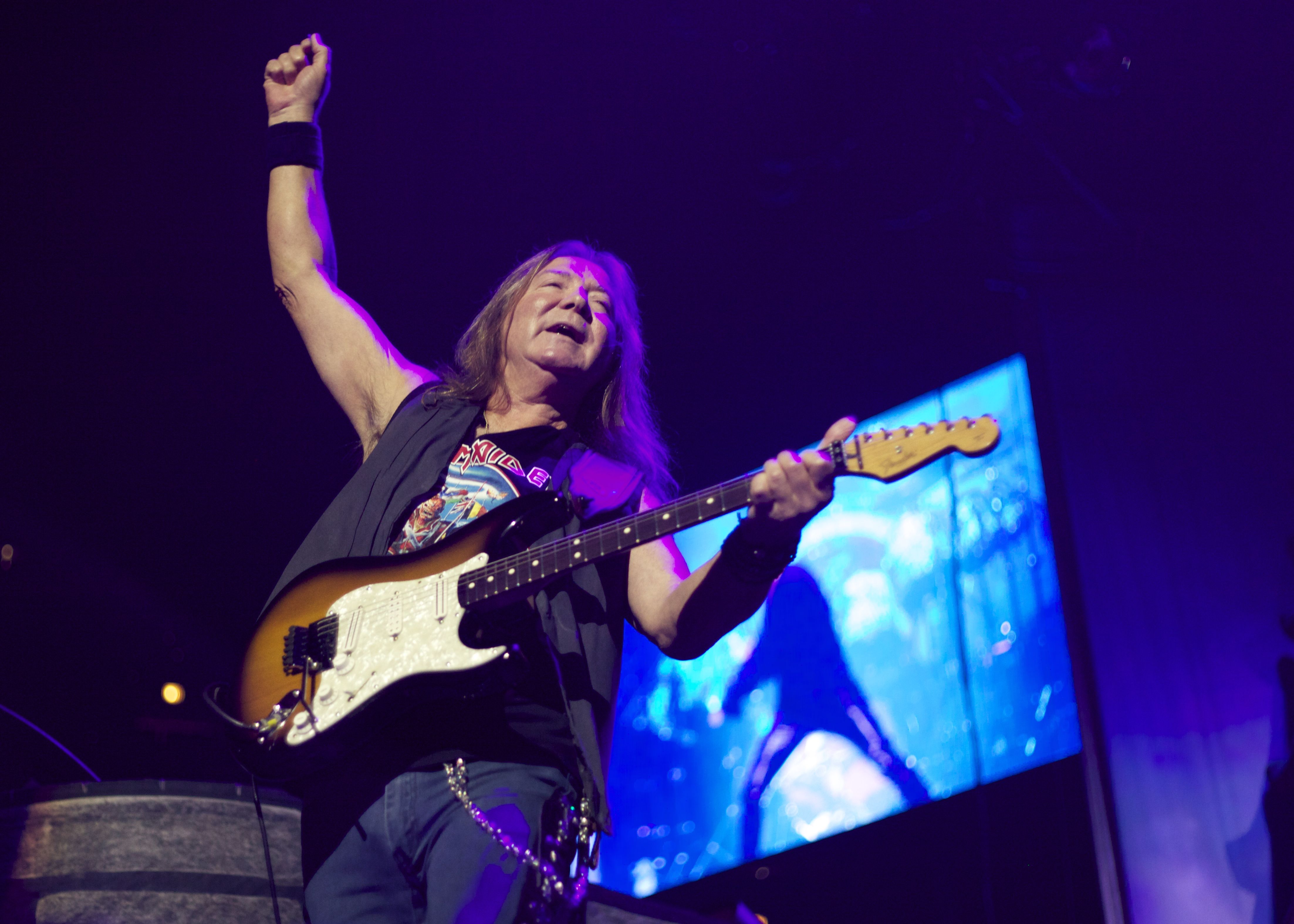 Guitarist Dave Murray of Iron Maiden. Photo by Jeff Elbel.
Dickinson continued his course of aerobically challenging sprints and leaps through the main set's final song, 1980's bloody title track "Iron Maiden." As Gers continued to threaten the physical integrity of his guitar, Dickinson quoted David Bowie and encouraged his mates. "Boys keep swinging," he shouted. The shock-horror lyrics of the early single were repurposed, with the song's menacing imagery skewed to emphasize the band's inclusive attitude. "Iron Maiden's gonna get alllll of you," cried Dickinson as the set concluded in a roar of guitars and drums.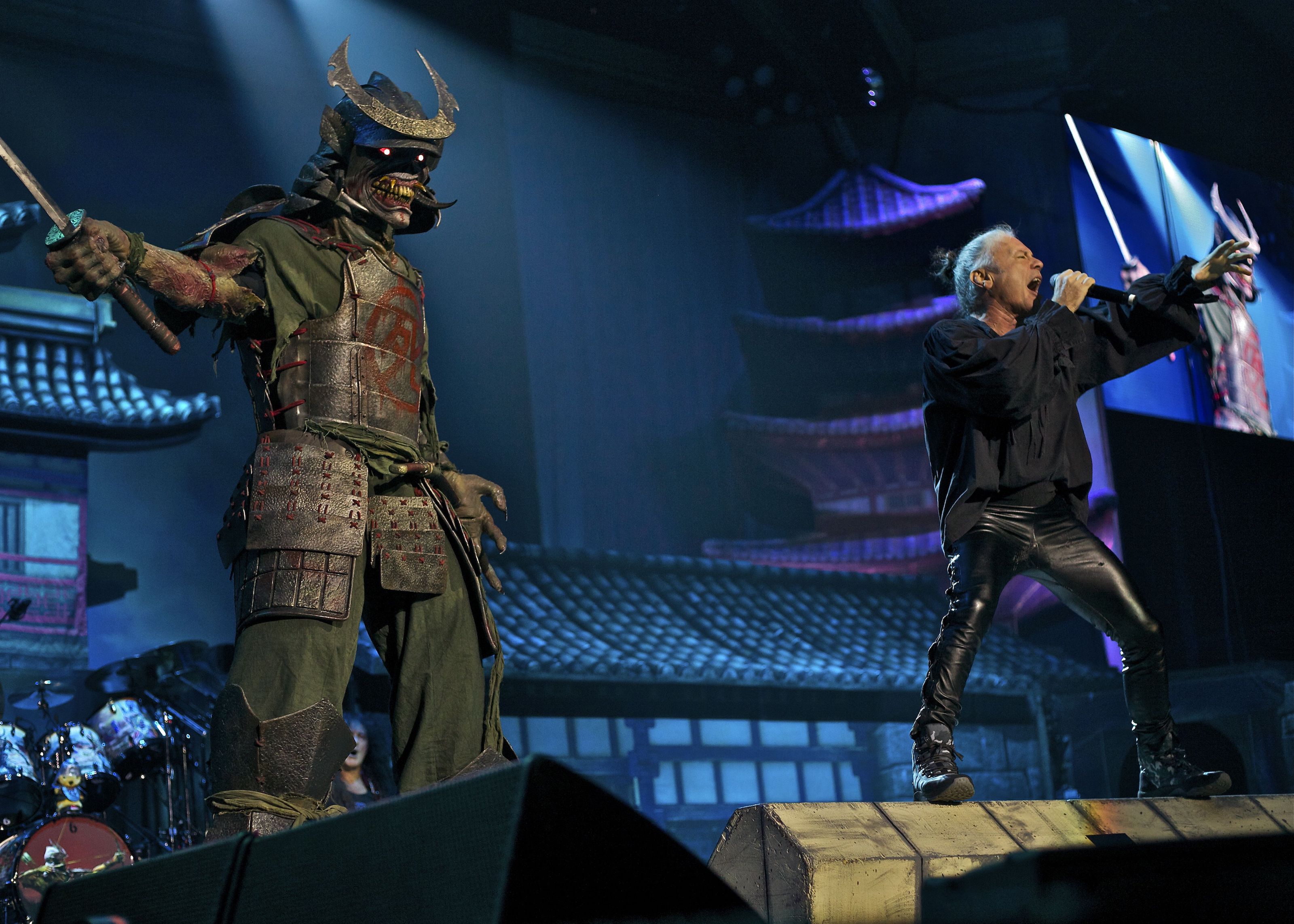 Iron Maiden mascot Eddie and singer Bruce Dickinson. Photo by Jeff Elbel.
The band encored with metal classic "The Trooper." Stilt-walking mascot Eddie returned in the guise of a British soldier from the Charge of the Light Brigade, matching Dickinson's own costume. Dickinson waved a tattered Union Jack and a US flag before clashing swords with Eddie while the band raged on. "This is a song about Scottish people and freedom," said Dickinson when introducing "The Clansman." Murray and Gers goofed off when playing dual-guitar riffs and trading blistering leads, miming that the other's licks were so hot that their fingers were surely aflame. Dickinson rallied the crowd for a roof-raising singalong in "any language you like." Voices bellowing "We can't let them take anymore; we're the land of the free" rang through the room. Next was the hard-charging "Run to the Hills," a portrait of cataclysmic change for Native Americans due to European expansion and the ensuing westward push.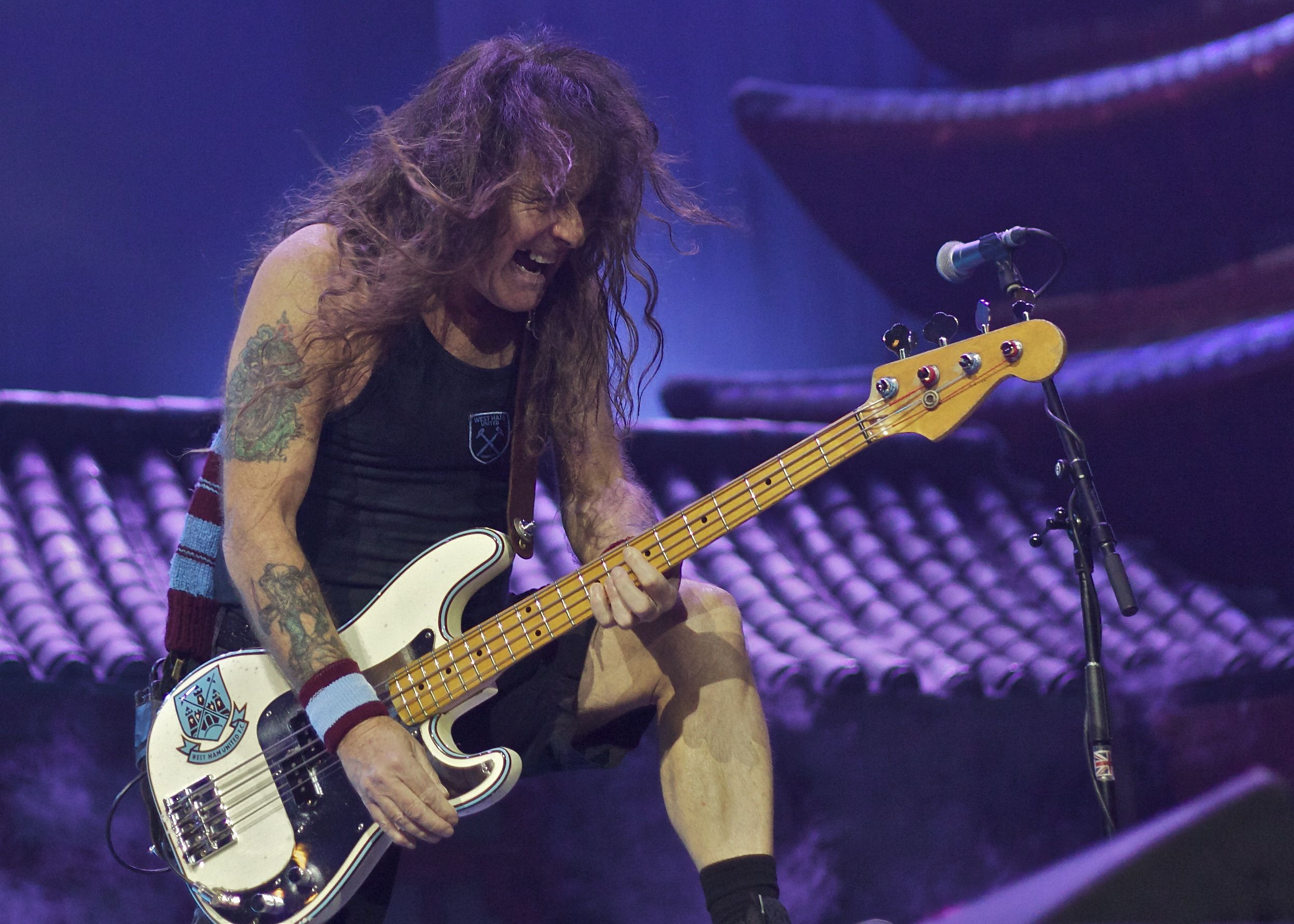 Bassist Steve Harris of Iron Maiden. Photo by Jeff Elbel.
A second and final encore featured "Aces High" from 1984's Powerslave. Dickinson sported goggles and aviator helmet while the band performed beneath a careening 1941 Spitfire plane as flown by the RAF during World War II. Afterward, McBrain whizzed drumheads deep into the hall like frisbees while Dickinson offered a parting blessing. "We love you," he said. "Enjoy yourselves. Enjoy this life. It might be the only one you've got."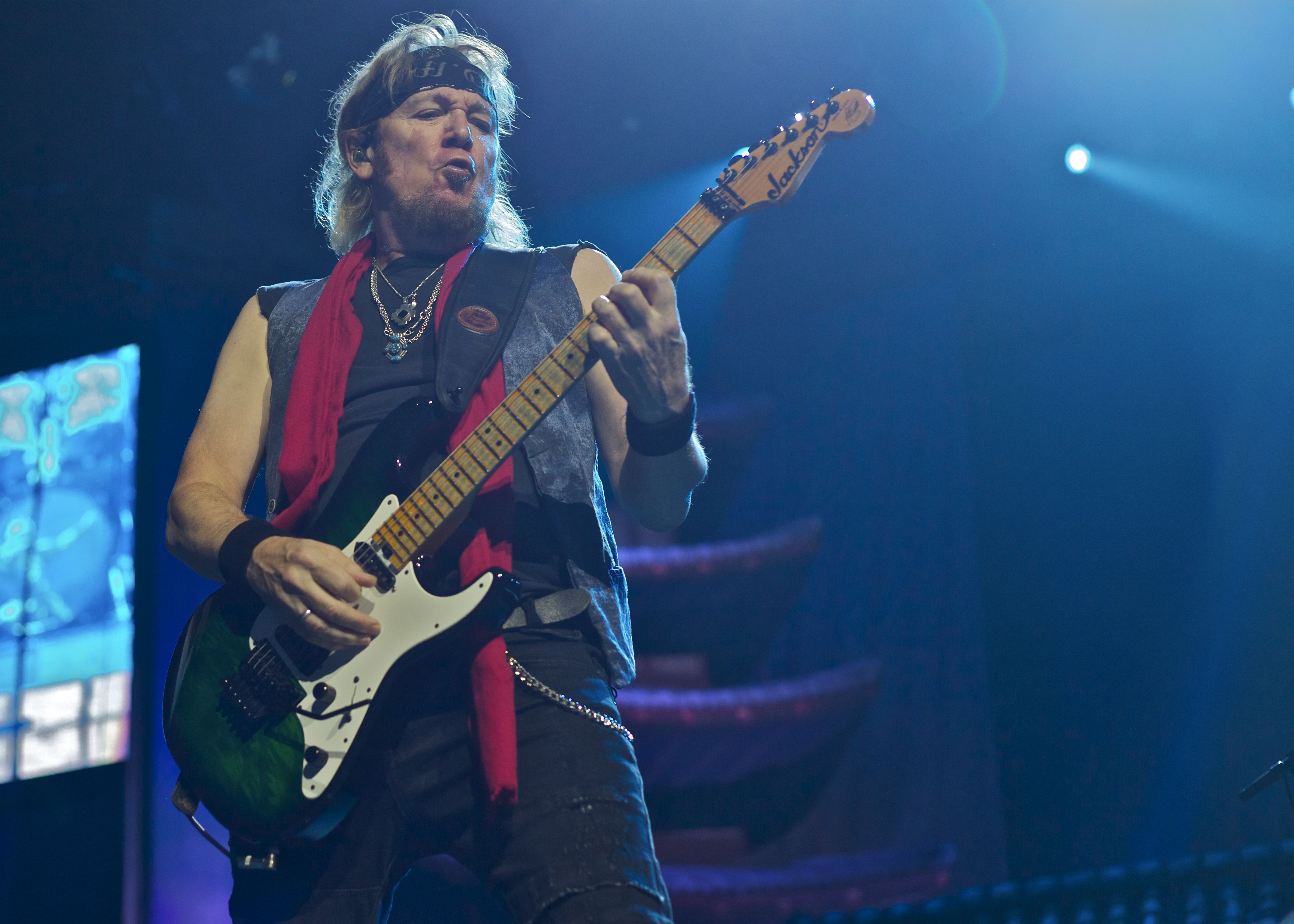 Guitarist Adrian Smith of Iron Maiden. Photo by Jeff Elbel.
It was worth noting that despite songs brimming with dark, deadly, and cathartic themes, the mood in the room was unfailingly welcoming and positive from beginning to end. No one needs to fear the dark, knowing that countless brothers and sisters have your back.
Guitarist Dave Murray of Iron Maiden. Photo by Jeff Elbel.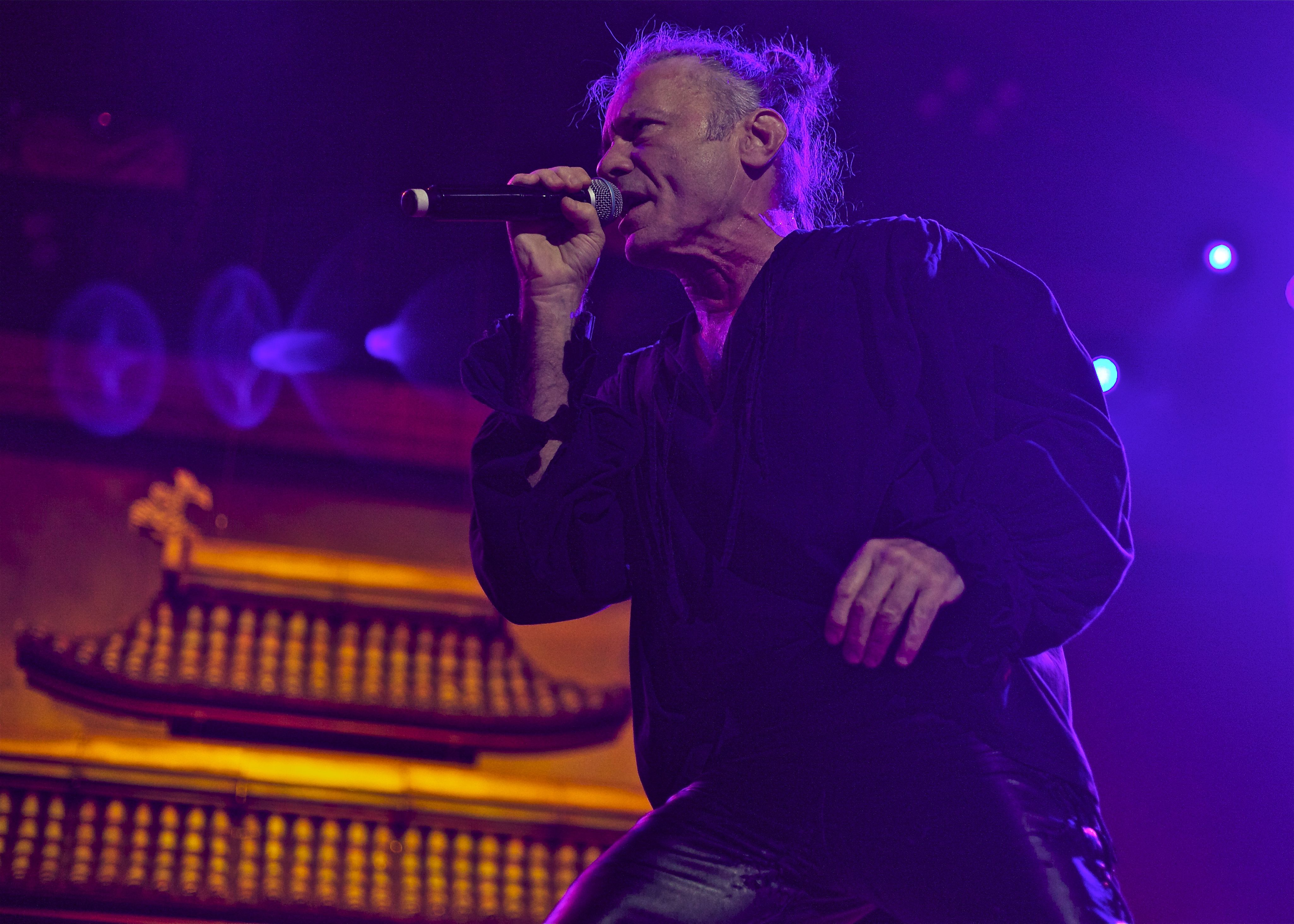 Singer Bruce Dickinson of Iron Maiden. Photo by Jeff Elbel.