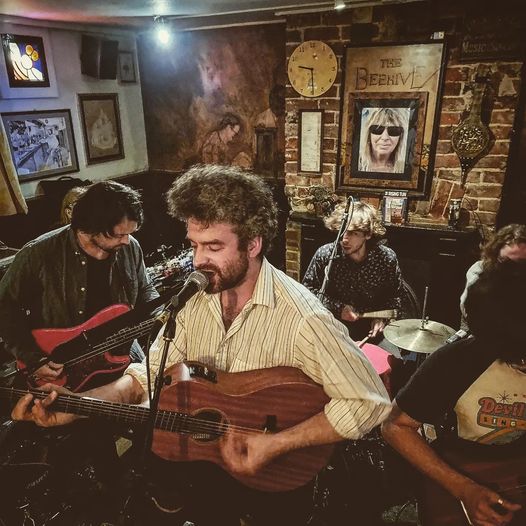 20 September 2022
Any music festival that had risen from a vague idea, scribbled down on the back of a cigarette packet one drunken night in the back room of a pub, into a five-day, "in the city" style celebration involving eight venues and over 60 original bands and which had negotiated floods, recessions, lockdowns and even the growing apathy towards those who chose to play their own songs, should be the stuff of legend. The Swindon Shuffle has done all these things yet remains a niche event. Don't get me wrong, it is always well attended. Still, even in its hometown, a rather average, ex-railway town in the West of England, (apparently, the town isn't twinned with anywhere but it does have a suicide pact with Gdansk,) most outside of the music fraternity are largely unaware of it.
Perhaps it is for the best. The event has probably found its optimum size and layout, plus, it being run by passionate individuals as a free entry, charity event (for a local end-of-life hospice), it avoids any interference from the civic powers that be who might seek to make it more accessible, mainstream, and lucrative. Which, as we all know, is shorthand for dumbed down, conformist and able to turn a few bucks for those besuited benefactors who haven't watched a live band since their mum took them to see the Spice Girls in the late nineties.
But if the event is local and underground, many of the bands it hosts aren't necessarily destined to be. And so, even though you may know nothing of the event, here are my three picks for greatness from the bands I was able to catch across the weekend.
Death Is A Girl – Great name, great band. Over the years, I have watched singer, guitarist, and all-around good egg, Joe Green drum, sing, guitar-wrangle and generally do amazing things in everything from alt-pop outfits to indie oddballs to kick arse, anthemic rock bands. He delivers the goods every time, but even I think this is his best musical vehicle to date.
Taking some Prince -inspired funky rock melodics, a dash of Mars Volta outsiderness, occasional QOTSA weight, and no small amount of Corey Glover vocals, Death Is A Girl is nothing less than a six-legged groove machine. It is safe to say that as one of the later bands on the last session of the festival, they gave everyone the impetus and energy to make it across the finish line.
https://deathisagirl.bandcamp.com/releases
Chasing Dolls – Like many music scenes, Swindon seems awash with unappealing, alt-rock chancers. Many are merely recycling what has gone before, rehashing 90's grunge and college rock riffs while sporting complicated hair, skinny jeans, and all the proper designer labels. And while many seem to look like what happens if you stay in school, get good grades, and then ask your parents for three grand of music gear, so you can form a band in your gap year, Chasing Dolls look like what happens if you hang around skate parks getting up to no good. And I mean that in the most complimentary of ways.
For a start, even as the opening band on one of the earlier stages, they filled the room with their tribe, a tribe made up of dreamers and sages, night crawlers and moshers, renegades and tearaways, people doing their own thing and living life according to their own rules, people for whom fad and fashion meant nothing—a sea of non-conformity, a death disco dirge ritual led by the four players on the stage.
And musically, it is easy to see that these fellow misfits are not books to be judged by their odd yet excellent covers. They are whip-smart, plugged in, and aware of the world around them, their lyrics full of social conscience and more than a whiff of revolution, music to rouse rabbles and usher in real change. In short, they both kick arse and cut the mustard!
When we storm the barricades, hoist the flags of anarchy and turn over the moneylenders' tables, it will be done to the music of Chasing Dolls.
https://www.facebook.com/ChasingDolls
Reuben's Daughters – The most remarkable thing about the eponymous hero who leads this awesome sonic sorority is that Reuben Tyghe has taken all the eloquence and elegance, deftness and punch and songwriting smarts that were the hallmarks of his previous alt-rock/proggy/wig-out band, Port Erin, and applied it to a pop landscape. It may be pop that is filtered through a more rootsy delivery, but it is pop nonetheless.
Featuring a dexterous set of players, including eight limbs playing one and a half drumkits, there is something remarkable at work going on in the band. At a turn, the songs are melodic and percussive, bold and beautiful, louche and lovely, groovesome and full of grace, sometimes all within the same song.
In my dream time reveries, I like to think Reuben's Daughters will become a fixture of the festival just as the previous band did on the local scene, but in reality I fear that it cannot be. With the debut album Mama Wati turning heads with pop pickers and critics alike, I think their path heads towards more important things. But as they say, if you love them, let them free.
https://www.facebook.com/reubensdaughters
https://reubensdaughters.bandcamp.com
So, I'll see you all down the front of one of the stages this time next year. Okay, it's a date!