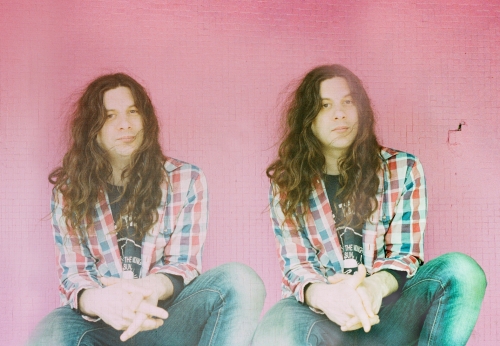 10 March 2019
Photo by Jo McCaughey
Touring in support of last Fall's 'Bottle It In' (Matador Records), Kurt Vile & The Violators (multi-instrumentalists Jesse Trbovich and Rob Laakso along with drummer Kyle Spence), roused a Tuesday night Rialto crowd. Opening with "Loading Zones" from his seventh and latest solo LP, Vile is almost sage-like in appearance; veiled by his long locks and haunched steps back and forth from the microphone. The song is an anthem for those of us who frequent cities in search of free parking. "I park for free!" goes the chorus – Vile finding the solution in his native Philadelphia and writing a song about it.
Basked in merging Americana and psychedelic melodies, "Bassackwards" refines a sound Vile has been working on since his days in The War On Drugs.
Another track from the new record perfects it in "Check Baby" with a raunchy rhythm section and meandering chord progressions that slowly progress like a mid-Summer mountain mist. Vile introduces another new track "Cold Was the Wind" as a trek to Polynesia after a day of lounging around his hotel room. The album's darkest cut is more like an ode to an outlaw entering a town that will see him meet his fate with Vile's lyrics referencing Delirium Tremens and certain death; "You Better Goddamn Miss Me When I'm Gone/'Cause guys gonna damn me up or down there/Wherever It Is, I'm Gonna Miss My Girls/On the Plane I'm Drinkin' Red Wine/'Cause like Everybody Else I'm Afraid To Die."
Giving The Violators a break, a lonely "Runner Ups" from 2011's 'Smoke Ring For My Halo' (Matador Records), finds Vile at his folk-picking finest. By himself at center stage, he laments the loss of a best friend but finds solace in consolatory successors. Circling back to the new LP, "Hysteria" (introduced by Kurt as "Hysterical"), is probably the most alt-country of the bunch keeping Jim Bryson and early Wilco guitar melodies in check with the vicious vocal opening of "Don't You Know I Never Knew You/But I, but I think I love girl and/What's your name?"
Another set highlight came from 2013's 'Wakin On A Pretty Daze' (Matador Records) LP in "Goldtone", with its wonderfully drawn-out, note-bending and effects-laden pinnacle that encapsulates everything about Kurt Vile's song craft that makes his solo work unshakable long after the music stops. Worthy of encore material, Vile dug into 2015's 'B'lieve I'm Goin Down' (Matador Records), for "Pretty Pimpin", his instantly recognizable hit. Reaching number one on Billboard's Adult Alternative Songs classification in the Spring of 2016, the song was also his label's first chart-topping song. Thusly so, the number garnered the largest reaction from the sing-along crowd. An absolute blast!