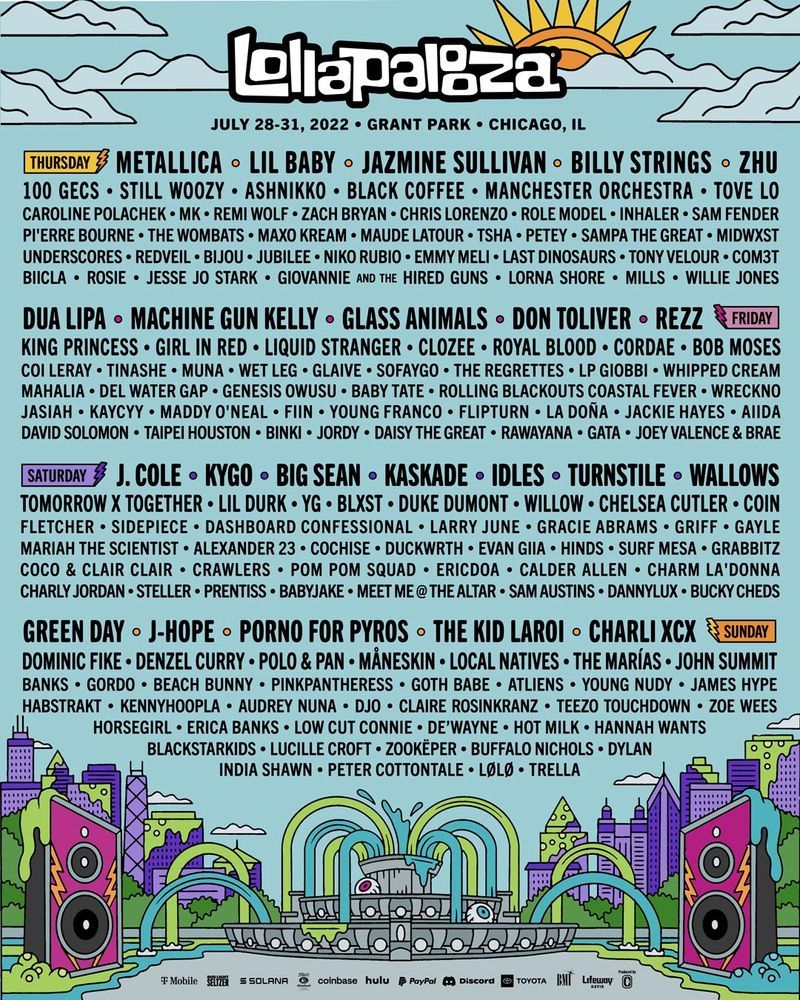 27 July 2022
The late Anthony Bourdain was famously quoted as saying, "You wake up in Chicago, pull back the curtain and you KNOW where you are. You could be nowhere else. You are in a big, brash, muscular, broad shouldered motherfuckin' city… Pomposity, pretentiousness, putting on airs of any kind, douchery and a lack of a sense of humor will not get you far in Chicago."
The Second City's music scene has not been immune to the turbulence of the last few years, with small venues struggling to stay afloat and the touring world collectively maintaining a brace position after a long few years, with light now just beginning to cut over the horizon.
In spite of all of this, Lollapalooza has carried on. Trudging on through the COVID-19 pandemic, Perry Farrell's legacy has since expanded this year to India, and with it, the optimistic sense that our big festival, Chicago's festival, remains steadfast as a brash and bold competitor amongst the other major corporate festivals that continue to jockey for dominance.
2022 has been an interesting year for festival lineups and Lollapalooza is no exception. With legacy headliners from Metallica to Green Day and Porno for Pyros, all the way to internet breakout stars like Wallows and The Kid Laroi, the 4-day extravaganza of music, food and suburban debauchery seems to offer something for everyone.
Thursday
While headliners like Metallica and Billy Strings are typically the strongest draw for attendees on the opening day, we're thrilled to see Manchester Orchestra as well as Sam Fender. Other acts earlier in the day that aren't to be missed are The Wombats as well as The Last Dinosaurs
Friday
Day 2 looks to be incredibly promising for EDM enthusiasts, with acts like Rezz headlining the Perry's stage, as well as strong supporting acts like Liquid Stranger, Whipped Cream and LP Giobbi. For those not wanting to catch the bass, The Regrettes have steadily risen to become a household name in the indie scene, alongside up and coming acts like Del Water Gap. The day caps with another strong conflict for many attendees, having to choose between Dua Lipa or Glass Animals for their headliner experience, both acts having been propelled to stardom in recent years.
Saturday
The official 'beginning of the weekend' showcases a wide variety of talent – ranging from Dashboard Confessional to contemporary hip-hop acts like YG and Duckwrth. Not to be missed is Hinds, hailing from Spain and a group that is continuing to carve out a name for themselves in the competitive indie-rock scene. Hip-hop fans will have their biggest conflict of the weekend on Saturday night, having to grapple with choosing between either J Cole or Big Sean, both of whom have ascended to the mantle of rap royalty.
Sunday
We're pleased to see that the final day of Lollapalooza has something for everyone. Attendees that are looking to close out the weekend in a relatively calm manner can enjoy a stellar performance from Lollapalooza veterans like Local Natives, or could take a seat on the lawn and listen to the intoxicating sound of The Marías. Those who want to end the weekend with a bang (and perhaps a missing sneaker) can enjoy performances by none other than Denzel Curry, or perhaps catch the last of the bass with ATLIENS. Euphoria star Dominic Fike will grace the stage on Sunday – followed by a diverse range of headliners. Charli XCX will be performing in Chicago again just shortly after 2 sold-out nights earlier this year, and fans will have to choose between two legendary closers, either catching a set from Mr. Farrell's Porno For Pyros or a rare appearance by Green Day, no doubt coming down from the high of an absolutely wild show at The Metro this Friday.
While its easy to discuss the merits (and lack thereof) of every Lollapalooza lineup throughout the past several years, it's clear that Grant Park will once again retain its spot as king of the Midwestern festival kingdom, supported by an incredibly strong roster of artists, activations and most importantly, loyal fans. Lollapalooza may not have the shiny allure (nor the price tag) of competitors like Coachella – but we like it that way. Come to Chicago for the 30-year strong legacy of a festival that doesn't care where you're coming from or what you're wearing, and see what the brash, broad-shoulderedness of Lollapalooza and Chicago is all about.