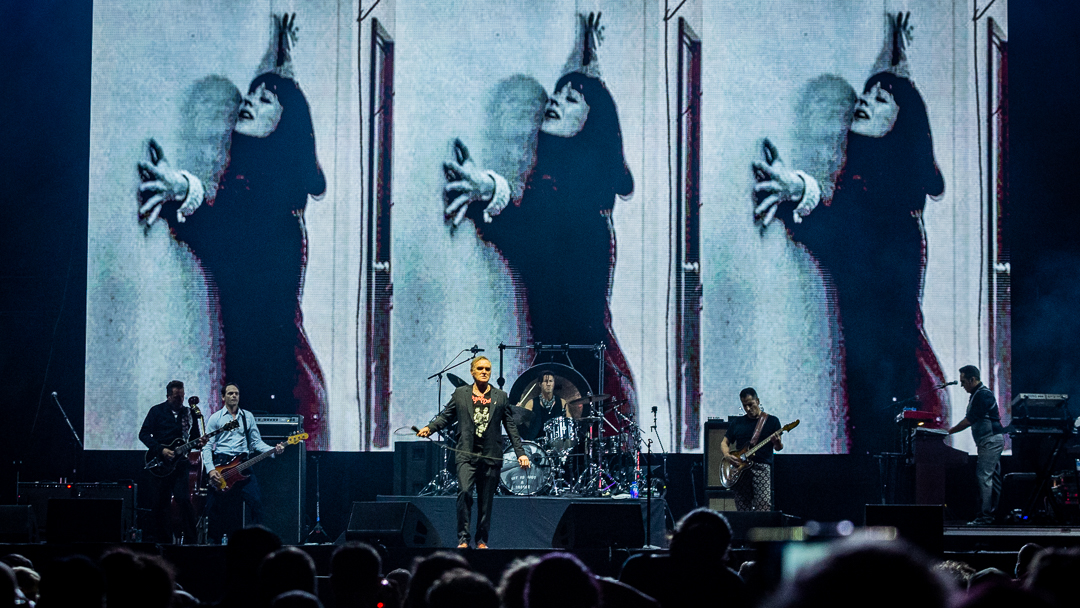 20 September 2021
Photos by Philamonjaro.
Following Patti Smith's life-affirming set, an ensuing set on the Riot Stage by a former Smith was bound to be a bit of downer due to the mope-rock nature of the material on its own. To the chagrin of gleefully glum devotees of The Smiths and Morrissey's solo career, however, the singer's groundbreaking roles in alternative rock, identity politics, and even advocacy of vegetarian diet have lately been overshadowed by controversial views on immigration in his home country of England, support of the hard-right For Britain movement, and misunderstandings over statements regarding social justice groups including Black Lives Matter. Some had speculated whether more protesters might be present at Riot Fest than fans hoping to sing along to "Every Day is Like Sunday."
But during Alkaline Trio's set on the opposing Roots Stage, a crowd of Moz' faithful gathered at the Riot Stage that stretched well past the midfield mixing desk. When the stage lights beamed to life, the singer strode to center stage wearing a black suit over a New York Dolls t-shirt and crooned a few a capella bars of "My Way." As Jesse Tobias and Alain Whyte launched into the tremolo guitar chords introducing the Smiths' "How Soon is Now?," the crowd erupted. Every voice on the field seemed to be singing "I am human and I need to be loved, just like everybody else does." Clearly, this was Morrissey's crowd and firmly on his side.
Well, except for the crank in the bacon suit with the "Hello, my name is MEAT" badge who launched an inflatable turkey leg in the singer's direction as the set began.
Morrissey wished everyone a happy Mexican Independence Day before declaring, "We're all slaves." The band then performed "Irish Blood, English Heart," standing in front of a portrait of Oscar Wilde while singing about being "sick to death of Labour and Tories" and not being "racist or partial." The singer was in strong voice throughout the evening, with an expressive croon during songs like "Alma Matters." He joined swooning emotion and nihilism during "Every Day is Like Sunday," and the crowd most certainly did sing along.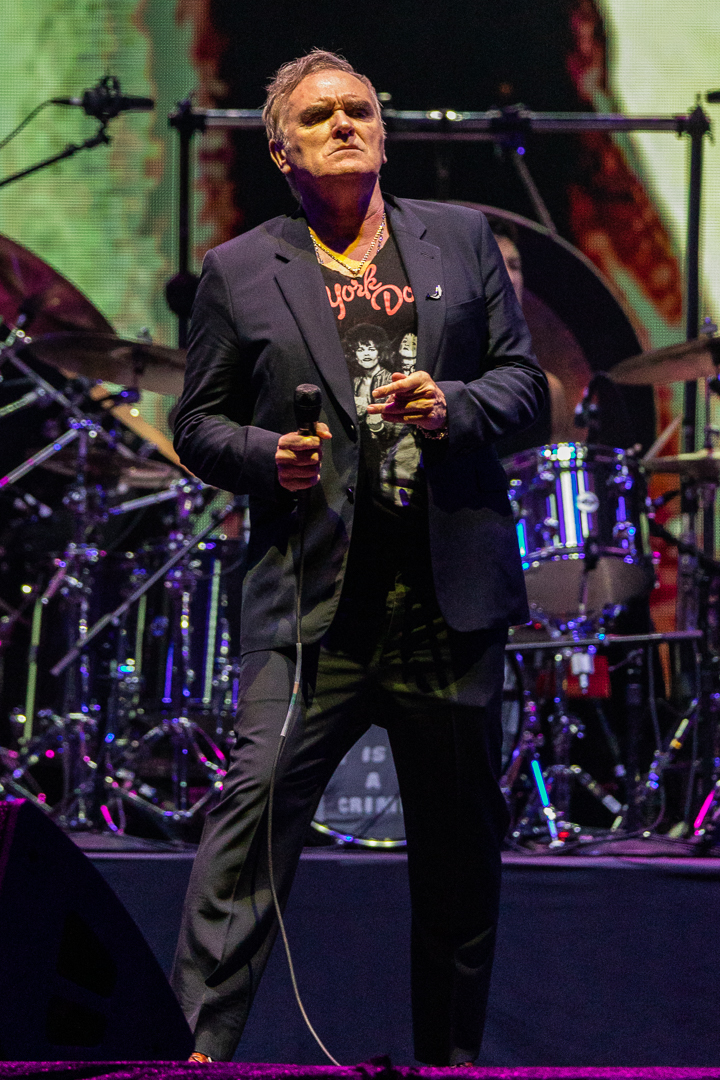 Smiths favorites including "Shoplifters of the World Unite" received the very strongest crowd participation. "Half a Person" had everyone including the audience's most mature members reminiscing about being "16, clumsy and shy." Nonetheless, material from Morrissey's 13 solo albums spanning more than 30 years drew fervent response. Themes of loneliness and isolation in Smiths fare like "Never Had No One Ever" have continued through ensuing songs like "I'm Trying to Throw My Arms Around Paris."
Morrissey received a red carnation from the crowd and threw it back to another fan during "First of the Gang to Die." "Vaya con dios," he repeated. "Gracias." The phrases acknowledged and connected with the singer's large Spanish-speaking audience, who attended in strong numbers.
"You're okay by me," sang Morrissey consolingly during "Knockabout World" from 2020's I Am Not a Dog on a Chain album. Afterward, he said there were one or two exceptions. He ultimately pointed to himself and said, "Me."
"You Have Killed Me" represented Ringleader of the Tormentors. The singer gave an emotive performance as the song's emotionally wounded character and then asked, "Are you bored to death yet?" To stout response in the negative, Morrissey added, "So, you're obviously homeless."
After performing 1991 single "The Loop," Morrissey recast it for the locals. "That song was called 'Chicago Loop,'" he said, miming the L train circling downtown. A cover of the Pretenders "Back on the Chain Gang" was a strong fit for the band, and earned enthusiastic audience participation.
"I love you, Morrissey," came a shout from the crowd after a cover of Gary Puckett & the Union Gap's "Lady Willpower" from Morrissey's California Son. "Do you?," responded the singer. "Do you really? I wonder." At the conclusion of a gripping "Jack the Ripper," the singer repeated "I love you" deliriously before stepping offstage through a blanket of fog. Fans waited several minutes in hope of an encore, despite the time having passed curfew. Morrissey needn't have questioned his fans' ardor.
A briefer version of Jeff's review first appeared in the Chicago Sun-Times.