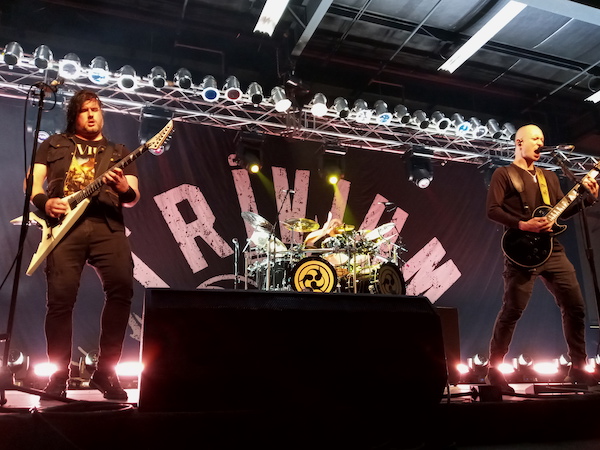 7 September 2021
Trivium – live – Photo Credit: Kurt Orzeck
Contrary to our collective hopes at the end of last year, music has not come roaring back to life in 2021. Previously rescheduled tours are getting postponed yet again or canceled altogether. Many music festivals are holding off for one more year due to the resurgence of COVID and all the fraternity-sounding variations that now come with it. Hell, even Garth Brooks — who played a rash of concerts last year when few other major artists wouldn't dare — tabled the rest of his 2021 tour.
But, slowly but surely, live music is showing signs of life again. A couple of weeks ago, Psycho Las Vegas melted faces and COVID fears alike, despite a reconfigured roster of bands playing "America's Rock n' Roll Bacchanal." From most indications, Lollapalooza seemed to be a success. Sporadic reports from rock festivals in mid-size cities seem to be indicating the same.
To confront a challenge as difficult as a pandemic and the two-year hiatus it wreaked upon most bands' tour schedules, it takes artists who already have a proven track record of persevering under difficult circumstances — or who are so passionate about playing music that they will do so by virtually any means necessary.
Enter Trivium. (And, for that matter, enter the previously visited dragon theme that rears its head again on the band's forthcoming 10th record, In the Court of the Dragon, due October 8.) It takes an irrepressibly energetic and uncynical crew like vocalist/guitarist Matt Heafy, guitarist/vocalist Corey Beaulieu, bassist/vocalist Paolo Gregoletto and percussionist Alex Bent to convince a remotely located city like Boise that it's safe to rock out again.
Trivium did so convincingly with a 14-song set that spanned their two-decades-plus career while also serving to promote, awkwardly, two new albums: the upcoming Dragon and last year's What the Dead Men Say, their formidable ninth effort whose promotion was pre-empted by the pandemic.
Currently touring as part of the Metal Tour of the Year with Megadeth and Lamb of God — a mini-metal fest that was originally supposed to swing through Boise, pre-COVID — Trivium's Labor Day show was one of a few off-dates where they could dazzle diehard fans with a tight, 90-minute headlining set.
And dazzle they did. Rare is the Boise crowd that was as amped and engaged as the one that turned up at the Revolution Concert House (technically in neighboring Garden City). They witnessed Trivium blast through new singles "In the Court of the Dragon" and "Feast of Fire," earlier-career favorites "Down From the Sky" and "Pull Harder on the Strings of Your Martyr," and four Dead Men cuts that hadn't gotten their live due. Obeying every one of Heafy's crowd instructions, giddy fans clapped, bounced and even sat down before leaping up in ecstasy as the show-closing "In Waves" roared to a start.
Heafy confided in the crowd that not only was Trivium's first Idaho gig in five and a half years their best one, but it was one of the most gratifying stops on the current tour, which lasts for about another month. For his own part, Healy was especially prolific during the pandemic, not only writing new material but joining Twitch and attracting new followers checking out his daily posts. He also joined forces with Emperor's Ihsahn and Behemoth's Nergal for an upcoming black-metal album sung entirely in Japanese. Ihsahn crafted the intro music for Dragon, which could give the eminently likable Trivium — a band that's taken an unfair number of licks from the "troo metal" crowd for just that reason — a boost of fresh cred.
But as far as the crowd that turned out for Monday night's show at Revolution was concerned, the cred was there even before Trivium took the stage. From start to finish, neither the Floridians nor the crowd missed a moment to celebrate the band's impressive catalog — and simply seeing live music again. As smiling, sweaty fans poured out of the venue around 10:30 p.m., it felt — at least for just a moment — that the pandemic had never even happened.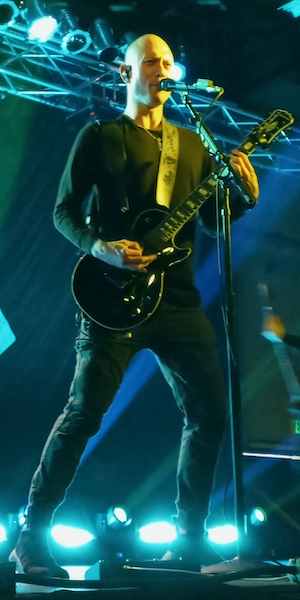 Matt Heafy – live – Photo Credit: Kurt Orzeck
Trivium setlist:
• "In the Court of the Dragon"
• "Catastrophist"
• "Amongst the Shadows & the Stones"
• "Rain"
• "What the Dead Men Say"
• "Down From the Sky"
• "Until the World Goes Cold"
• "The Defiant"
• "Pull Harder on the Strings of Your Martyr"
• "Forsake Not the Dream"
• "Strife"
• "The Heart From Your Hate"
• "Feast of Fire"
Encore:
• "In Waves"