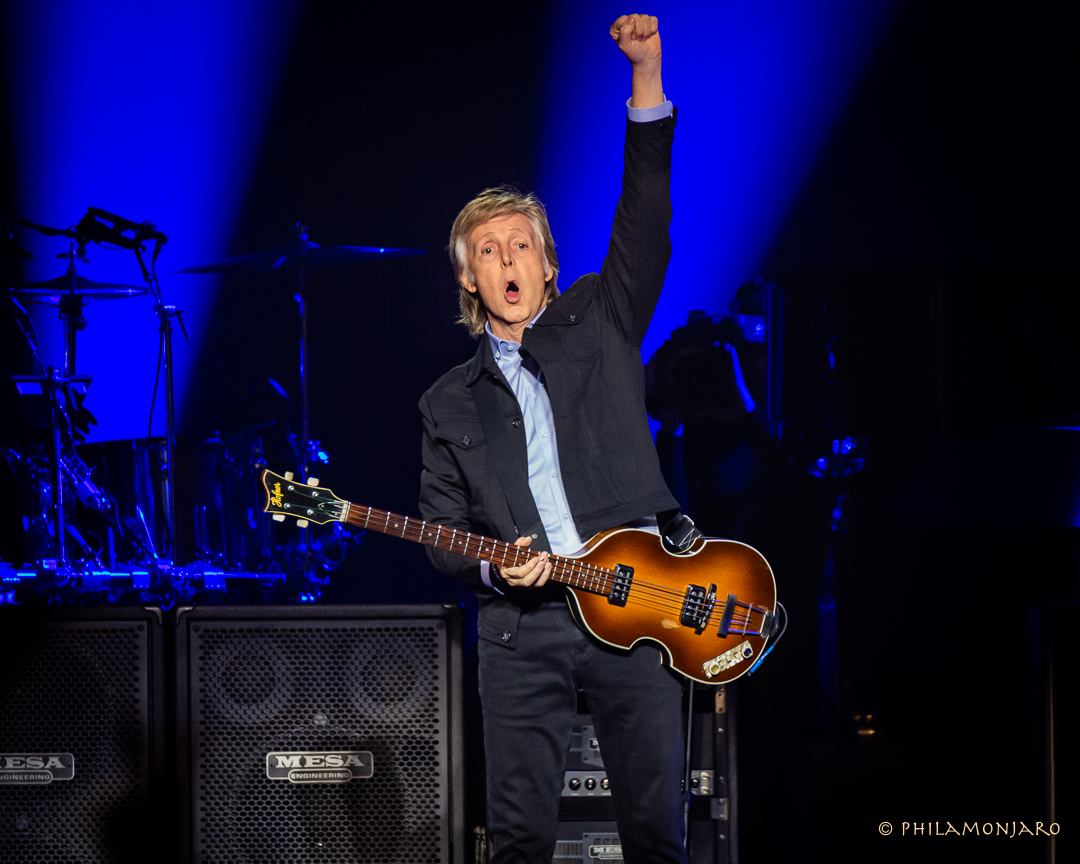 14 June 2019
A multi-generational crowd assembled at Moline, Illinois' TaxSlayer Center to hear the most celebrated catalog in popular music, delivered by the living legend responsible for it. Even so, the fascination wasn't limited to the seats. Early during a generous 38-song set on his Freshen Up tour, Sir Paul McCartney paused to echo the sentiments of most people in the room. "This is so cool," said the beknighted Beatle. "I'm going to take a minute just to drink it all in for myself."
After performing solo single "Save Us," McCartney addressed the ardent audience. "I've got a feeling we're going to have some fun," he said. "We've got some old songs, some new songs, and some in-between songs."
"This one isn't one of the new ones," McCartney added, launching the Beatles' rollicking "All My Loving" while playing his famous Hofner bass. Naturally, Beatles songs bookended the concert, opening with "A Hard Day's Night" and closing appropriately with Abbey Road's "The End."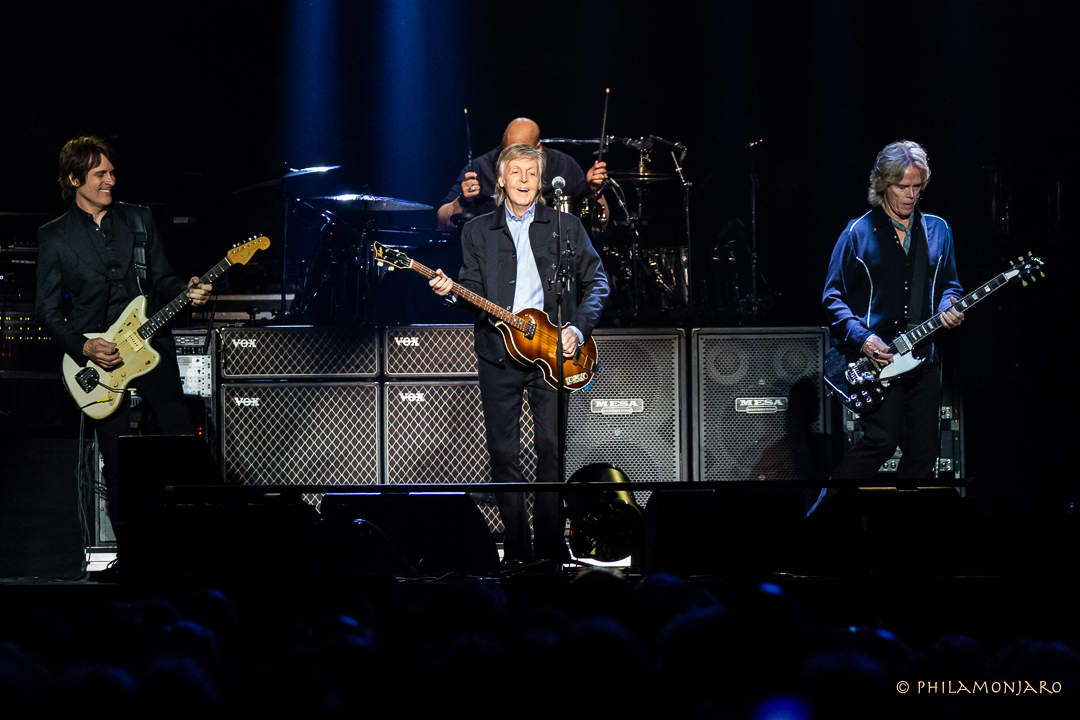 Song selection spanned a stunning 60 years, ranging from 1958's "In Spite of All the Danger" by the Quarrymen to the provocative "Fuh You" from McCartney's chart-topping 2018 solo album Egypt Station. In between were piles of Beatles and Wings crowd-pleasers, along with a surprise or two. Most space for deep cuts was consumed by a clutch of tracks from the new album, and fair enough. The fact that McCartney continues to create and explore into the present day is a marvel, and the only real disappointment for some devoted fans may have been that there wasn't room for worthy new fare like the moving "Confidante" or ecological cautionary tale "Despite Repeated Warnings."
"This song is about bullying," McCartney said while introducing Egypt Station's "Who Cares." "If you know anyone going through that, play this song for them and let them know we're on their side."
Fresh sounds for the Freshen Up tour came courtesy of the Hot City Horns, a trio of British brass players who elevated relevant tracks like the Beatles' "Got to Get You into My Life" and Wings' pyrotechnic "Live and Let Die." The horns first arrived during the less-traveled "Letting Go" from Wings' Venus and Mars album, with the players appearing among the mezzanine seats. Trombone player Paul Burton was featured during Wings' beatific "Let 'Em In."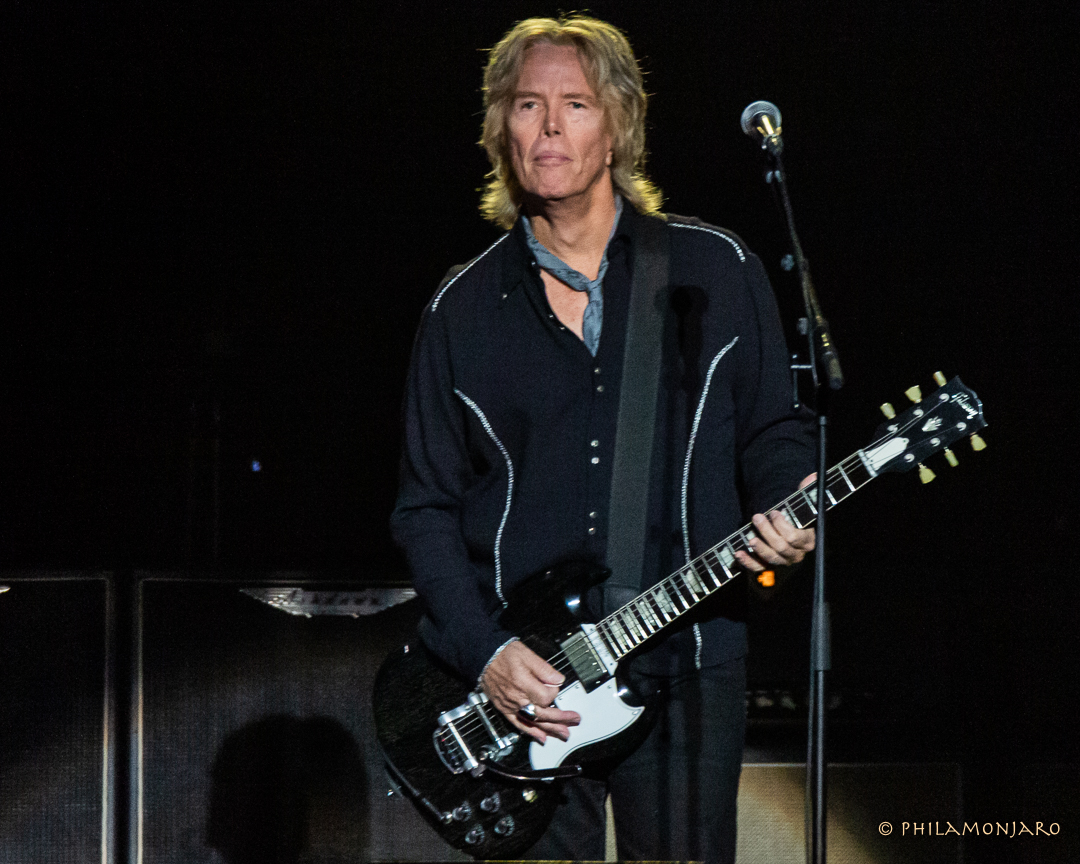 Multi-instrumentalist Brian Ray played electric sitar during "Come On to Me." Veteran McCartney sideman Paul "Wix" Wickens rendered the stately strings of "Eleanor Rigby" on keyboard, holding a wind controller in his teeth for lifelike expression. Wickens also provided harmonica during George Martin tribute "Love Me Do." McCartney produced his "mandolino" for "Dance Tonight" while drummer Abe Laboriel, Jr. clowned behind him doing the sprinklerhead and the macarena. "We could have gotten 40 dancers, but we didn't need 'em with Abe," quipped McCartney.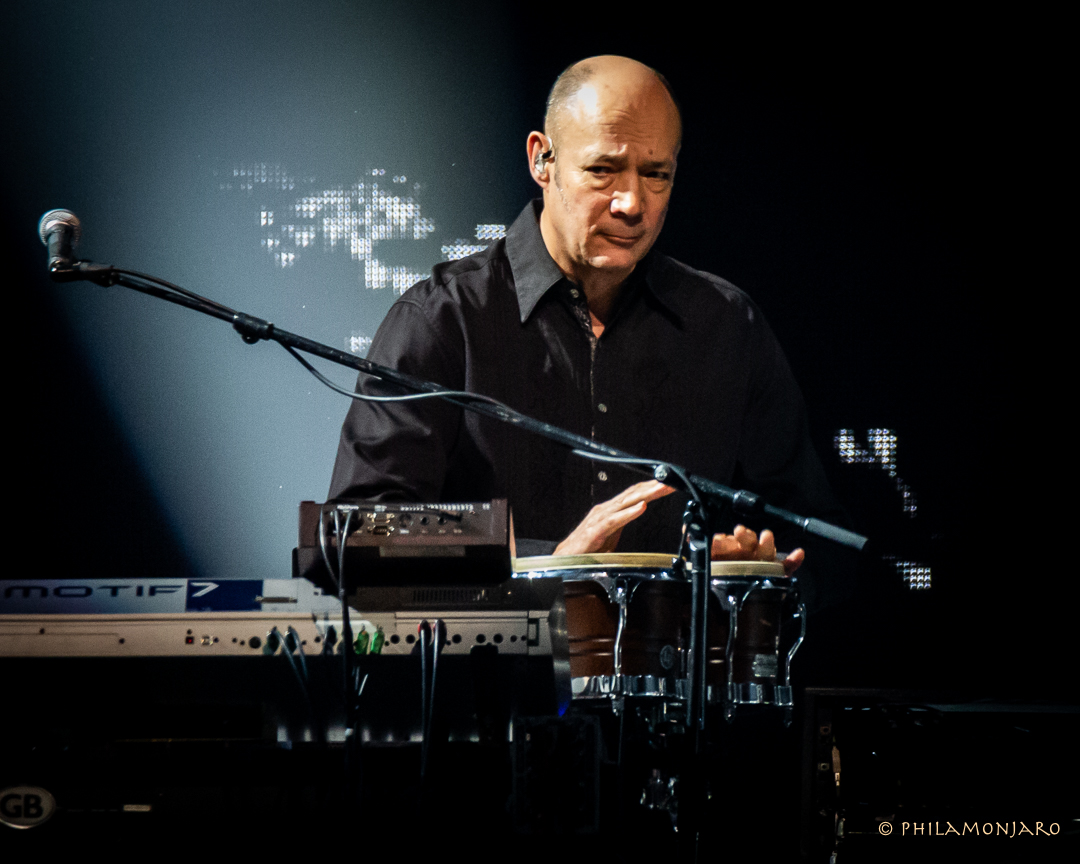 McCartney had stories to accompany many old favorites. After playing "Back in the USSR," he described meeting Russian dignitaries and the thrill of performing the first rock show in Red Square with his solo band. "We sang that song – twice." McCartney recalled an early encounter with Jimi Hendrix after borrowing a bit of "Foxy Lady" for the bluesy guitar solo that concluded Wings' "Let Me Roll It."
Rolling back the years for the Quarrymen's "In Spite of All the Danger," McCartney recalled his teenaged excitement at pooling five pounds to record a acetate demo to share with his bandmates. "The deal was, we'd each get to keep it for a week," said McCartney. John Lennon, George Harrison, and drummer Colin Hanton stuck to the plan, but pianist John "Duff" Lowe bogarted the disc for twenty years, according to McCartney. "He sold it back to me eventually," he added, raising his eyebrows. "For an extremely inflated price."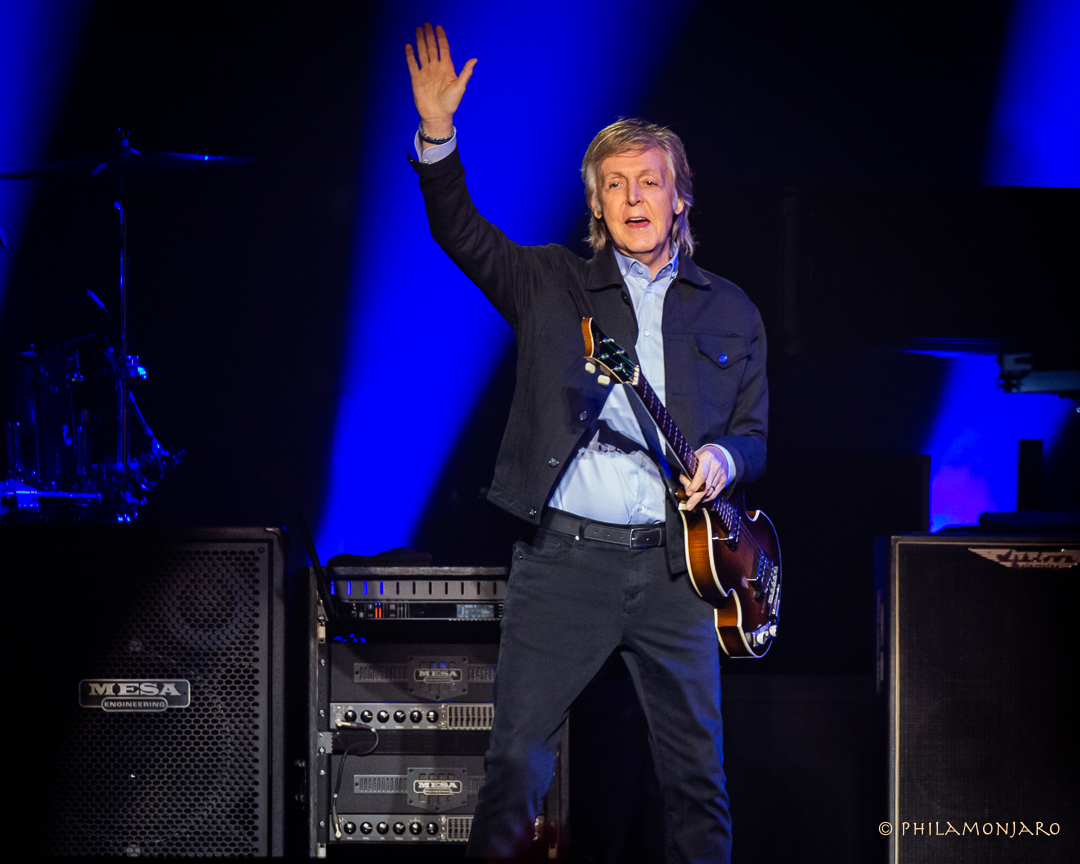 McCartney was a gregarious and good-humored host, making an arena show more intimate than imagined by responding to occasional calls from the crowd, reading fans' homemade signs, and so on. "Will trade my mom for an autograph," McCartney read from one sign. Arena cameras found the mom in question, who appeared more than ready for the swap. "Sign my butt?," McCartney joked after reading another batch. "Well come on, then, let's have a look at it."
After McCartney shedded his black jacket, the crowd erupted with cheers and smattered cat-calls to continue. "Just the jacket," mouthed McCartney silently.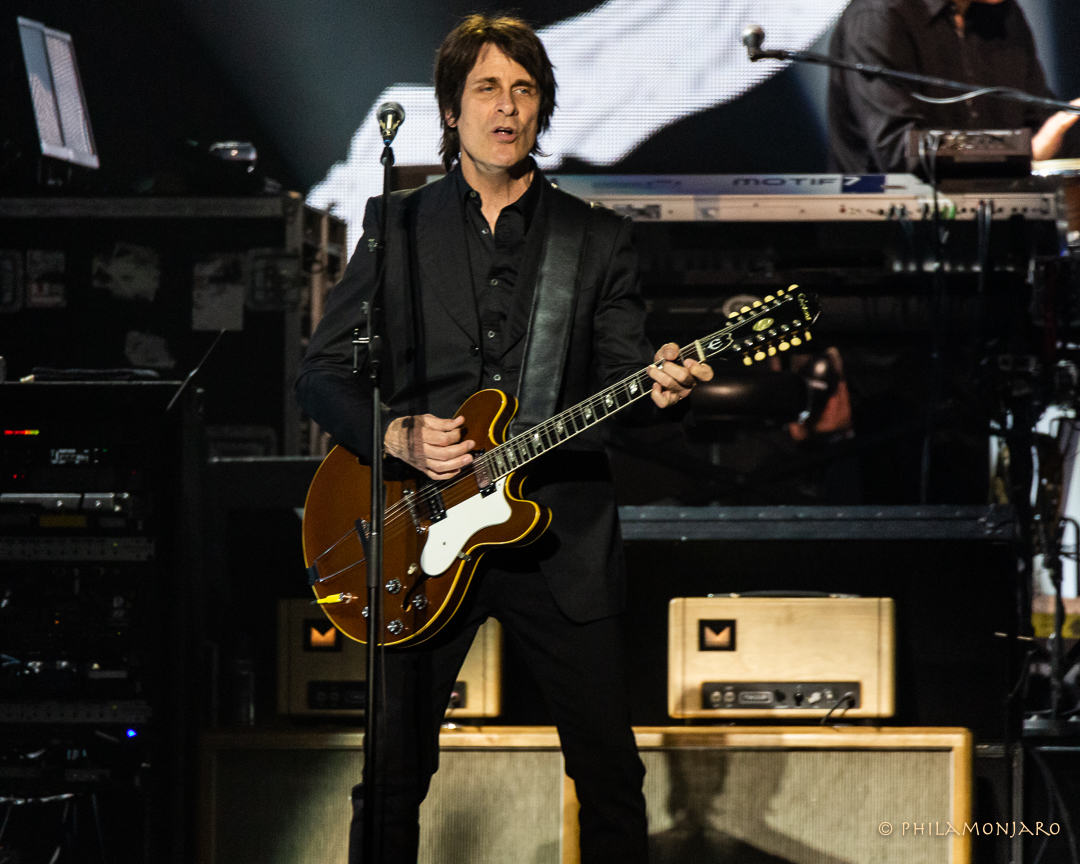 McCartney played acoustic guitar for the country-folk "I've Just Seen a Face," singing Simon and Garfunkel-styled harmony with Ray and lead guitarist Rusty Anderson. Anderson shone again during "I've Got a Feeling," carrying John Lennon's original harmonies and lashing into stinging rock and roll guitar licks. McCartney had the stage to himself for intimate versions of Civil Rights-themed "Blackbird" and a tender tribute to Beatles bandmate Lennon during "Here Today." "Sometimes you want to say something nice to someone, and you think you'll wait," said McCartney, describing the song as a conversation with his friend that he never got to have. "If you need to say something, you get it said."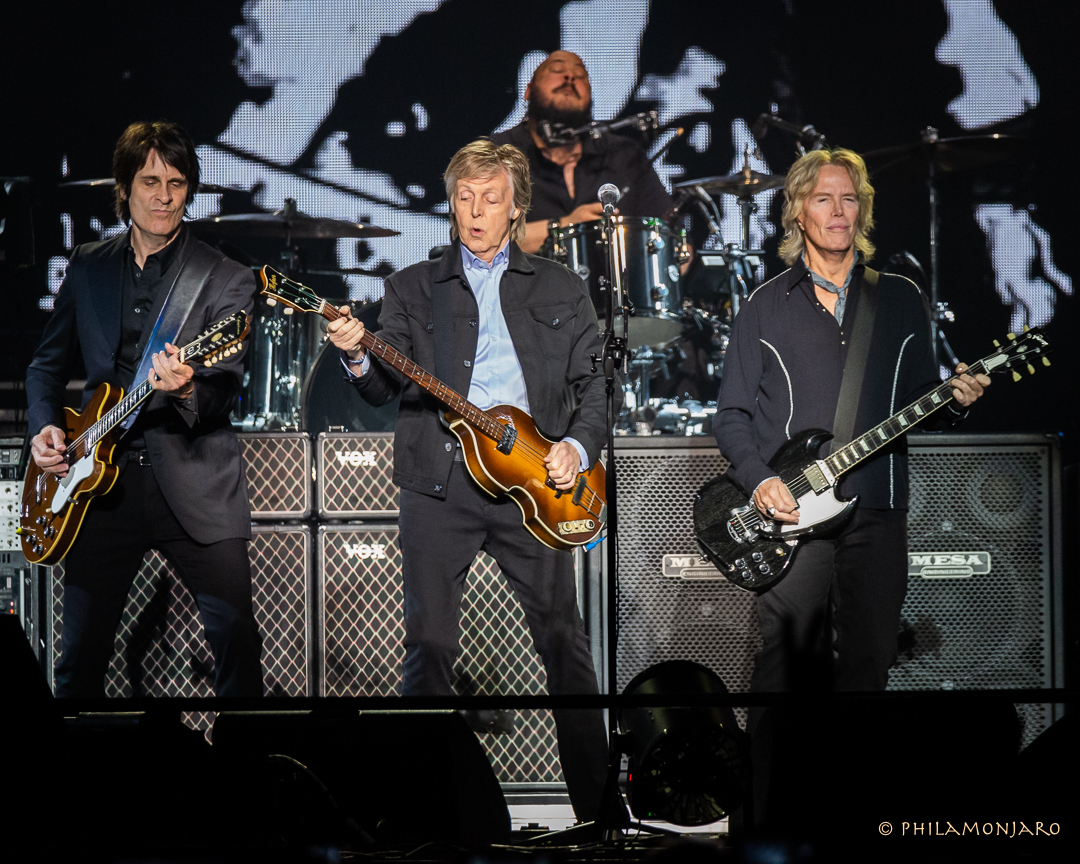 It was alone during "Here Today" that McCartney's voice most showed the strain of his 77 years – not that he let it slow him down much, and not that it kept fans from offering ecstatic response. Piano ballads "Maybe I'm Amazed" and "Let it Be" were also rough at the edges vocally, but the communal experience of a great band, great songs, and eager crowd transcended any trouble. The endlessly energetic McCartney still offered spirited Little Richard shouts over the "Hey Jude" fade-out, and he had 12,000 voices to help carry the weight.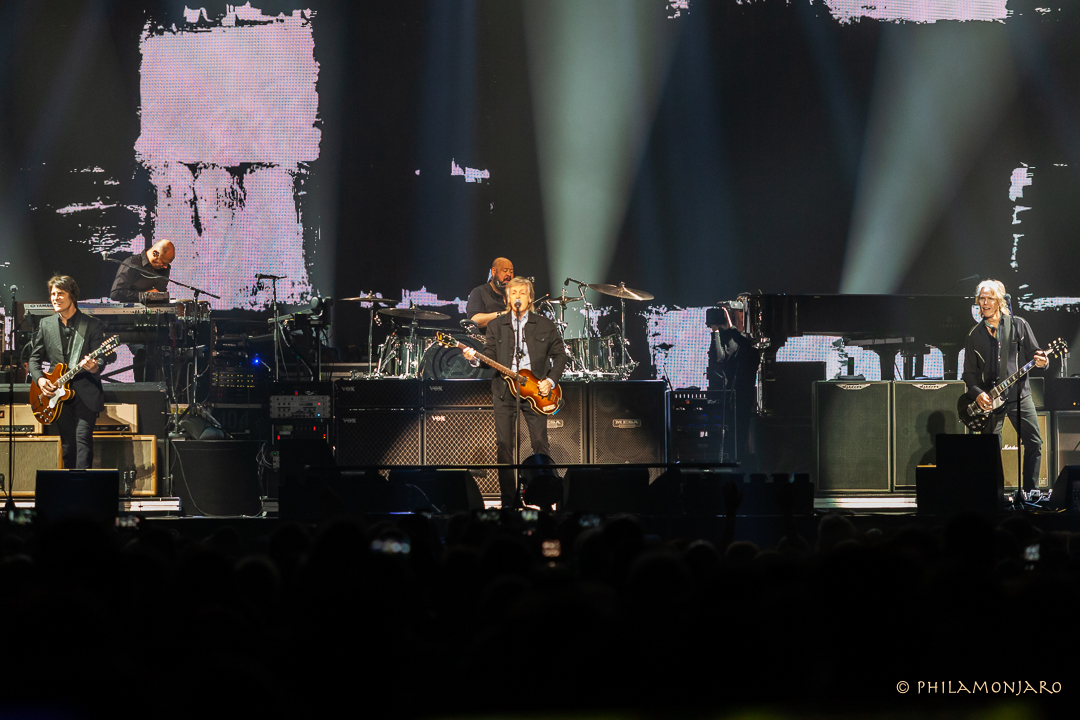 Other set highlights included George Harrison tribute "Something," the carnivalesque psychedelia of "Being for the Benefit of Mr. Kite," and the bouncing reggae-pop of "Ob La Di, Ob La Da." McCartney's colorful spinet piano quoted George Gershwin's "Rhapsody in Blue" during the tail end of "Lady Madonna."
"There does come a time when we've got to go home," said McCartney, dampening collective the buzz following a hot take of "Helter Skelter." "Yeah," he said in response to the crowd's protests. "It roughly coincides with the time that you've gotta go home, too." Still, McCartney left the stage following Abbey Road's majestic side-two medley with the promise of more thrills to come. "We'll see you next time!"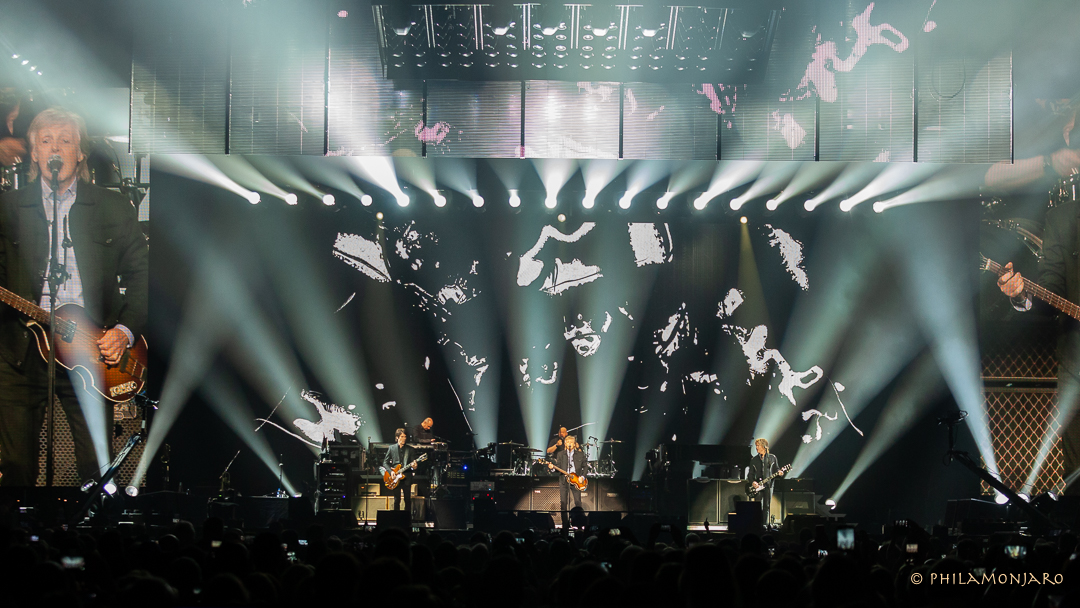 Photos by Philamonjaro.