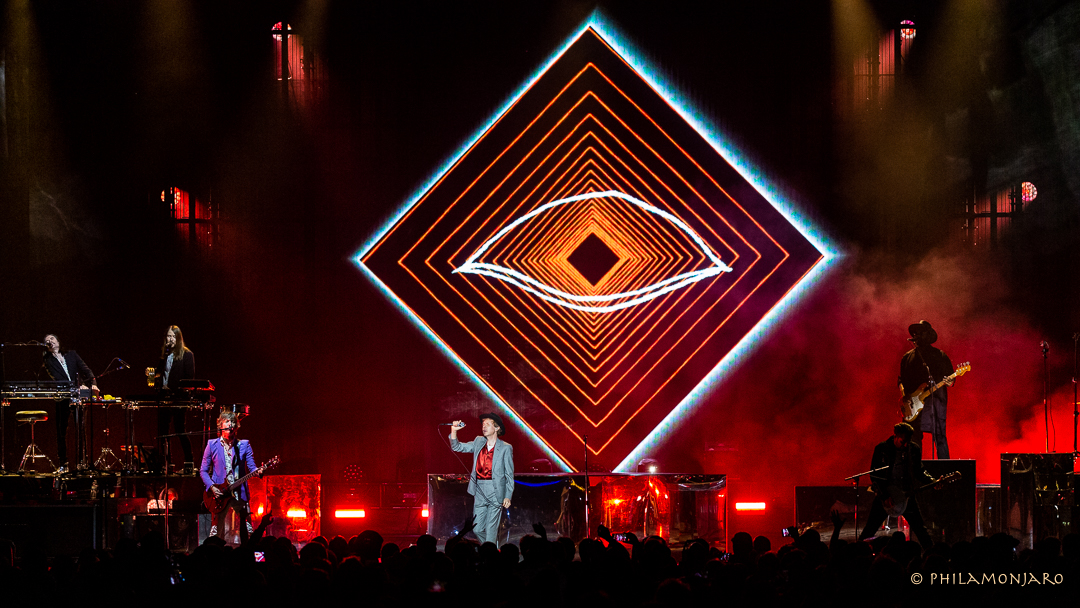 2 August 2019
Photos by Philamonjaro
Wednesday's concert at Huntington Bank Pavilion was stacked with generation-spanning indie-rock royalty. Billed as the Night Running tour, the show was co-headlined by Cage the Elephant and Beck. Opening the show was Austin, Texas-based Spoon. Chicago's sibling-fronted trio Wild Belle began the evening with a brief set showcasing their danceable, reggae-informed pop-rock.
Spoon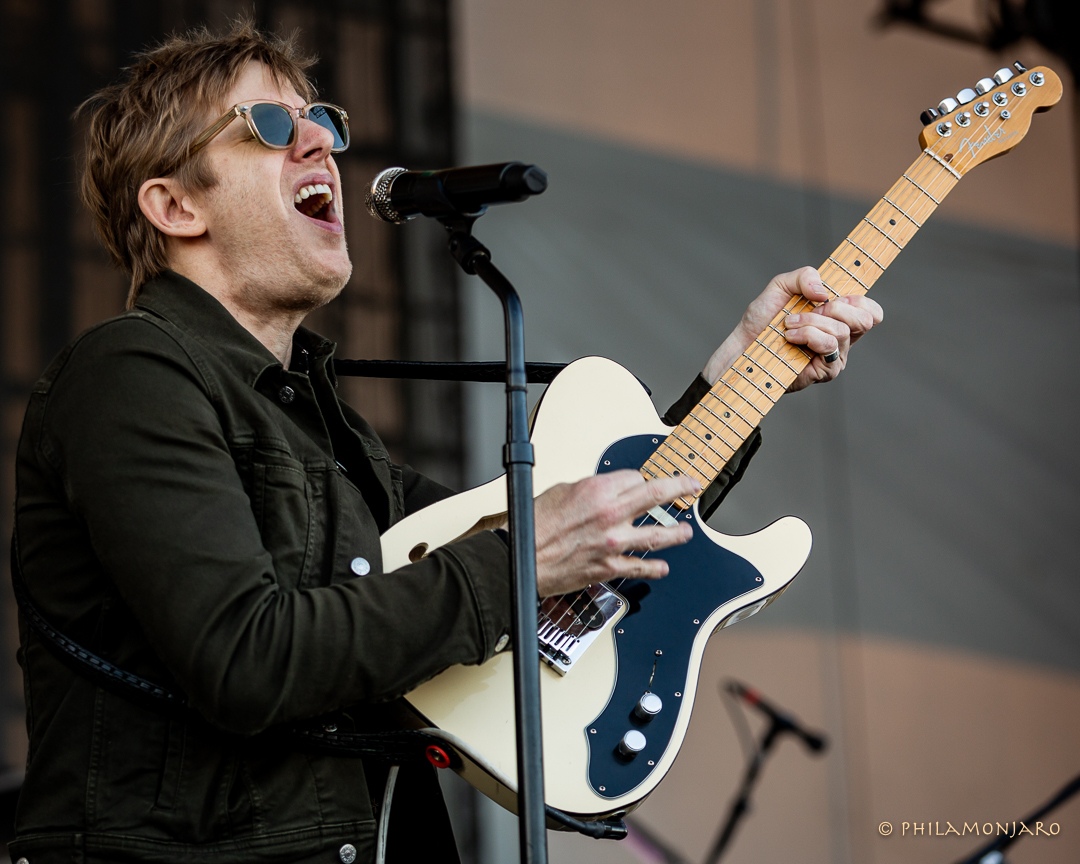 Spoon was traveling in support of its first best-of collection, Everything Hits at Once: The Best of Spoon. The nicotine edge of Britt Daniel's voice punctuated Jim Eno's perfectly primitive percussion during the jagged slash and chop of new single "No Bullets Spent." Daniel conducted the rhythmic changes of "The Way We Get By" in a prolonged nervous twitch.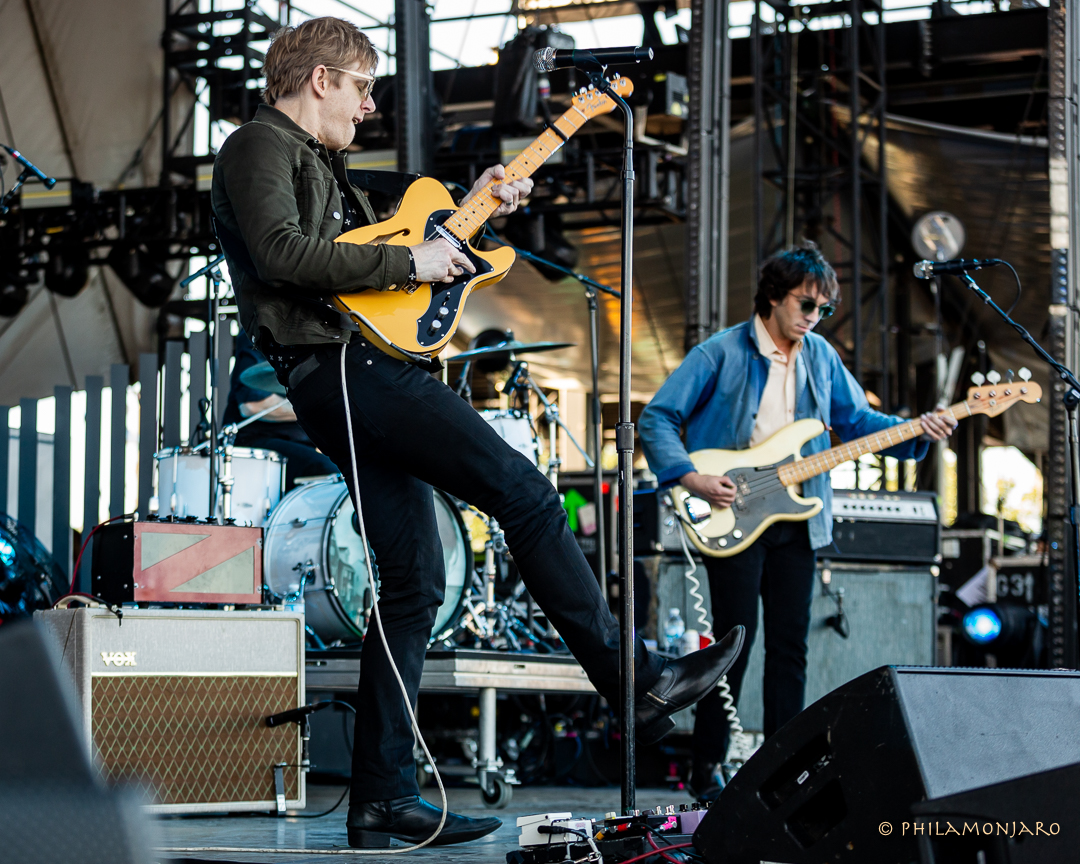 Familiar songs including "Don't You Evah" were treated as templates for exploration, and the band warped them into new shapes. "The Underdog" was deconstructed and rebuilt repeatedly, reducing to a duet between Daniel's vocal and Jim Eno's single maraca – which was eventually launched into an orbital arc over the stage when Eno finally leaned into his drum set for the song's crashing conclusion.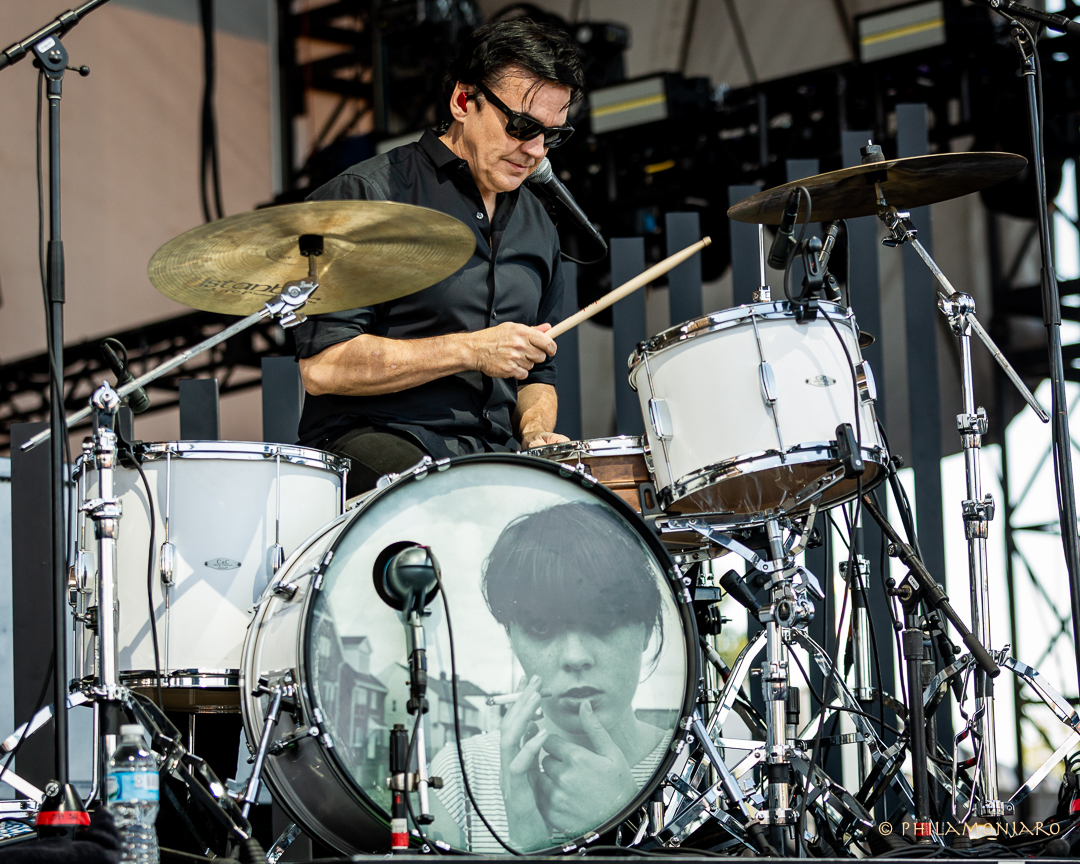 Keyboardist Alex Fischel played a psychedelic space-rock solo during "My Mathematical Mind," and led a three-keyboard surge alongside Daniel and Gerardo Larios during the soulful "Inside Out." Concluding the terse disco-pop of "I Turn My Camera On," Daniel raised his guitar in salute to fans in the back row.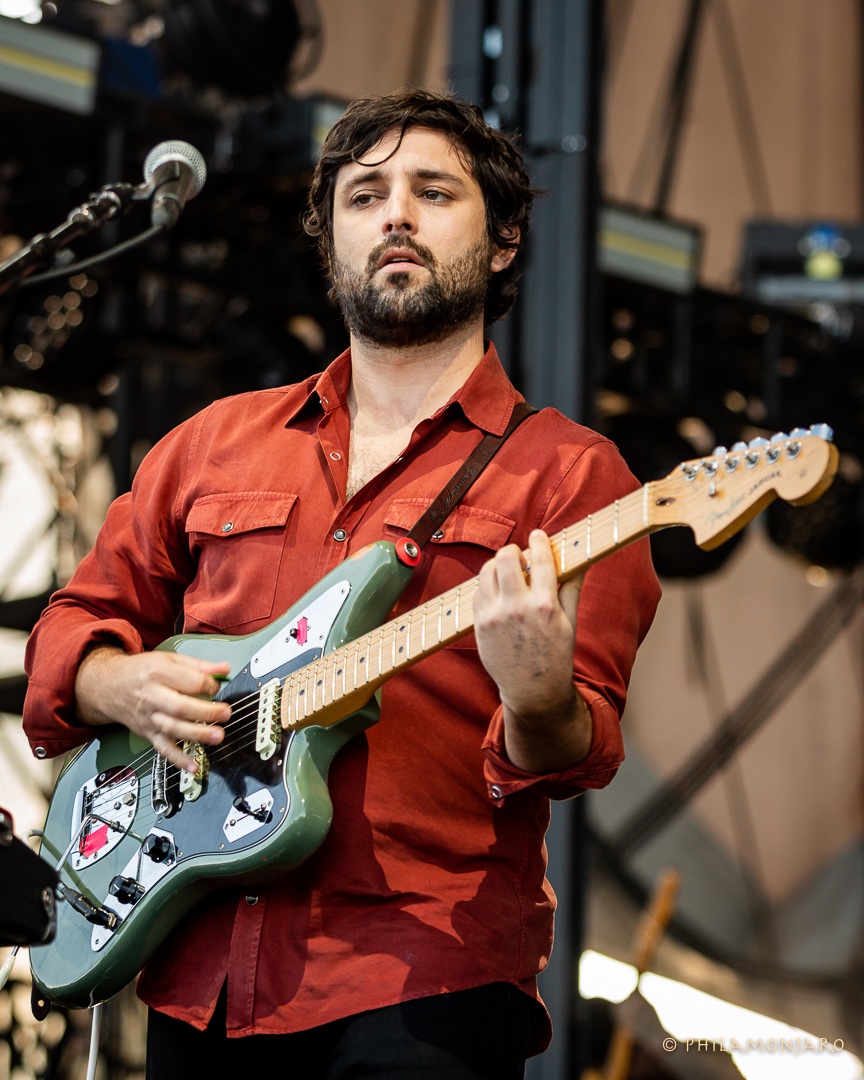 Daniel seemed very pleased with the upstarts who were abandoning their seats and rushing the rail, even as security staff were perpetually shooing them back to their ticketed locations. "It's good to see y'all up front," said Daniel. "A lot of times on this tour, it's just seats. Tonight, we've got a pit!"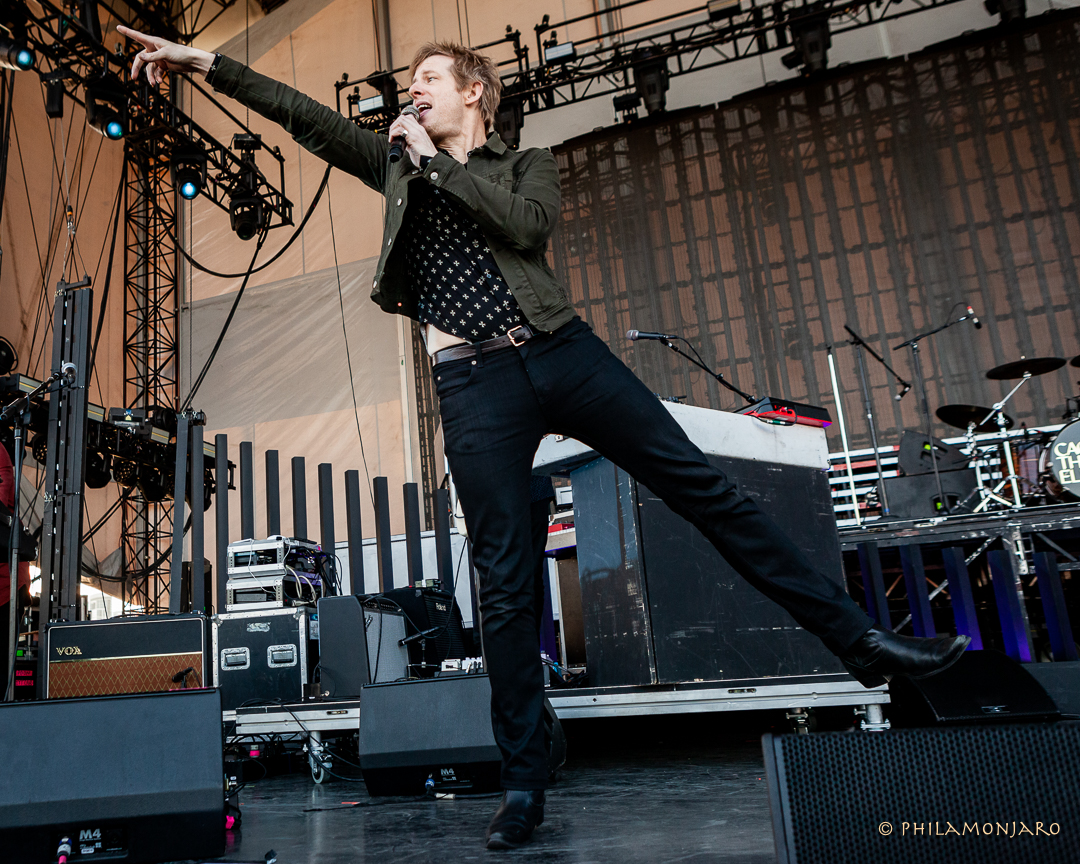 New touring bassist Ben Trokan anchored the Stonesy chop of "Rent I Pay," covering the position left by Rob Pope, who announced his departure earlier in July.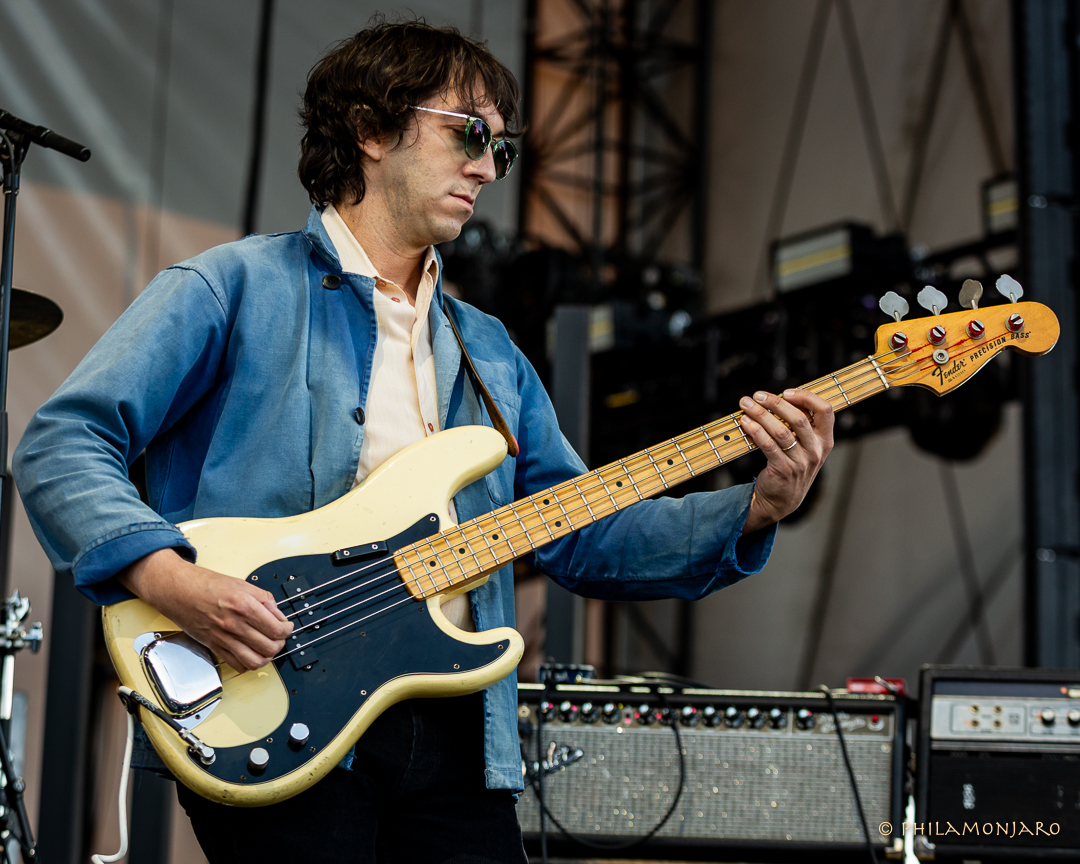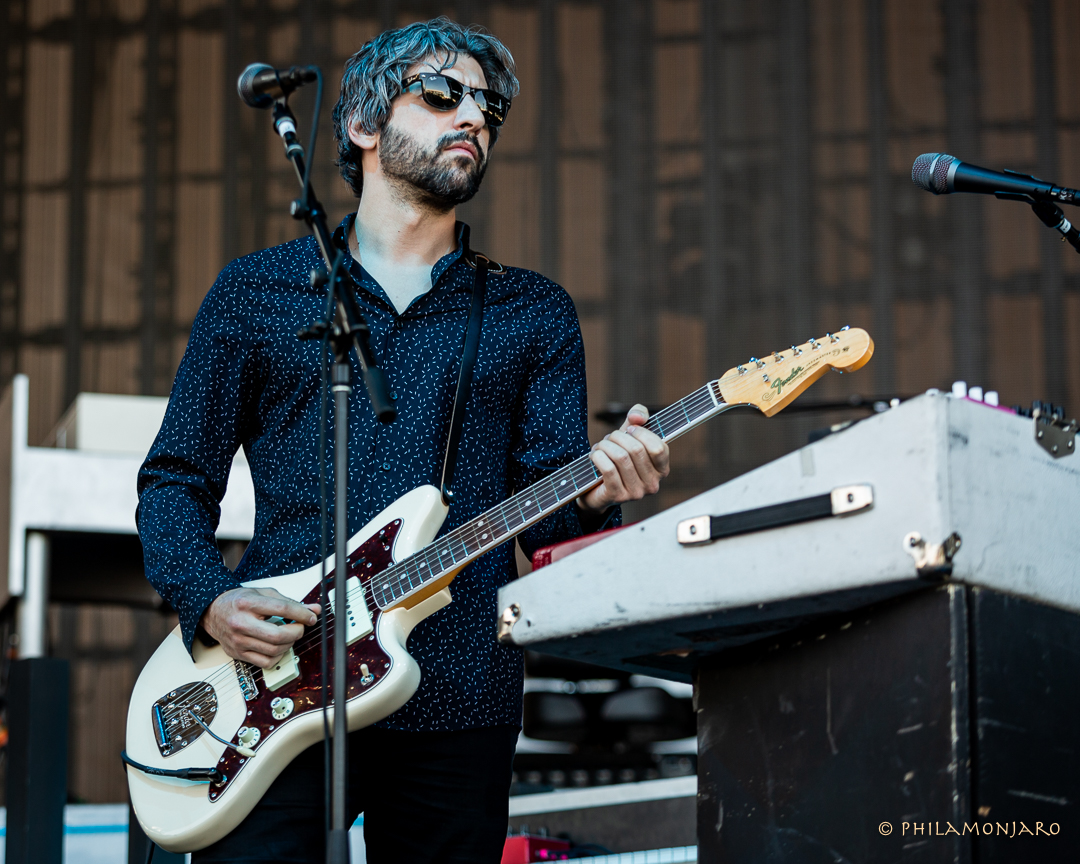 Cage the Elephant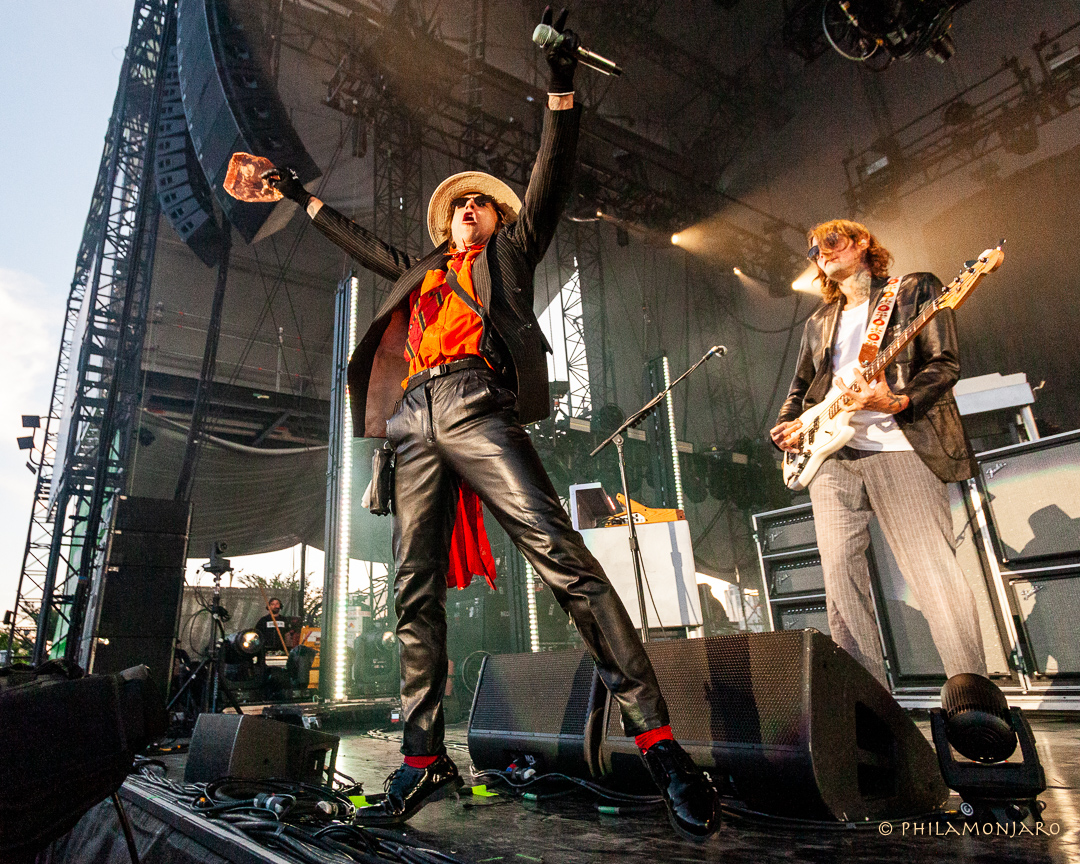 Fans who came to see the veteran acts on the bill probably left with a new addition to their list of favorite bands. Cage the Elephant reinforced their massive reputation for thrilling shows, with brothers Matt Shultz and Brad Shultz spending every ounce of energy on stage. Sharp-suited Brad Shultz appeared first. Full of fire, the guitarist stoked the crowd to fever pitch as the group began "Broken Boy" from new album Social Cues.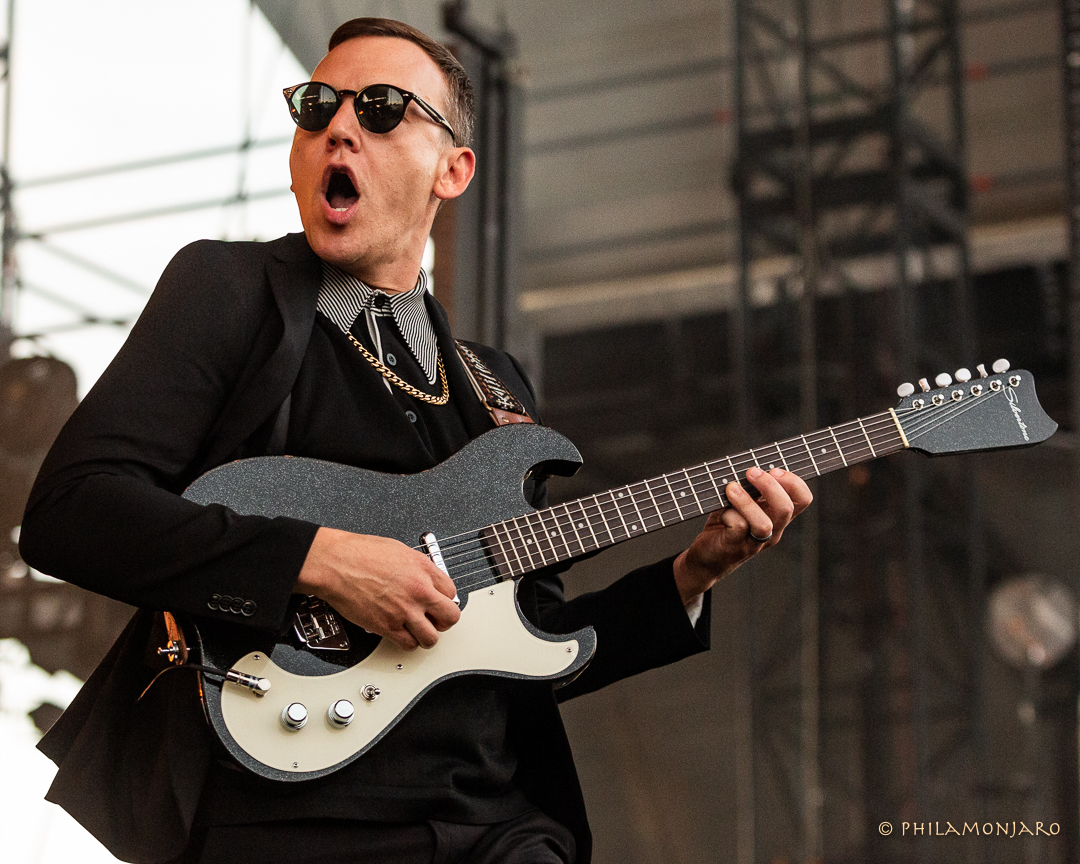 Singer Matt Shultz prowled the stage and sang through a copy of the mesh mask featured on Social Cues' cover. He also began a 75-minute strip-tease, shedding sweat-soaked layers of his brazen orange shirt, red tie, chains, kimono, hat, coat and summer-defying black leather pants. By the time the band hit the hypnotic cadence of "House of Glass" an hour later, Shultz had stripped to a singlet, satin boxing shorts and matching red socks.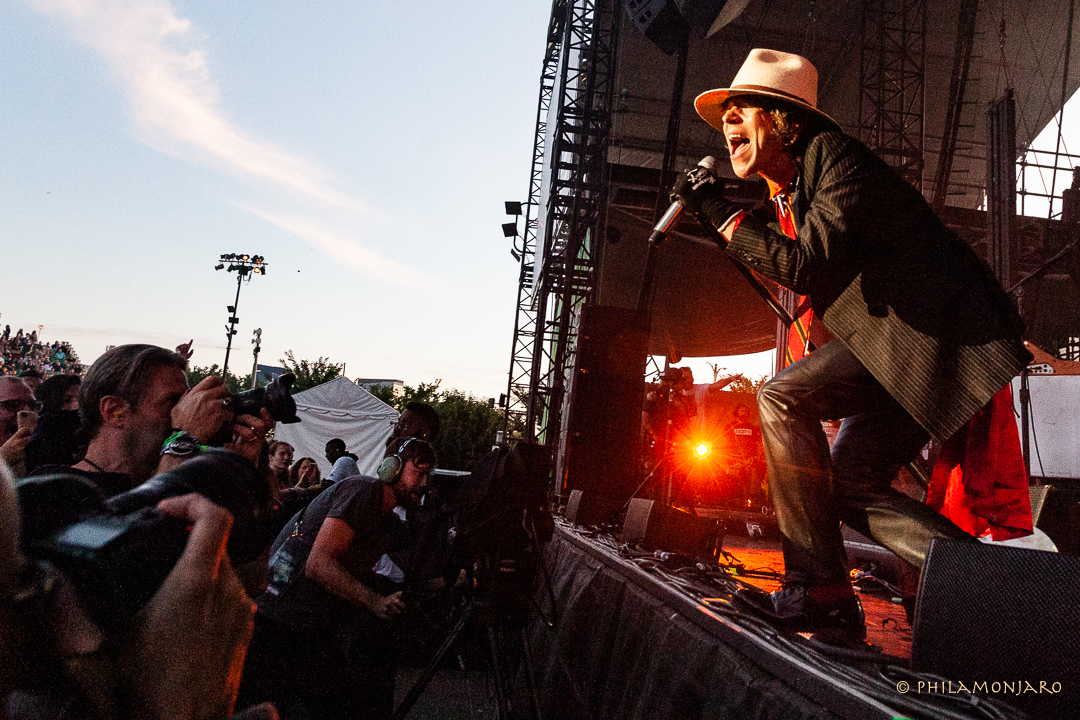 The singer's unflagging energy and hyperkinetic performances have earned justifiable comparisons to a younger Mick Jagger. Iggy Pop, Jim Morrison, David Johansen and Patti Smith were also in mind during songs like "Cold Cold Cold," as Shultz strutted his decadent glamor.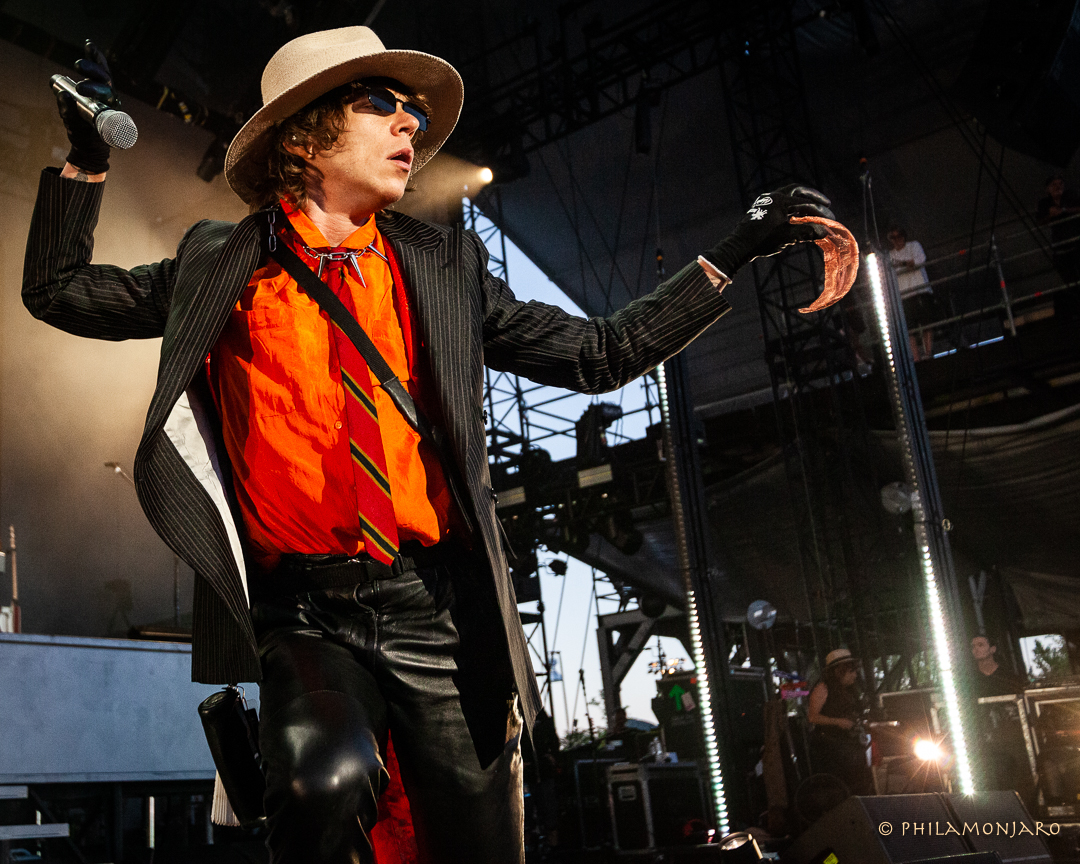 It didn't take long for Brad Shultz to get personal with the crowd, wading across the barrier during second song "Cry Baby."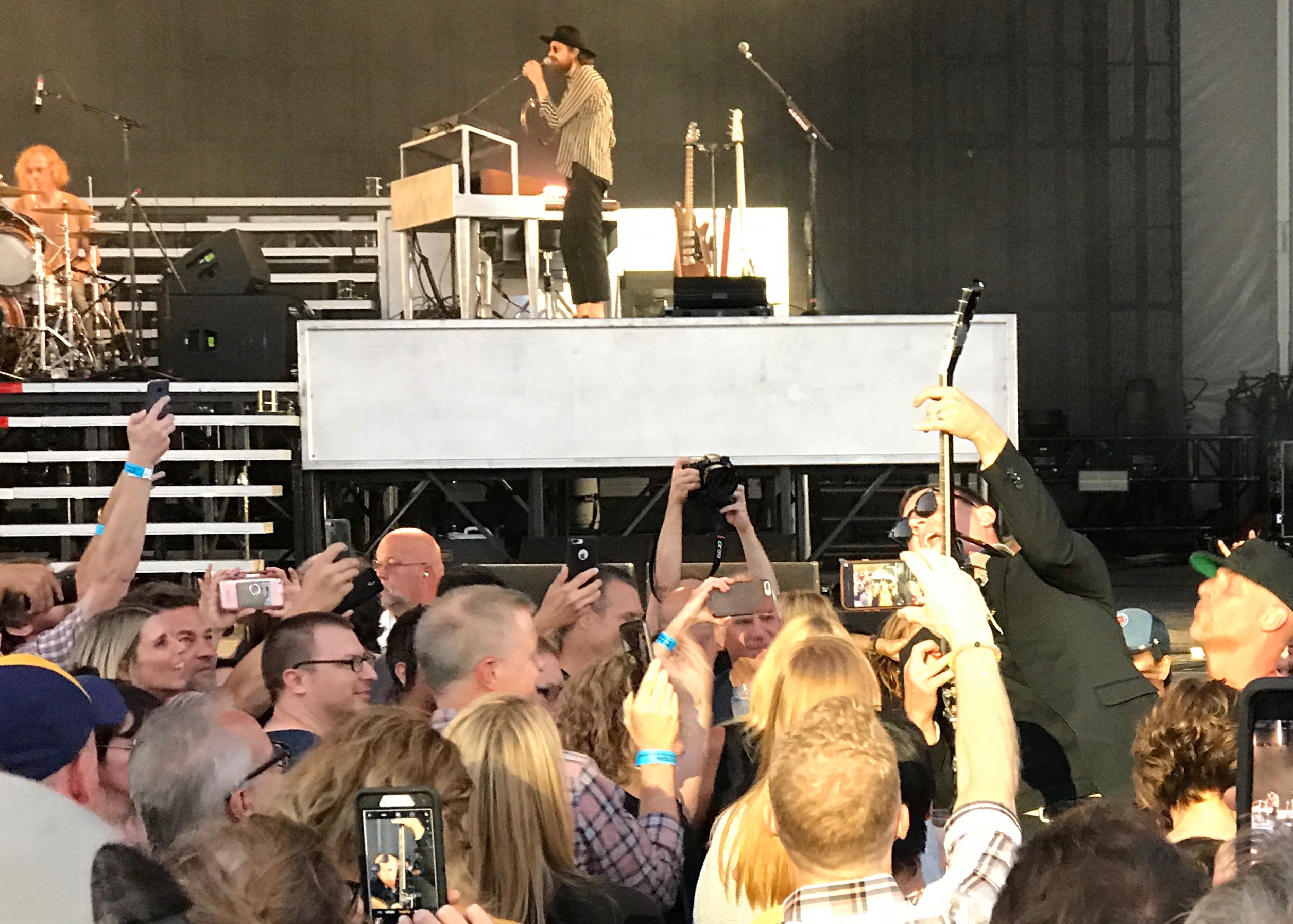 Cell phone photo by Jeff Elbel.
It was clear throughout the evening that the brothers were happy to break the fourth wall, and Matt Shultz expressed communion with the audience verbally. "It's okay to be broken," he announced after "Tokyo Smoke." "I'm just trying to be real up here, taking us on a journey of love together."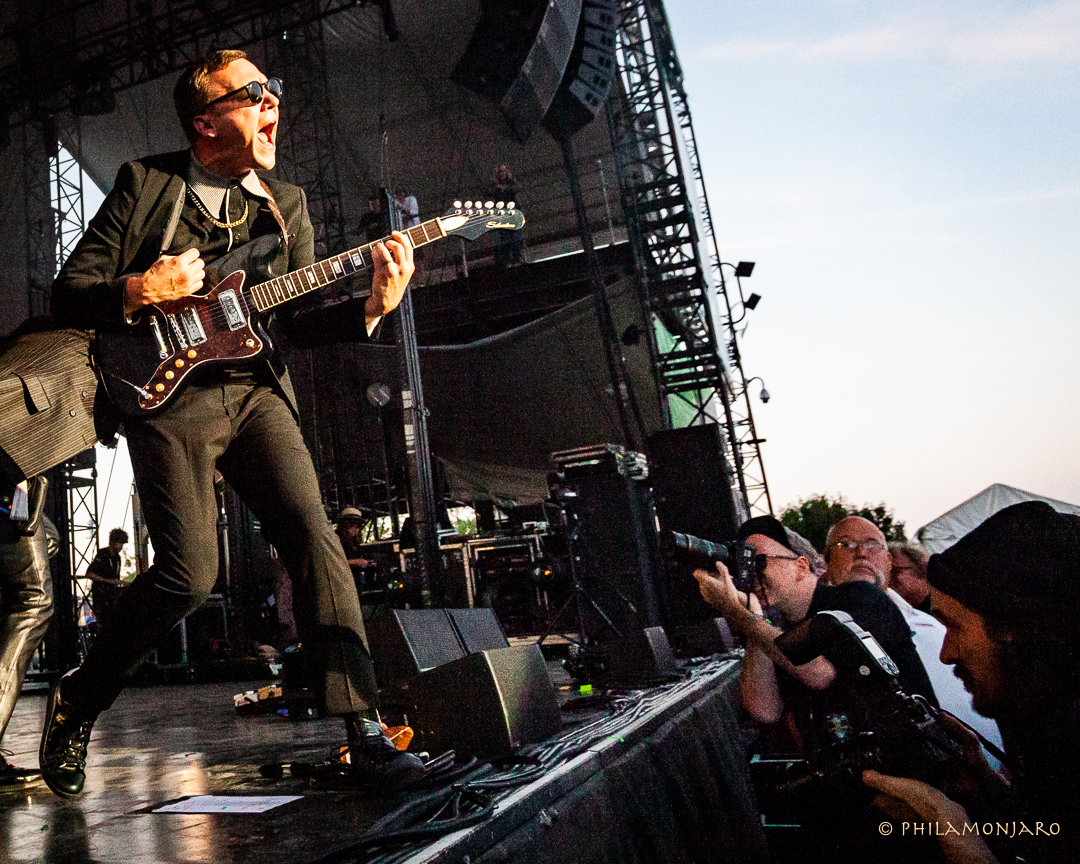 During the delirious twist of "Mess Around," multi-instrumentalist Matthan Minster descended from his riser beside Jared Champion's drum throne to sing spirited harmony with Matt Shultz.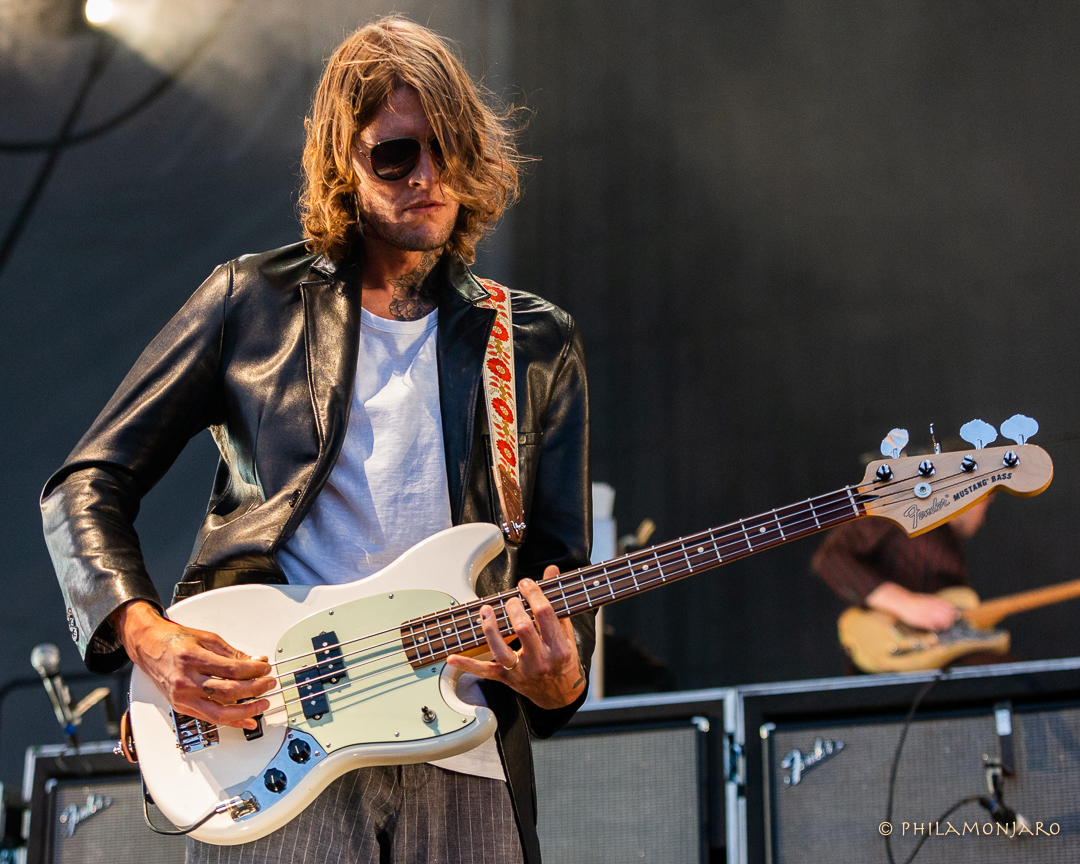 The band packed 20 songs into its tightly-paced set, with singalong highlights including "Ain't No Rest for the Wicked" from its 2009 debut. Songs from Social Cues were received like classics, including the melancholy and resolved "Ready to Let Go." Brad Shultz switched from his clattering electric guitar to shimmering acoustic guitar for "Cigarette Daydreams" from 2013's Melophobia.
During the fading notes of "Teeth," Matt Shultz stepped across the barrier onto a sea of hands and simply kept going. As his bandmates exited the stage, he was crowd-surfing halfway through the audience toward the shore of Lake Michigan. The house lights came up and the stage was struck as Shultz continued. While house music swelled with the majestic rock of Queen, Shultz climbed past the front-of-house tent and ascended the towering crow's nest where he turned to wave triumphantly to the crowd below. The spotlight operators offered him a well-deserved minute's rest in a chair and a cold drink.
Beck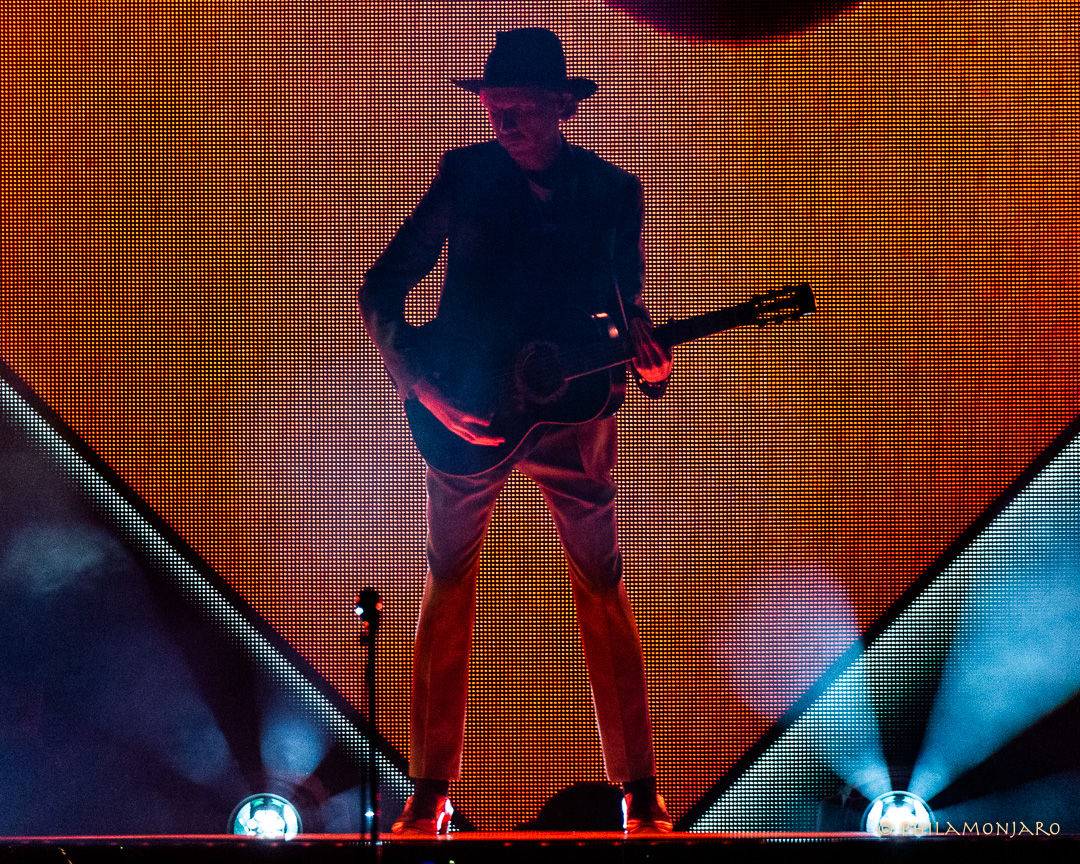 In order to maintain the evening's energetic peak, Beck began his set with the heavy hitters. "I want you to sing this with me," he said as he emerged from silhouette and his six-piece band launched into "Loser." "Sing this as loud as you can!" Thousands obliged.
Guitarist Jason Falkner sang unison vocal with Beck on the ensuing "New Pollution" and played the first of several slinky guitar solos. With keyboardist Roger Manning on a riser behind Falkner, Beck had two former members of Jellyfish in his band to support his seasoned taste in pop-rock royalty.
Beck's set made a skillful patchwork of the mismatched genres that he uniquely juxtaposes. The bleepy electropop and psychedelic light show during "Girl" were a dazzling combination. "I wanna sing a song about growing up in Los Angeles," said Beck while inviting everyone to a bilingual singalong through "Que Onda Guero."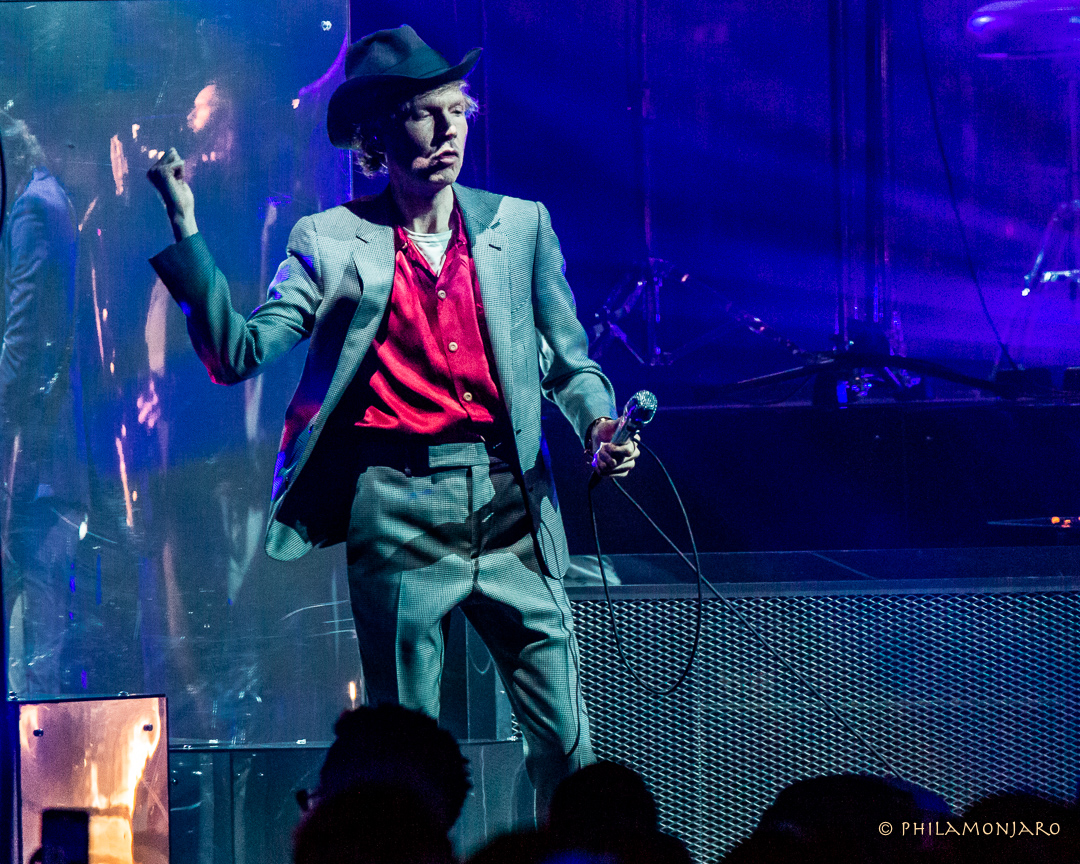 "Lost Cause" was a solo acoustic showcase of Beck's penchant for a melodic ballad, and falsetto funk crooner "Debra" unfolded as a tribute to Prince.
"Did we get lucky tonight with this beautiful Chicago night?," asked Beck, in gratitude for clear skies, moderate temperature and a gentle lakeshore breeze after a hot day. He acknowledged Lollapalooza, which was setting up for its Thursday start less than a mile away in Grant Park. Beck didn't seem to mind the competition, taking pride in being "on tour with some of the best live bands ever."
Beck did express minor regret, saying that he couldn't "run around maniacally as usual" due to an injury sustained the prior night in Missouri. He promised to make up for it by offering the best of himself from "right here," he said, while thumping his fist against his heart.
By the time Beck dove into the head-bobbing hip-hop/electronica fusion "Wow," the crowd was moving as one. Beck admired the evening again afterward. "It's such a perfect night," he said. "It the kind of night that makes me want to move to Chicago – but I guess everyone else has the same idea." A neighbor in the crowd suggested that Beck had brought his native Southern California weather with him. If so, locals could stand for another visit by the singer next February.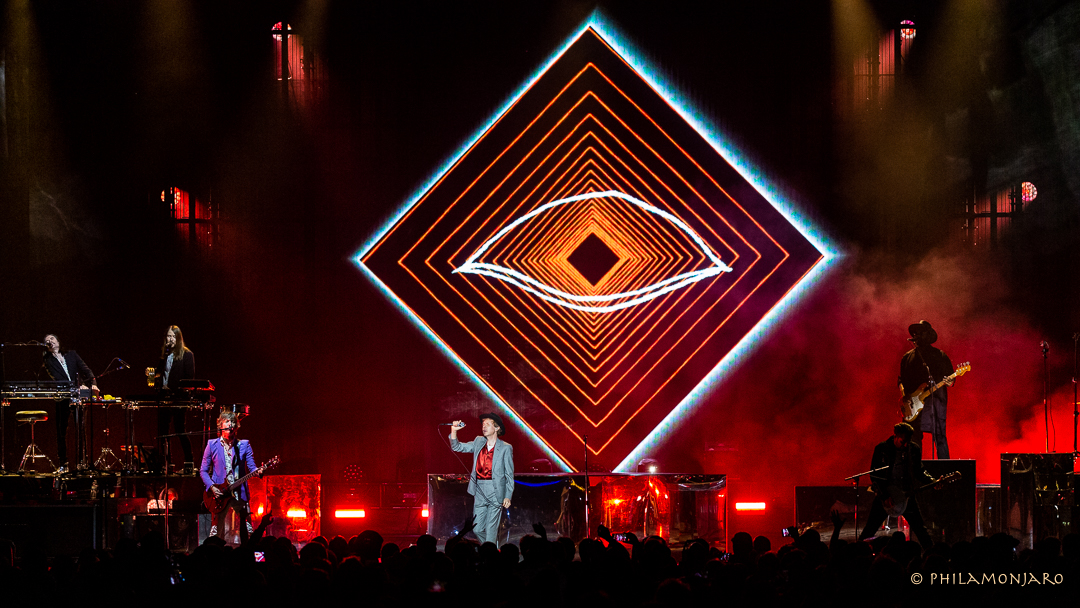 "Saw Lighting" glided atop a delta blues-Gospel sample, leading into Falkner's slashing riff for "Devil's Haircut." Manning's percolating keyboard colored the propulsive Colors track "Dreams."
"Shall we stay up all night?," asked Beck, coyly introducing Colors' "Up All Night." "No sleep 'til Lollapalooza!"
The show concluded a string of features built into bookends of "Where It's At." Spoon's Britt Daniel joined the band to stoke the energy while singing a rowdy version of Elvis Costello's "Pump It Up." Cage the Elephant frontman Matt Shultz then joined Beck for a duet on the tour's namesake song, "Night Running" from Cage the Elephant's new Social Cues album.
Afterward, Beck's entire band aligned side-by-side to join together in sliding, synchronized dance steps as the players resumed the low-rider groove of "Where It's At."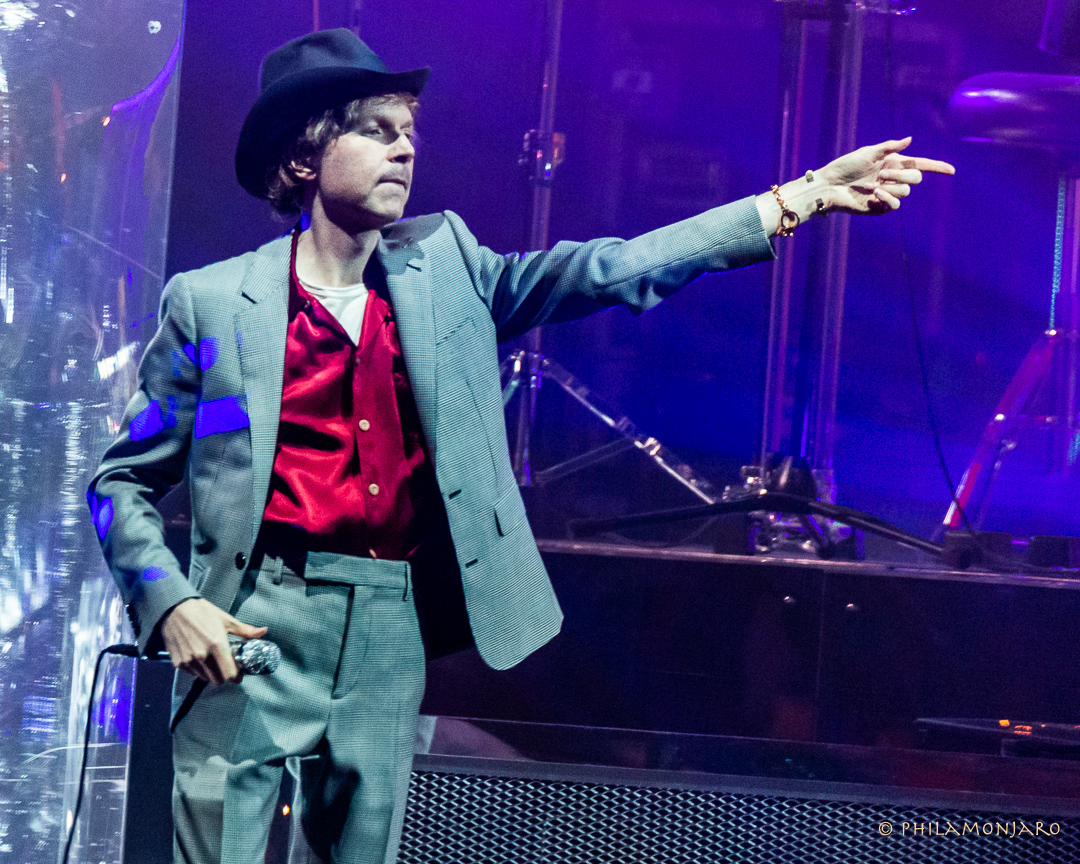 Music fans heading up the road to Lollapalooza may have had their pick of more than 40 bands on Thursday alone, but the Night Running tour packed adventurous musical variety onto one stage for a stellar night. Fans left Northerly Island confident that they had just seen the week's most spectacular rock show in Chicago.
Wild Belle