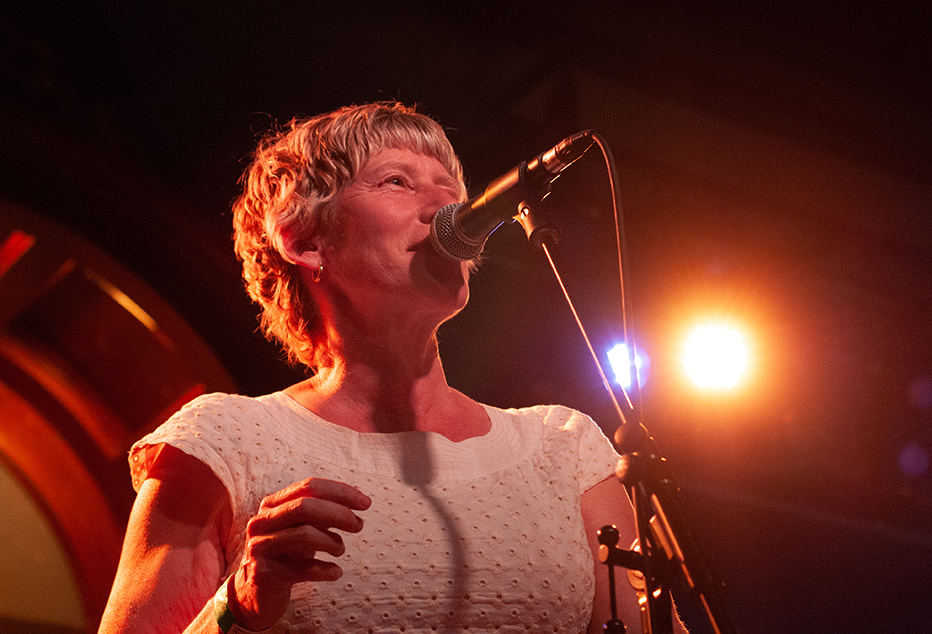 31 July 2019
Photo by Cecilia Fonseca
The legendary Mekons converted new fans and delighted the already converted with their wit, charm, and timeless rock 'n' roll last week at Lodge Room in Highland Park. Whether it was the popularity of the venue, the heightened promotional buzz for their latest album Deserted, or just word-of-mouth – people showed up on a Monday night for the Mekons, and it was a glorious thing.
Mekons vocalist Sally Timms immediately remarked on the packed crowd, musing that half of the audience must have lost their way getting to the show the last time they played L.A. in 2016. Singer/guitarist Jon Langford wondered if a nasty rumor was circulating that someone in the band had a fatal illness.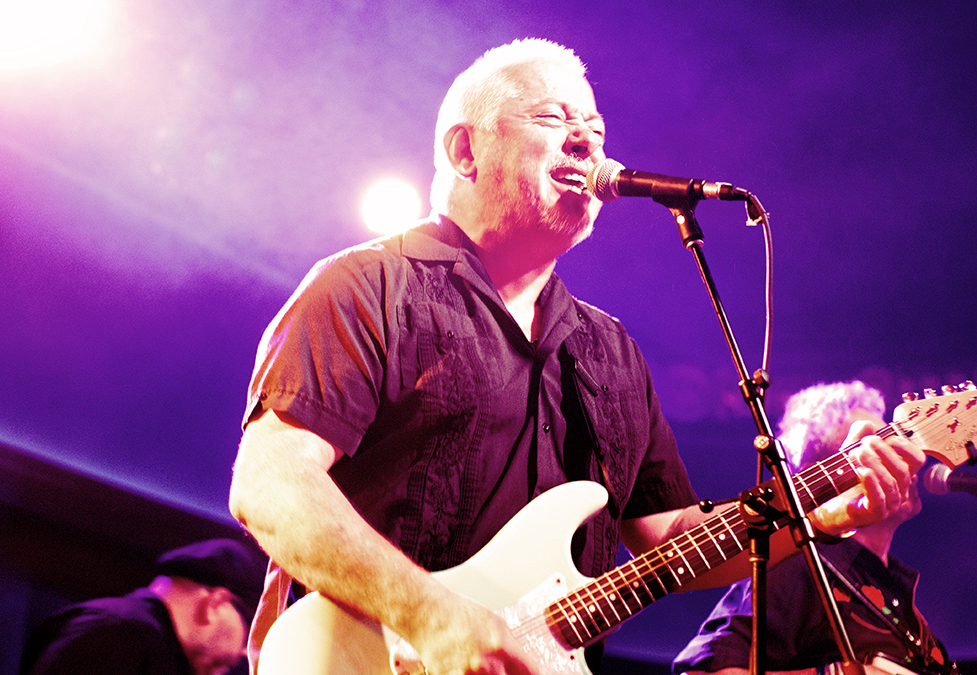 Photo by Cecilia Fonseca
Opening with a new song can be a risky proposition for a band with a large catalog. The band punted those doubts to the curb by launching into a rousing version of "Lawrence of California," the opening track from Deserted.
"This is Tom, and he's been to heaven and back!" announced Langford, as singer/guitarist Tom Greenhalgh took center stage for "Heaven and Back" from the brilliant The Mekons Rock 'n' Roll (1989). Few bands have even one great singer-songwriter, and the Mekons can boast at least three. The ensemble nature of their lineup is a large part of the appeal – more so when you consider that seven (!) core members of this band have been playing together since the mid-1980s.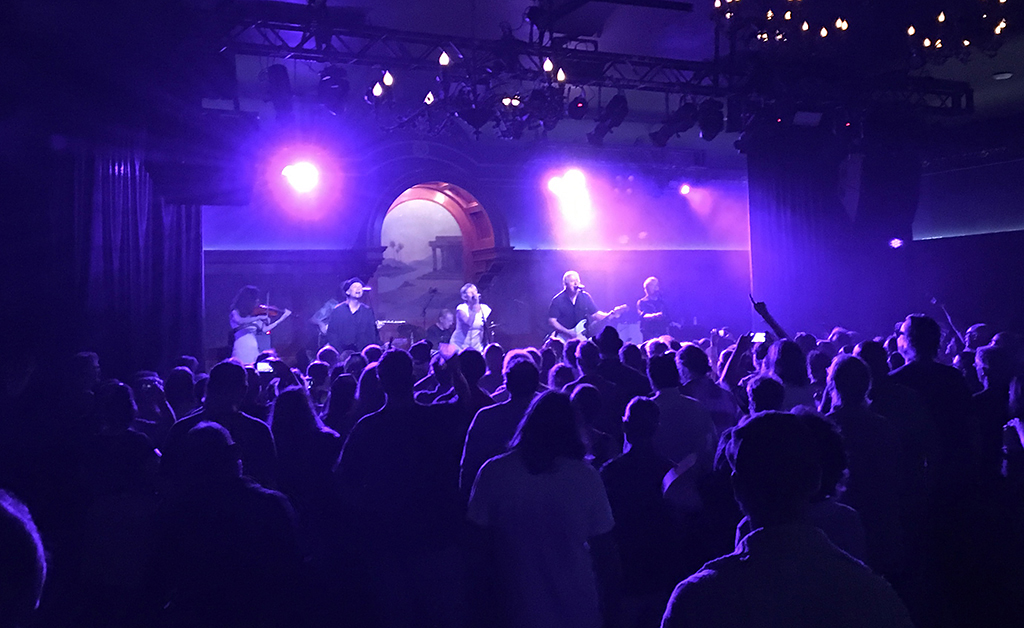 Photo by Ryan Orvis
The band continued to intersperse songs from Deserted throughout a set that drew heavily on classic albums like Fear and Whiskey (1985), So Good it Hurts (1988), and The Mekons Rock 'n' Roll. The new material held up throughout the night, peaking with an emotional sing-along during "How Many Stars." It was nice to hear "Simone on the Beach" from Existentialism (2016) in the mix too.
Two encores scarcely seemed like enough, but it was a Monday night after all, and eventually the house lights had to come on – leaving the satisfied crowd beaming as they left.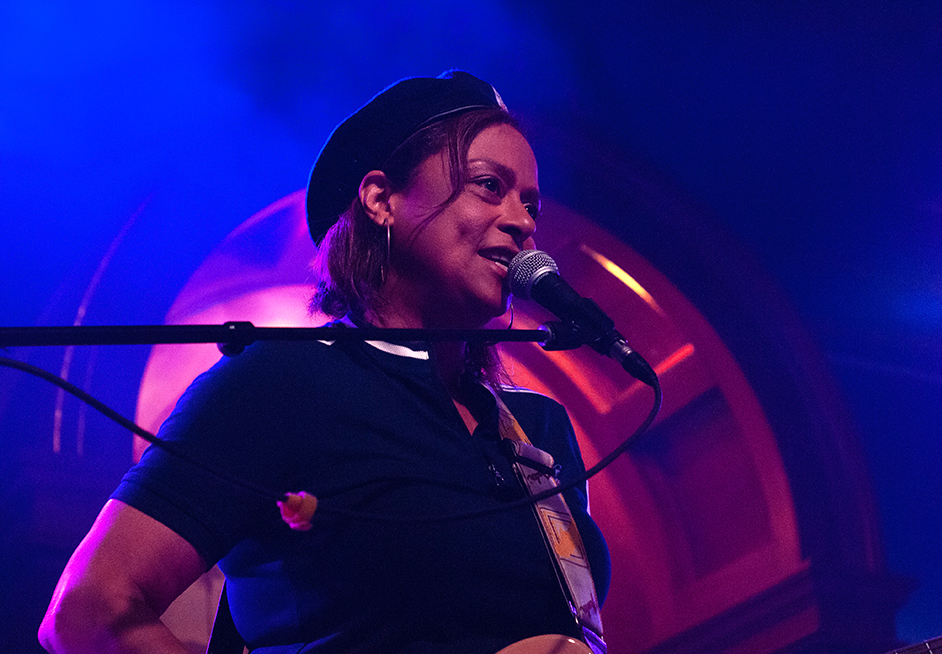 Photo by Cecilia Fonseca
Skokie Girls kicked off the night with a fun blend of post-punk funk and power pop hooks. The group is a collaboration between Ronna Bronstein and Geri Soriano, who share a background in the Chicago punk scene and have each done time in L.A. bands, with Soriano memorably fronting trip-hop act Supreme Beings of Leisure. Their smooth debut single Black Queen was produced by Mekons bassist Dave Trumfio.