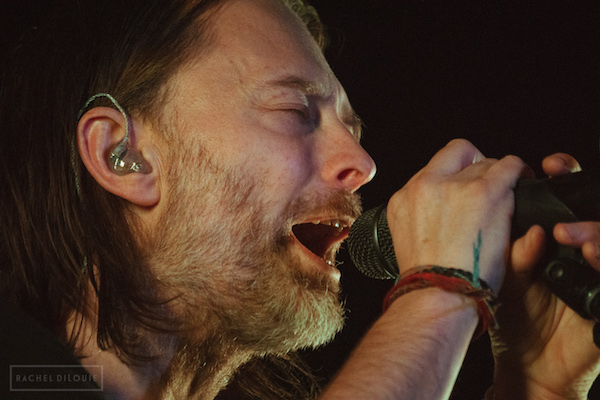 10 December 2018
Radiohead fans enamored of Thom Yorke's experimental excursions into electronic music sold out the ornate and stately Chicago Theatre on this crisp Tuesday night. The set list was built around Yorke's solo material, primarily focused upon 2014's Tomorrow's Modern Boxes. Although released four years ago, the show represented Yorke's personal introduction of the material to his Chicago-based audience.
Yorke's prior extracurricular visit to Chicago without his adventurous Radiohead bandmates stopped at UIC Pavilion with side project Atoms for Peace in 2013. Tuesday's musical arrangements were built by the duo of Yorke and Atoms bandmate/Radiohead producer Nigel Godrich. The pair spent the evening crisscrossing the stage to various guitars, basses, keyboards, computer rigs and mixing consoles, crafting dense and sonically rich musical foundations with looped and live playing. Yorke's tremulous tenor glided atop it all. Digital artist Tarik Barri created constantly evolving visual imagery that accompanied the music on five monolithic screens at the back of the stage while Yorke danced in the shadows up front.
Undeniably, the room was packed with Radiohead devotees. But these were the fans who were happy to follow Yorke's computer-based, so-called "bleepy-bloopy" sonic inventions. It was the type of crowd that roared with recognition for the introduction of "Black Swan" from Yorke's 2006 solo debut The Eraser. It was the type of crowd attuned to Yorke's manipulation of glitchy digital static as a percussive prompt for euphoric dance, paired with the sonic squiggles and terse funk of "A Brain in a Bottle." It was the type of crowd that probably embraces the enveloping influence of Brian Eno's ambient music upon Radiohead's once guitar-based sound.
"Nose Grows Some" emerged from spacefaring sonic clouds into a subdued but insistent pulse. Environmental warning "The Clock" overflowed with dire portents, its paranoia reflected as disconcerted tension in the music. Yorke's ghostly echoes were pixelated by skittering beats and grounded by dub bass.
Like much of his Radiohead content, Yorke's lyrics are unlikely land the top spot for feel-good hit of the season. Unreleased track "The Axe" spoke to the pain of rejection and shattered trust. "I thought we had a deal," Yorke repeated. Another new track, "I Am a Very Rude Person," envisioned a violent escape from domestic constraints. The recriminatory "Truth Ray" found Yorke confessing, "All my life is sin, sin, sin." Whether true or not, it's easy and convenient to interpret these songs as the soundtrack to an unraveled and frustrated situation at home.
Nonetheless, the evening was far from joyless. Yorke exchanged frequent smiles with both Godrich and the audience. The singer was clearly in his element while pursuing a musical vision purely his own. For all any listener knows, Yorke is beatific in his private life, having taken advantage of the opportunity to exorcise his demons through his music. One can hope.
Yorke's lone Radiohead offering was a retooled version of "Reckoner" from 2007's In Rainbows. The room responded with universal ecstacy, as Yorke bobbed center-stage with his guitar and Godrich deftly assembled a surrogate band from electronic components.
Yorke encored with the emotive and melancholy "Unmade" from his new soundtrack album for horror film Suspiria. The recent film-scoring experience was Yorke's first. "It was a f—-ing weird process," said Yorke with a wry grin, before concluding that the task had produced unanticipated treasures like this piece. The moody piano-and-vocal song had the most conventional (to use the term loosely) arrangement and melody heard during the evening, allowing an unfamiliar audience to connect immediately and take the song home with them.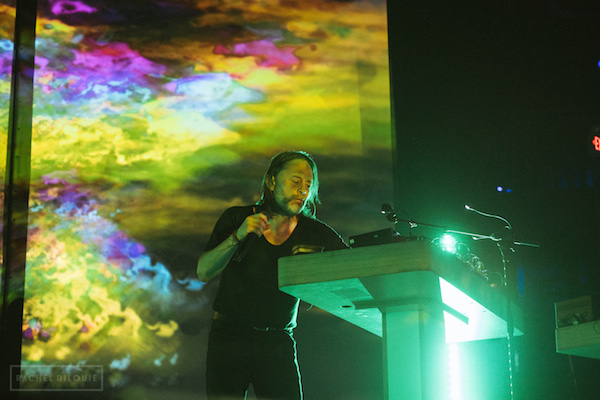 Photos from Philadelphia, PA taken on November 24, 2018 by Rachel DiLouie.